Reveal! Audubon Inspired Laundry Room
My Audubon inspired laundry room is complete and ready to fulfill her destiny! It's now the hub for all things needing a good scrub & wash.
Hello! Welcome to week 8, the One Room Challenge with media partner Better Homes & Gardens Reveal! I am so very excited to introduce you to my Audubon inspired laundry room.
But first I would like to take a moment to thank Linda who dreamed up this wonderful event we have come to know and love – The One Room Challenge.
Thanks to this bi-annual event many rooms have been completed, friendships have formed and a community of encouragement has sprung up.
Read the whole series here:
Week 1 // Week 2 // Week 3 // Week 4 // Week 5 // Week 6 // Week 7 // You are here!
I am personally thankful for all the wonderful friendships and camaraderie experienced over the years participating in challenges. Rooms that I would still be dreaming about accomplishing would have probably remained dreams or gasp – incomplete.
More importantly, I have had the pleasure of getting to know so many outstanding people in the design and blogging community all thanks to this event.
If you are reading this and have thought about jumping in – DO IT! Join in on the fun Spring 2022. We will cheer you on!
Are you ready to see to talk about this laundry room of mine?
Oh good! So am I!
Let's start this beautiful transformation with a look back –
Here come the "before" photos. They aren't too exciting – these photos were taken right after the room was builder complete and right before we moved in.
It is a good size but narrow and doesn't have a window- which truth be told. I really miss from my previous laundry room.
I loved the floors and picked them out for their rustic beauty.
As you can see, it's one space void of storage and desperately in need of it. For the last year all my "laundry room" stuff has been piled on the the washer and dryer or in the corner.
Not anymore! Enter the design inspiration for this room.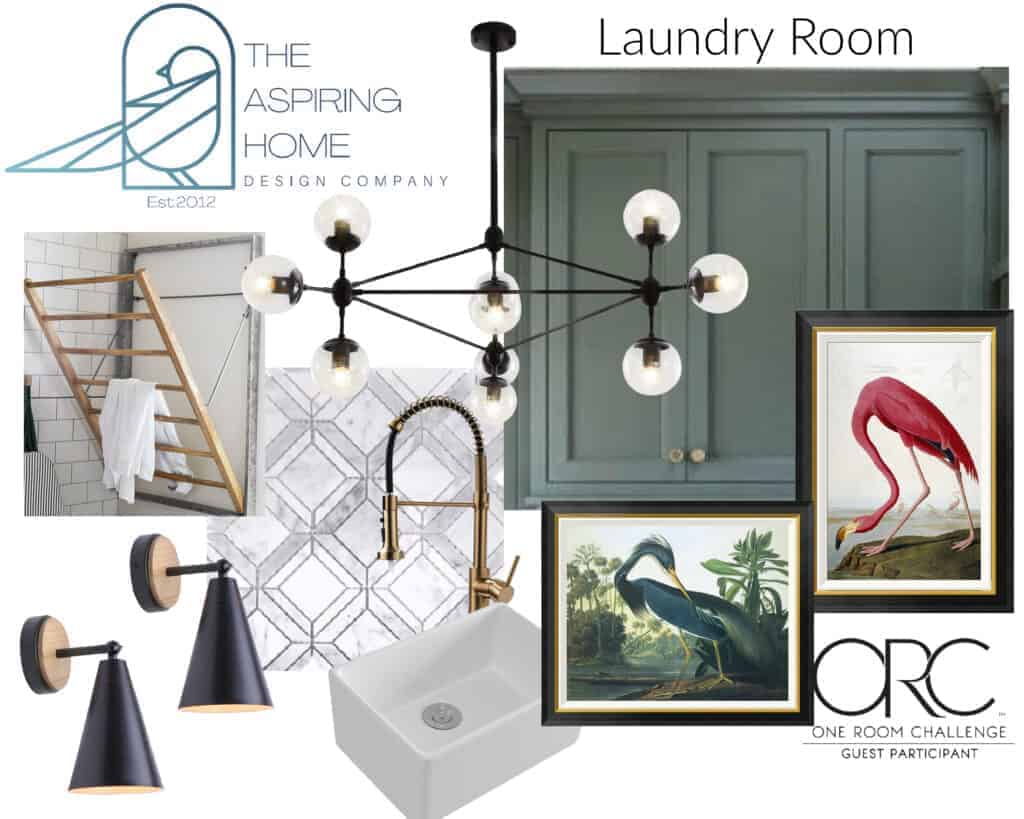 Hello gorgeous! I have always admired the rich colors and beautiful birds renderings of John James Audubon and what better way to elevate a mundane chore than to surround yourself with beauty?
Catch up here :
Week 1 // Week 2 // Week 3 // Week 4 // Week 5 // Week 6 // Week 7 // Reveal!
Without further ado – here she is all dolled up and ready for laundry day!
I am beyond happy with the way it turned out! We've lightened, brightened, and created tons of storage!
I tend to have a habit of choosing rooms that are very hard to photograph and this one is no exception. But let's just bask in all that storage glory, shall we?
Ok, get ready for picture overload and next week I will share all the details behind the design.
Need more details? Find all the sources for this beautiful laundry room, here!
I am so very happy with this little utilitarian paradise! Thank you for following along with me these 8 weeks and a big THANK YOU to my husband who worked with me many late night hours with me to make this reveal happen.
Now let's go over to the One Room Challenge website and check out all the amazing reveals (click here)!
Keep creating Home my friends,