ORC Wk 6 Laundry Room Cabinet Hardware
Week 6 is now complete and we are in the home stretch. Laundry room cabinet hardware is the main focus of today's update.
Catch up here:
Week 1 // Week 2 // Week 3 // Week 4 // Week 5 // Week 6 // Week 7 // Week 8
Whew! What a week it has been! I feel like I am on a runaway roller coaster. Week 6 of the One Room Challenge with media sponsor, Better Homes & Gardens is in the books and I am afraid I have very little to show for it.
I do have some progress like the laundry room cabinet hardware has been chosen and on its way and a few more things have been decided upon.
The design business side of The Aspiring Home is in full motion and we are wrapping up a beautiful new master bathroom that I can not wait to show you – hopefully soon. A gorgeous dining room is in the works and the chairs are almost finished! If you follow me over on Instagram you can see them in mid-progress!
Other fun ventures this week included prepping for a big outdoor movie night for my son's swim and dive team. But enough of the busyness- let's talk laundry room!
Let's go back to our before laundry room pictures and the design board – for grins.
The Before –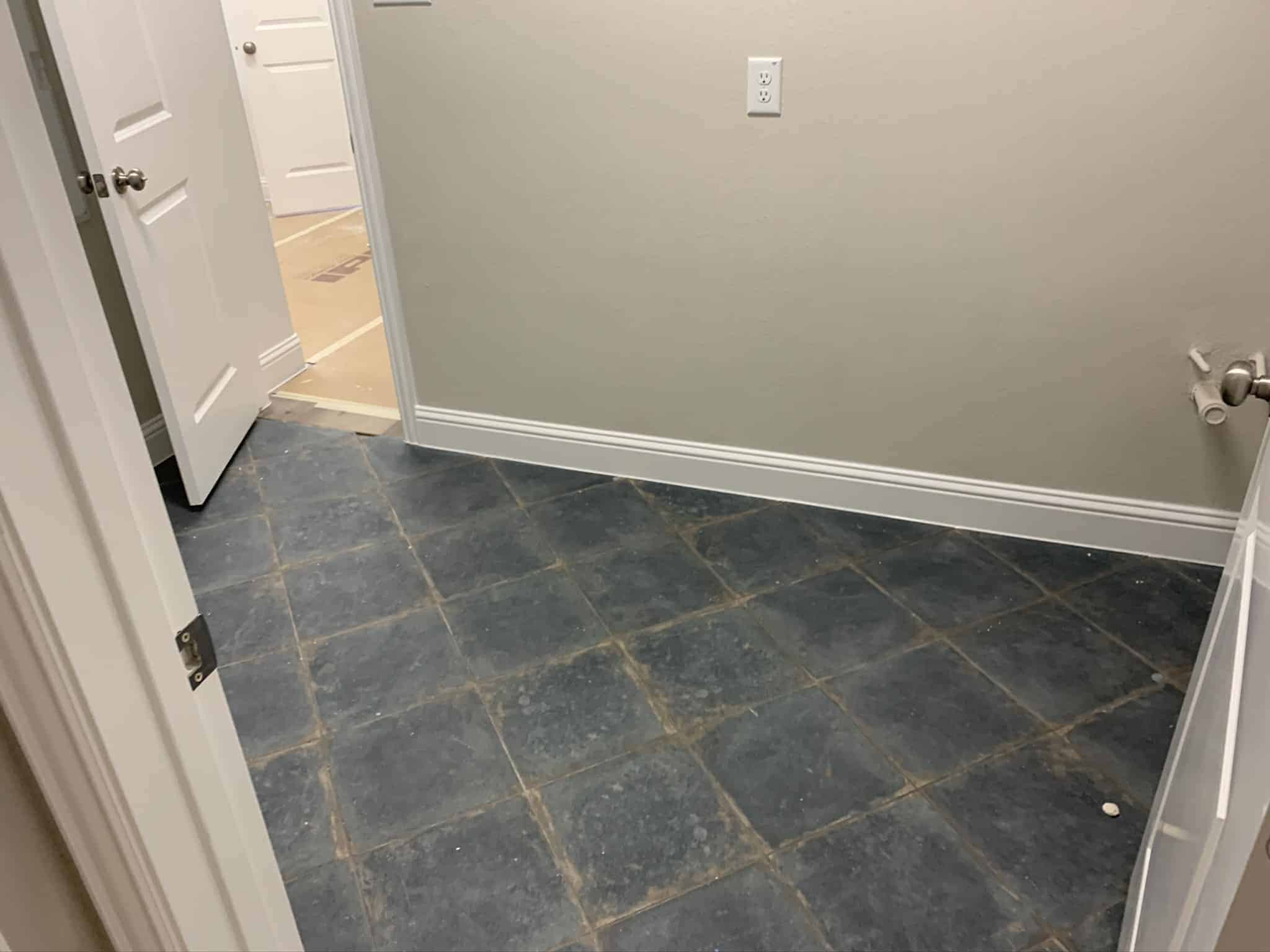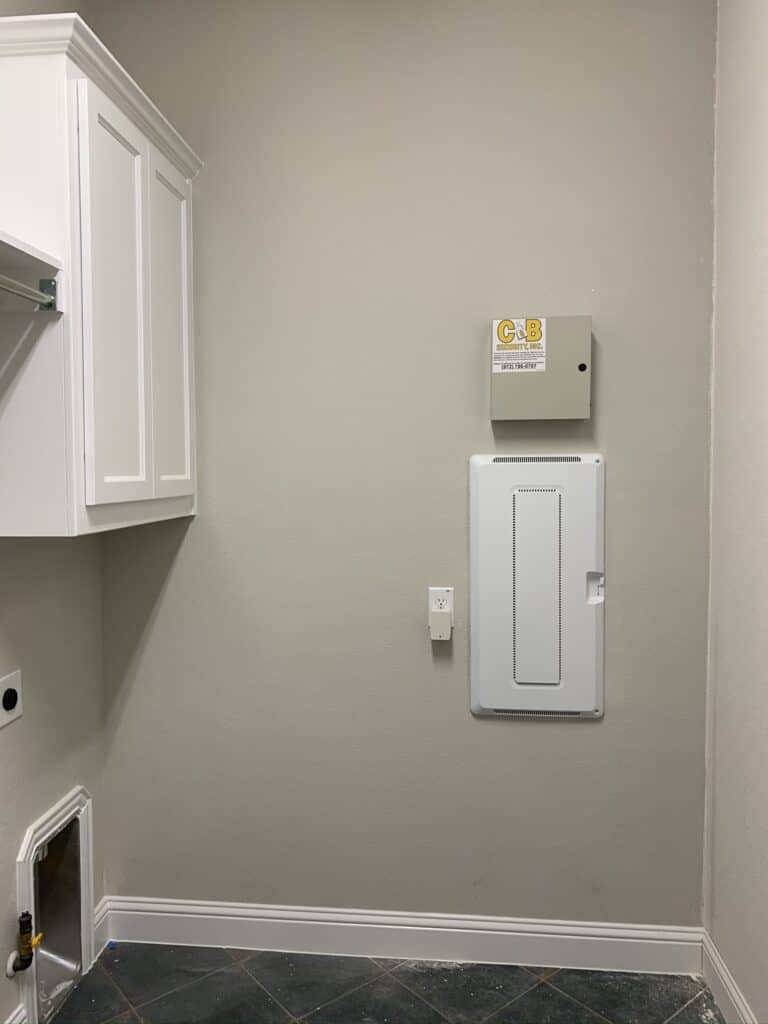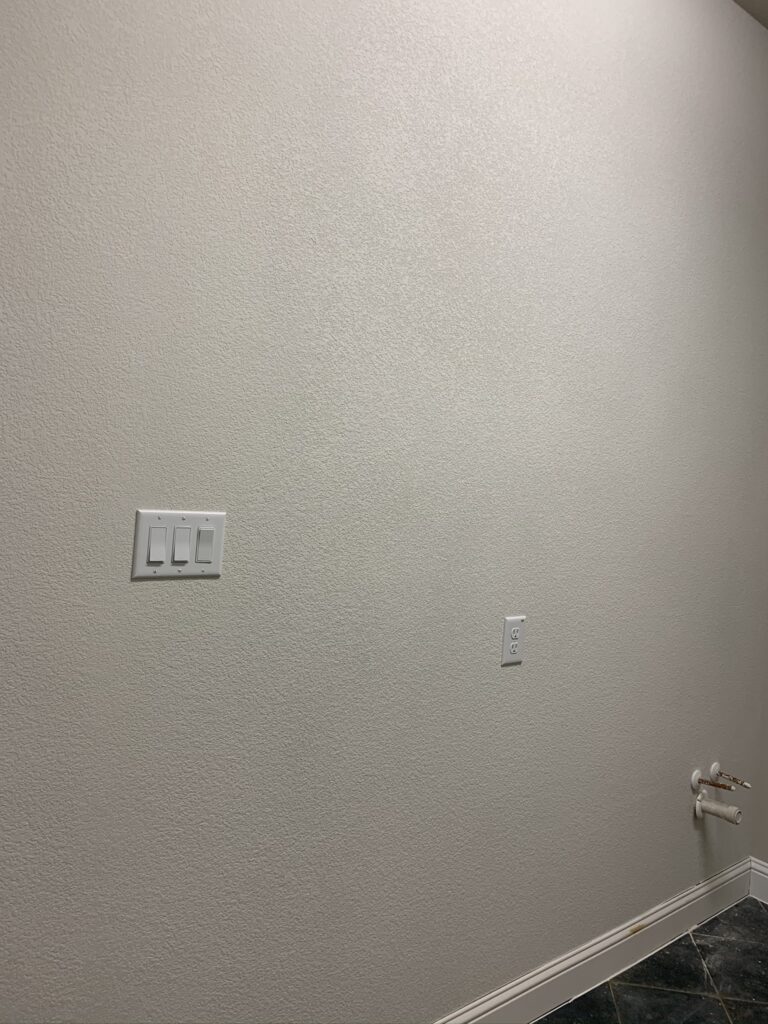 The Design Board –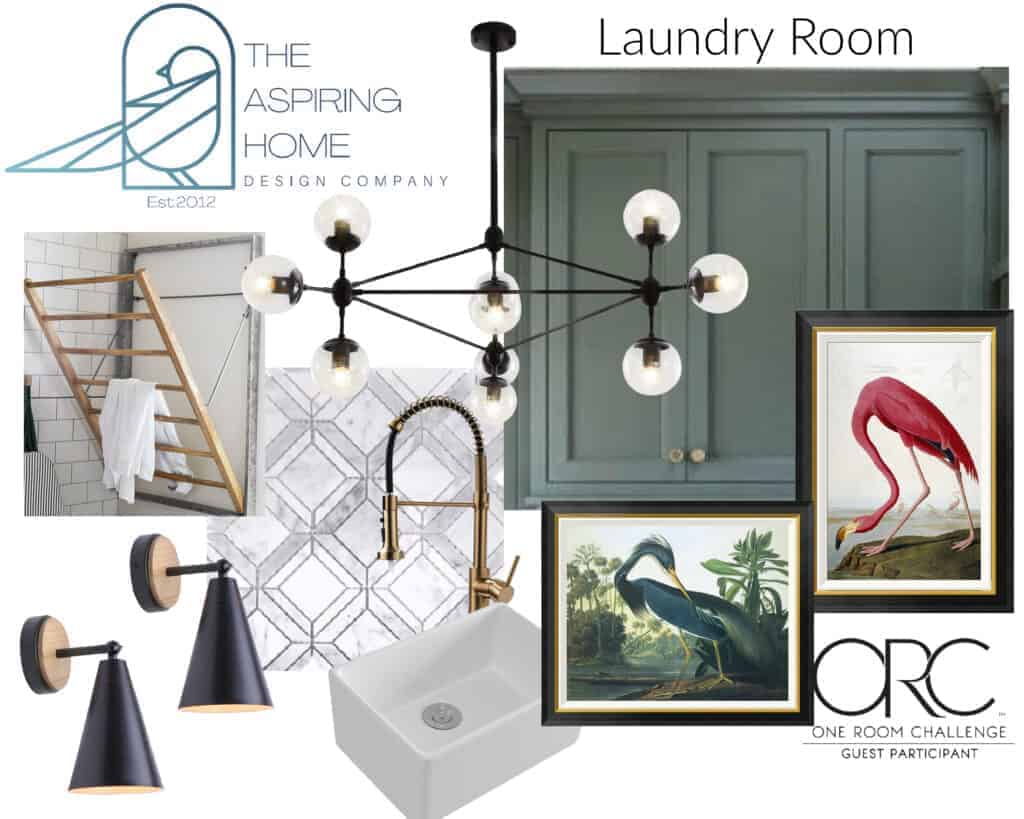 Quite a bit of change – especially since we are starting with a basically empty room. One of my favorite parts is the beautiful cabinet color. Sherwin Williams Pewter Green delivers a calm moody punch to an otherwise bland space. I will be changing the wall and ceiling color to Benjamin Moore Chantilly Lace.
The little cabinet above the washer and dryer will be painted the wall color. Why? you may ask, here's my reasoning:
This laundry room is long and narrow. Adding the deep hue on both sides of the room will make it feel closed in. Definitely do not want that in a room that is used daily for hours at a time – at least in my opinion as someone who isn't fond of small spaces.
Lowering the washer and dryer to a reasonable level will help the space feel less "smooshy" (yes that is a new word). I asked my favorite cabinet guy to build a shorter platform – we wanted to do this ourselves but time has gotten away from us and thankfully we can call for help when needed. 😊
Laundry Room Cabinet Hardware-
Ok, what hardware jewelry will these cabinets be adorning? Well, let's take a look!
Heads up! The following contains affiliate links. If you choose to purchase through the link – I may receive a very small commission at no additional cost to you. Thank you in advance if you choose to use the link.
Can you believe that the bar pull is actually a towel rack? YEP! I wanted a really beefy feeling pull for the long cabinet that houses the ironing board and portable vacuum cleaner – I was coming up empty handed.
Then I thought about the towel bars and low and behold I found this one!
In other news –
Countertops measurements were delayed but promised for tomorrow and hopefully installed this week.
Audubon prints are here and will be framed this week.
Walls will be painted.
Ceiling light changed out and sconce lighting will be added.
Washer/Dryer platform will be installed.
Floating shelves will be installed.
Cabinet hardware will be added.
It's a very full week! A little ambitious?
Maybe but sure worth the try – as I tell my children: Reach for the moon but if you miss, grab the stars.
Make sure to stop by the official One Room Challenge website and see what everyone has been up too! Click here.
Have a wonderful week my friends and keep creating home.