Laundry Room Makeover Sources List
Redesigning the laundry room was not only fun but much needed! Now it is very functional and organized. Want to makeover yours? Here's my laundry room makeover sources list to help you!
One of the most used and unfortunately one of the last rooms on the makeover priority list is the laundry room. It's hardworking but out of sight most of the time. Usually we can close the door and not think about it… at least until the next load. Today I wanted to share with you my laundry room makeover sources list to help you rethink this vital space in your home. You can see the full laundry room reveal here.
When we purchased this home, we were fortunate enough to have the opportunity to not only pick finishes but to add a couple of things that make the house function better and create great resale value. I was leaving behind a large laundry room with great work flow – it had its own set of hiccups. One being, it became the main entrance to the house since it was right off the garage.
This meant that everyone and I mean EVERYONE came into the house through the laundry room and with a family of five, it was hard to keep it tidy. The machines were always in use. Secondly, for the amazing size, it did not have a sink. I was constantly soaking football and baseball pants in the powder room or kitchen sink.
The new sink –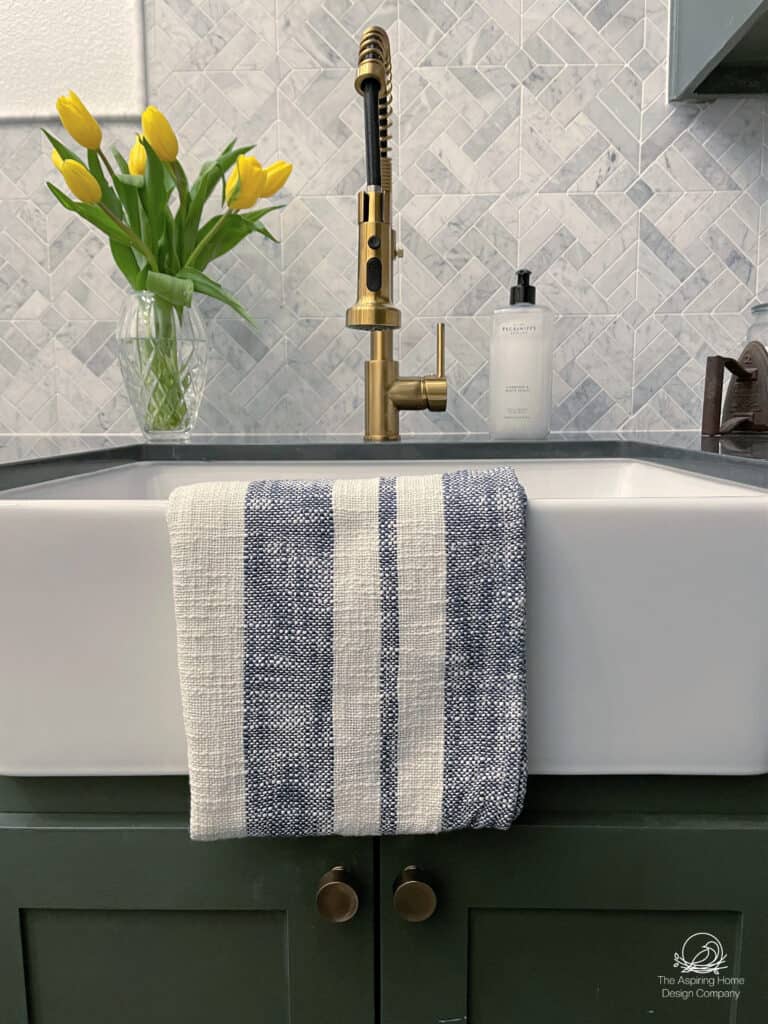 When I had the opportunity to start from the ground up – literally. I knew I had to have a sink option. TIP:To save money during the build, I chose to just plumb for the sink and as the funds became available – add the cabinetry and sink.
*this post contains affiliate links.. If you choose to purchase an item through the links, I may receive a small commission at no additional charge to you. I truly appreciate your support of The Aspiring Home.

To hide the wear on the washer & dryer and provide much needed laundry folding surface – I enlisted the help of a talented carpenter friend. TIP: to save money, I went with paint grade lumber but stained it. I wrote a little tutorial on staining paint grade lumber here.
I am thinking about adding one more shelf lower – right above the washer and dryer for more storage. This room is narrow and I wanted to keep the space feeling as wide as possible so I chose to paint the cabinet above the washer & dryer the wall color. Since I was going for a nature/Audubon inspired laundry room, I chose a soft almost natural feeling stain for the floating shelves and built in.

Sketching out this side of the laundry room was fun. In order to maximize storage and give room between the cabinetry and washer/dryer, I narrowed the cabinetry at what could have been a pain point…literally. The narrow cabinets were perfect for organizing washing detergents, vinegar, peroxide, etc.
The tile backsplash is a pretty one! It's one of Jeffery Court's beauties and it is marble. To add a little character and marry the dark green cabinetry with the dark rustic floors and the marble backsplash, I went with a soapstone looking quartz. I love how it turned out.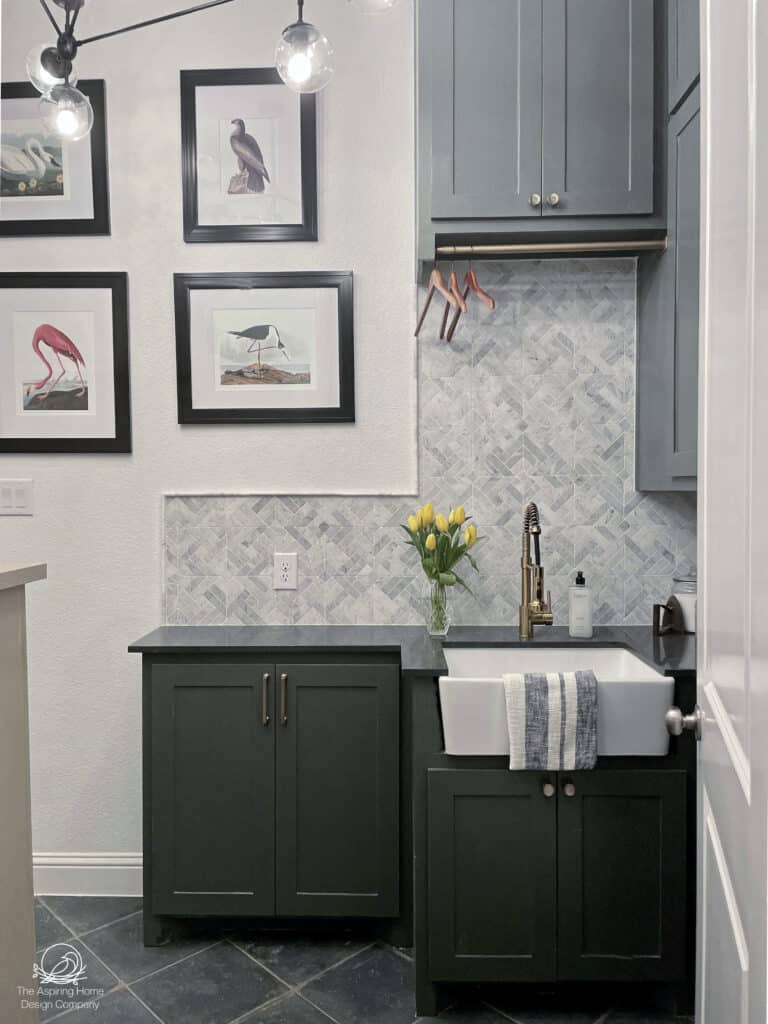 So, true story, the paint color on the bottom cabinets and top are the same color. This laundry room does not have natural light and isn't near any room that has natural light. This means that I have to turn on the light fixture.

Unless you are taking photos for real estate , this is a big no no. Sometimes you have to break the rules BUT it can lead to this for the nominally skilled photographer (me).
The cabinet paint color-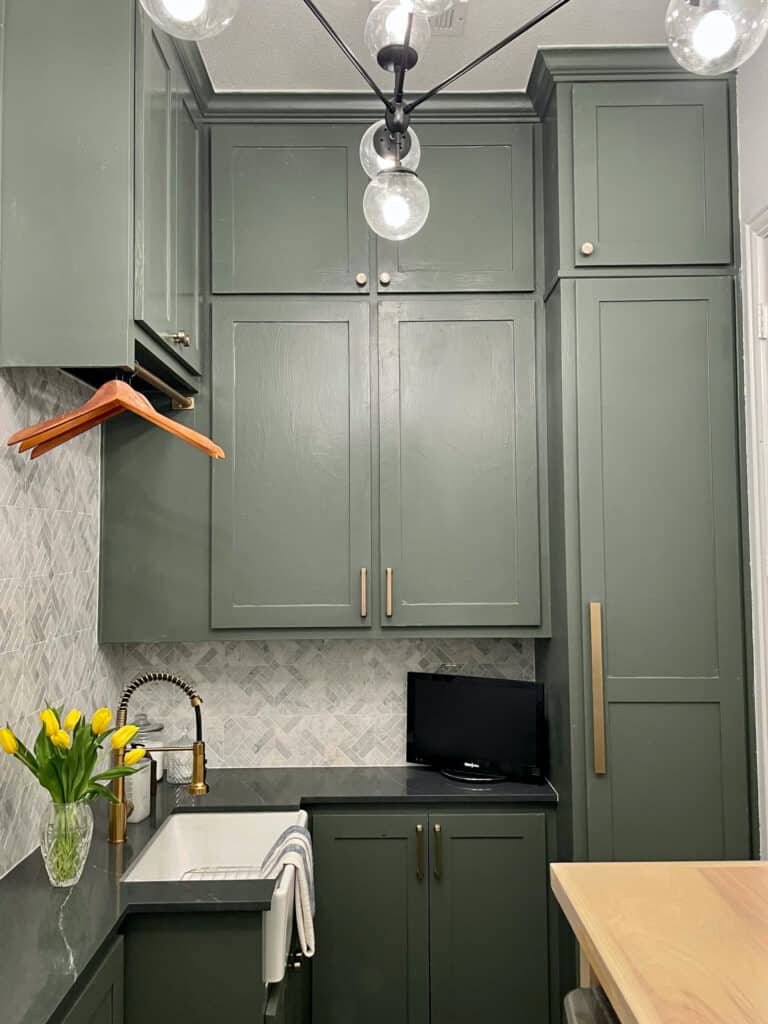 Originally when I was designing this space, I had a blue paint color in mind. I adore blue, always have. But as the room came to life on paper, I realized I wanted a moody paint color and picked Benjamin Moore's Cheating Heart which is a rich charcoal.
That color was just a bit too deep for the room and I decided to give Benjamin Moore's Pewter Green a try. I am so glad I did! It is so gorgeous and it further plays off the nature theme I was going for.
The cabinet hardware finish is champagne bronze and to create a cohesive look, I spray painted the clothes bar in champagne gold. The laundry room has bee working hard since the fall of 2021 and the spray painted finish has held up.

Let's talk about a few essentials-
If you have the wall space to add this drying rack, DO IT! Even my skeptical husband is completely sold on it. It's compact , simple to hang and adds a whole lot of drying area. Just recently he used it to air out camping zipper bags after they were washed. I love it for all the "do not put in the dryer" clothing.

Here are a few more helpful items to add to your laundry room:

I am a big fan of wool dryer balls. I add a few drops of essential oils and toss them in the dryer, so good!
Well, that's the laundry room makeover sources list! If you have any additional questions, feel free to leave in the comment section and I will try to answer them.
Have a marvelous day and keep creating home my friends!