One Room Challenge – Week 3 – The Nitty Gritty
It's the halfway point of the ORC! The Nitty Gritty as the title says, we are in the middle of chaos. The work will have to continue if we are going to make the deadline!
Hello!
It is week 3…yikes! The official half way point. It amazes me and I know you have read it and some have lived it but 6 weeks seemed like an ample amount of time to do a makeover. Time is moving super fast. If you find the pause button- let me know.
Mother Nature decided that we needed rain… a whole lot of rain. H town is dealing with massive flooding and I am wondering if it was such a good idea to do a submarine themed room… But in all seriousness we have immense heart-break for lost loved ones and lost homes. Houston is large city but when tragedy strikes, they remind me of my small hometown of Biloxi. They pick themselves up by the bootstraps, shake off the pain and begin helping those in greater need. Please keep Houston and the surrounding communities in your thoughts and prayers.
Captain Nemo's study-
The details are coming together and we are making progress! I found a few really fun pieces at Home Goods including two of these 3ft. tall SeaHorses. I just love them. They will have an important job… they will be a part of the submarine's ceiling structure.
The BEFORE…
And here is a peak of the AFTER …
I am loving the little makeover- isn't paint a wonderful thing! Speaking of paint… "Winter Gates" is going up! To save some cashola, I am painting the room. Gotta have a little wiggle space in budget for a few fun items… like oh maybe… jellyfish? 😉
The wall treatment is going to be oh so gorgeous! The "riveted" panels will be simple. I found so many pictures of faux riveted submarine like finishes and they are fabulous. I want this space to NOT go over the cliff into cutesy. It has been a real balancing act let me tell you. Here is a mock-up of the treatment that will be gracing the walls this weekend.
So excited to get the wall treatment up! Forgive my indulgence but had to include this picture of my buddy, Ricky Bobby. Love this guy – he is never too far from my side.
We played musical furniture this week. Moving some of the study built ins upstairs and moving my beloved almost (90 plus years) antique armoire down to the study.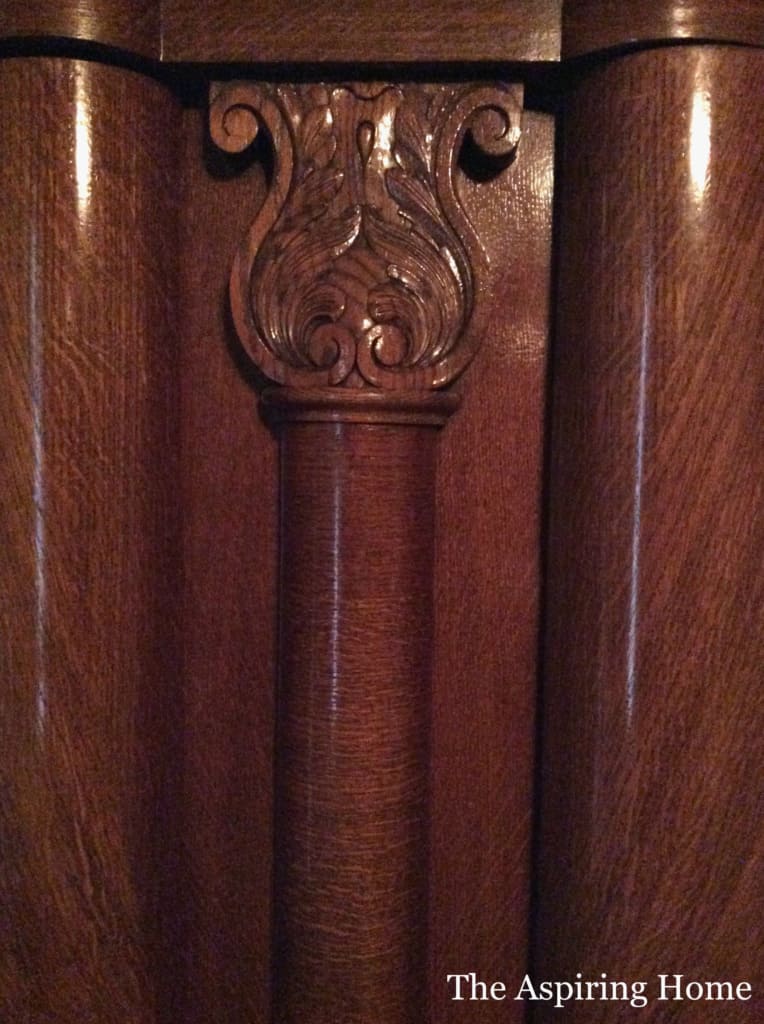 This Belgium piece holds special meaning for me. When we were first married, we started life out in a 1928 cottage. IF you have ever been or lived in a home from that era, you know that closet space is really tiny. To remedy this, my hubby went out on his own and purchased this armoire for me and had it delivered as a surprise. I knew money was tight and for him to do this on his own was just precious to me. Fast forward 23 years and even though I no longer need it to house clothing – it has made its way into every home we have had. My hope is to one day pass it on to one of our children.
Looking forward to sharing more with you next Thursday!
Catch up with me here!
Week 1 // Week 2 // Week 3 // Week 4 // Week 5 // Reveal
IF you haven't checked out the Featured Designers latest – you gotta go – you will thank me. Click on the picture.
And today over 200 guest participants are sharing week 3! Take a look…
Many, Many Thanks to Linda at Calling It Home for creating this phenom! So happy to be a part of it all!
Keep Creating HOME my friends,
Linking up with: