ORC Week 2- Powder Room Design
Time to reveal the powder room design plans! We have a lot of work ahead of us in order to get two rooms photo-ready in a few weeks!
It's week 2 for the One Room Challenge! Happy to see you here – are you ready for the powder room design plans? I am so excited to share with you the dream ideas for these two half baths.
I am so in love with this Arabesque tile! I'm a sucker for marble… how about you? This gorgeous tile will be a focal point behind the sink/mirror area.
The vanity will be going from Ralph Lauren Cargo Brown to Benjamin Moore's Hale Navy. The hardware will stay but it will change finishes.
Here is another serious favorite of mine… burled wood.
Carrera marble shelves will be added for more swank
How fabulous is this light fixture?!?
So, I confess, I haven't started this room yet.
I have to sand down the lovely raised fleur-de-lis pattern that I created with spackle. At the time, it was really cool and I liked it – the project was a quick fix for the space but it has been almost 8 years since I touched that room. It's time for a change. I love the vibe we are going with and can not wait to start tiling! I am thinking the beginning of next week will find us with a new beautiful focal point. 😉
The downstairs powder room will get a dose of Wanderlust by Behr. Don't you just LOVE that name? Ok, let's say that again, Wanderlust.
The floors are going old school simple with black and white tiles.
Kohler makes a lovely toilet (yes, can you believe toilets can be functional and lovely?) that nods to the past.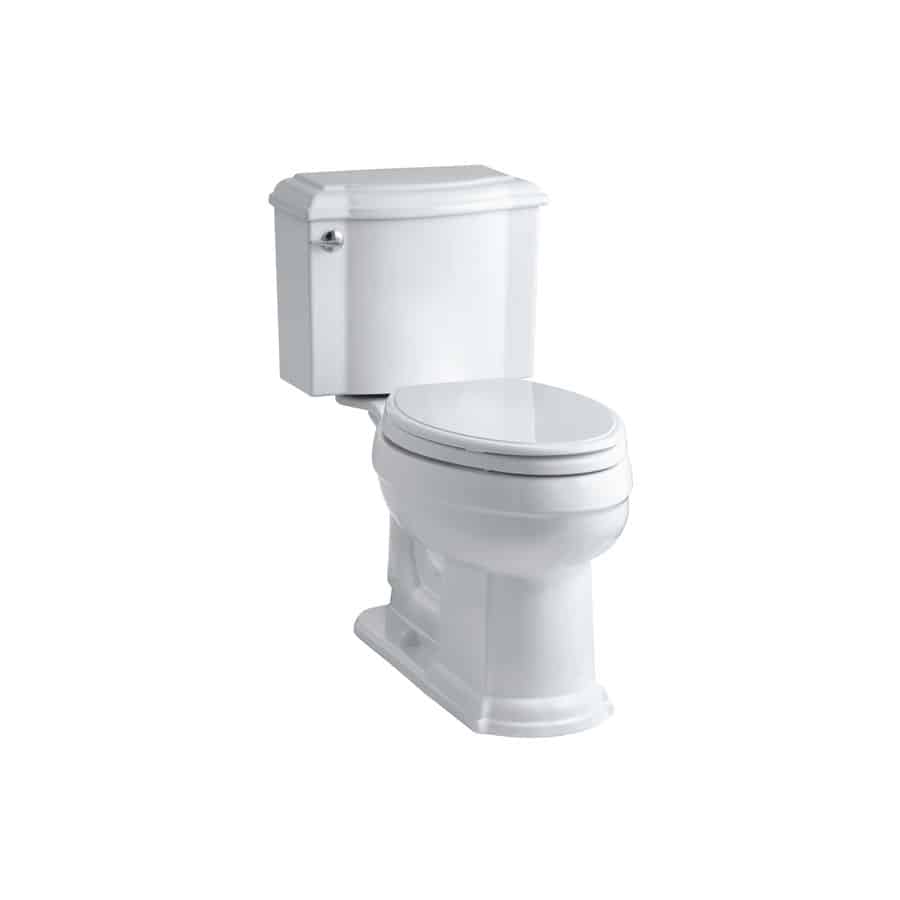 I dig the American Standard pedestal sink and I have grabbed it for this makeover. Notice how the lines "go with" the lines on the toilet? Don't ever feel stuck with just one brand – I give you permission to go with what works. You're Welcome!
Hello, curves! This faucet is not only reasonable but pretty to boot!
Going with another globe style light but this time in chrome and clear glass.
So far the floor, sink, and toilet have been installed. The paint will happen in the next couple of days!
Well, that is it for the design plan for now… and if you have been around here for any length of time- you know I have a few ideas up the sleeve that I will share as we go on. We will see if they work. Ha!
Still figuring out the artwork but the wheels are turning… so be sure to follow me on Instagram / Facebook / Twitter to see the day to day photos. Could be good, could be interesting…Yikes! 🙂
ORC Powder Room Design Plans
The featured designers have posted their week 2 and it is good, friends. The linking participants have also posted their design savvy. #oneroomchallenge
Follow the entire post series here –
Week 1// You are here // Week 3 // Week 4 // Week 5 // REVEAL!
Keep creating home my friends!
SaveSave