10 DIY Ideas For Outdoor Living
Today I've pulled a ton of fun simple projects, 10 DIY ideas for outdoor living, everything from painted pavers to updating old furniture.
Let's not waste time and get to all this goodness!
1. Paint the Pavers
Got a side yard that needs a little love? These basic concrete pavers take on a new life with a little acrylic paint.
I am going to do a similar project update to this DIY Painted Paver project on a patio that will lead into pavers as soon as it warms up!
Go large scale with this next idea and paint your driveway or patio with these tips.
2. Take the Movie Outside
Family fun can be had all year long with this easy drop cloth movie screen DIY.
3. Plant a Garden
So easy! Create a garden just about anywhere with this pretty horse trough container garden.
4. Add a Water Feature
The gentle sound of water is always appealing when enjoying outdoor spaces. This wall fountain had seen better days but was still functional. Upgrading it was super easy with one product and a few hours of dry time.
5. Add Outdoor Curtains to a Cabana
Soften your seating area with pretty outdoor curtains and up the luxe by adding a fun scallop valance treatment!
Hang your new curtains with this galvanized outdoor curtain rod.
6. Build an Outdoor Console Table
Weekends were made for this type of project! A little lumber and a leftover piece of stone turn into a beautiful functional outdoor console table.
7.Add Outdoor Artwork
This idea came to me when I was hunting really big artwork on budget. Why not use a shower curtain?
8. Add a "Citrusy" Wreath
Nothing says "Spring or Summer time" like lemons! Make this lemon wreath for your front door to welcome guests.
9. Add Flowers
Fresh and beautiful – go natural and add a bit of gorgeous color through flowering plants.
Need a pot to plant in? I've rounded up 2o of the prettiest planters here!
10. Update Furniture with Spray Paint
Before you throw away that faded chair or umbrella, think about spray painting! It's instant gratification my friends.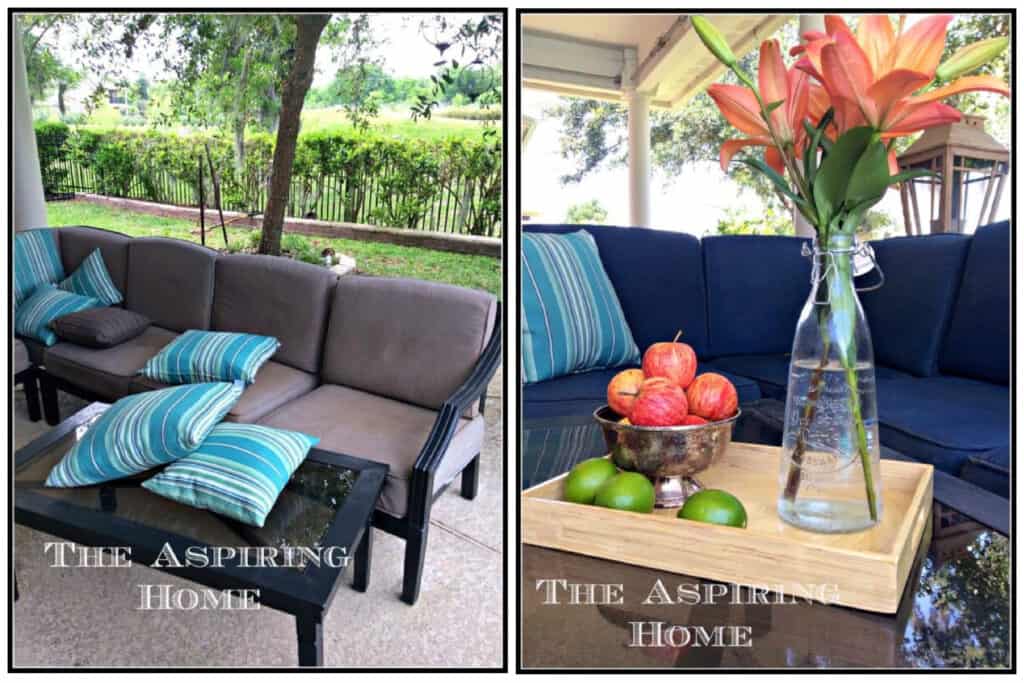 Let's get outside and make the most of outdoor spaces!