Updating Outdoor Furniture and Accessories
We are in full summer mode here and that means spending time outside! Our furniture is a little hodge podge (sale, clearance, end of season- yeah that's me). Updating outdoor furniture is easy with spray paint.
Hello Friends! Time to think about summer fun and staycations! I don't know about you but my outdoor furniture looks rough even after the mildest of winters. Updating outdoor furniture can be quick and fairly painless with a few tried and true supplies.
Umbrellas
This year we purchased two umbrellas from Costco – love them. As gorgeous as they were we had a problem… all that newness REALLY made my old umbrellas look incredibly sad. Overall the old umbrellas still had a season or two left in them. So…. what is a girl to do? She grabs her trusty can of spray paint!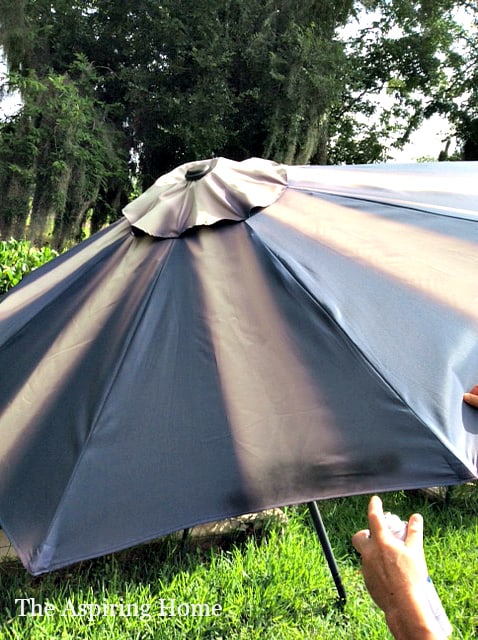 Mirror
Here is a great mirror I found at Home Goods in the clearance aisle that I thought would be a great option for outdoors. This summer I wanted a brighter gold finish and thanks to metallic paint- I got it! * I learned that the gold metallic fades outside so be sure to spray a non yellowing poly.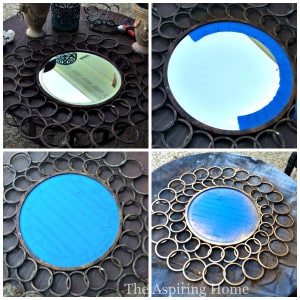 Chairs
These chairs received a facelift last year… thinking about adding a little gold accent to them.
Outdoor Cushions
And finally…. our little sectional needed freshening up badly. I used a hammered finish on the frame and used fabric spray paint for the cushions. HUGE change for little coinage. I did this project last season in hopes of getting two more years out of the cushions ($60 plus dollars a pop for each cushion is a no-go right now). So far they are holding up pretty well.
A plus to having getting to repaint and repurpose – NO FEAR. You can be as daring and bold as you want – if ya don't like it…. paint it again!
Till Later,
Linking up with: Frugal Fridays at The Shabby Nest (http://shabbynest.blogspot.com/2015/07/frugal-friday_9.html#more)
and Tidy Mom (tidymom.net)