DIY Simple Lemon Boxwood Wreath
This simple lemon boxwood wreath will keep your porch in the perfect late summer season. Only a few hours and a few supplies are needed to dress up your front door!
Hello friends, the heat is on here and this simple lemon boxwood wreath is perfect of the late summer season. I shared in my Late Summer Porch Ideas post that I am just not ready to break out the pumpkins. Now, I adore the fall season but the triple-digit heat really makes it hard to dream up ideas including sweaters, scarves, and pumpkin spiced lattes. My answer is enjoying the "in-between" season!
DIY Simple Lemon Boxwood Wreath
*This post contains affiliate links. If you click on the link I will receive a small commission with no cost to you. Which helps keep The Aspiring Home running and the ideas coming! To read my full disclosure policy click here.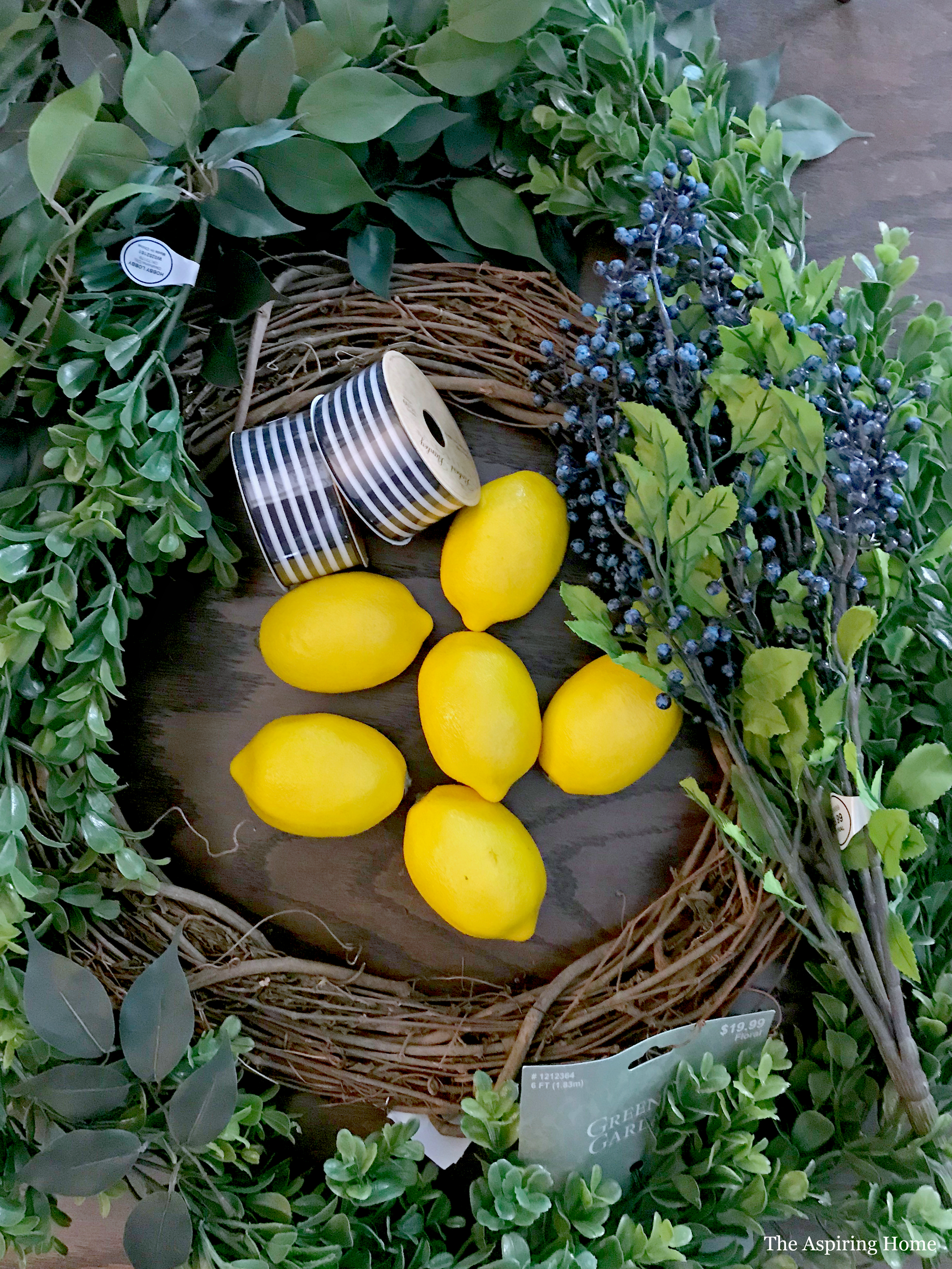 Supplies:
Roll of Ribbon – your choice
Glue gun
Glue sticks
Floral cutter
Thin floral wire – cut floral wire in half before beginning
Step 1:
First, attach boxwood swag to the grapevine wreath with floral wire.
Step 2:
Then, cut lemon leaves into individual stems. Attach the lemon leaves evenly with floral wire.
Step 3:
Now, cut berry bunch into individual stems. Secure berries evenly with floral wire.
Step 4:
Time to add the ribbon. Zig Zag ribbon around the wreath, at each point of zig or zag, attach the ribbon with floral wire.

Step 5:
Layout lemons evenly. Do a "test run" to make sure you like the placement, then hot glue into place.
Step 6:
Secure a simple bow with floral wire.
Finally, hang your beautiful simple lemon boxwood wreath for all the world to see!
Stay safe in this heat my friends,