Go Ahead, Paint the Light Fixture!
We say that paint can change everything so why not? Go ahead, paint the light fixture, let me show you what I mean.
Hey there! If you have been around here for a hot second- you know that I am a big believer in upcycling and upgrading basically anything that is sitting still too long with paint. It is my number one tip when creating a home versus living in a house…with stuff. It stands to reason why I would suggest telling you to go ahead and paint the light fixture.
Today I will share my favorites and hopefully inspire YOU to see what's around you a little differently.
Let's start small, like this cute light fixture that started out as a builder's "buy them by the thousands" light fixture that competes well with the infamous boob light for standard installations. I painted the housing and replaced the basic globe with a seeded glass one I picked up at my hardware store.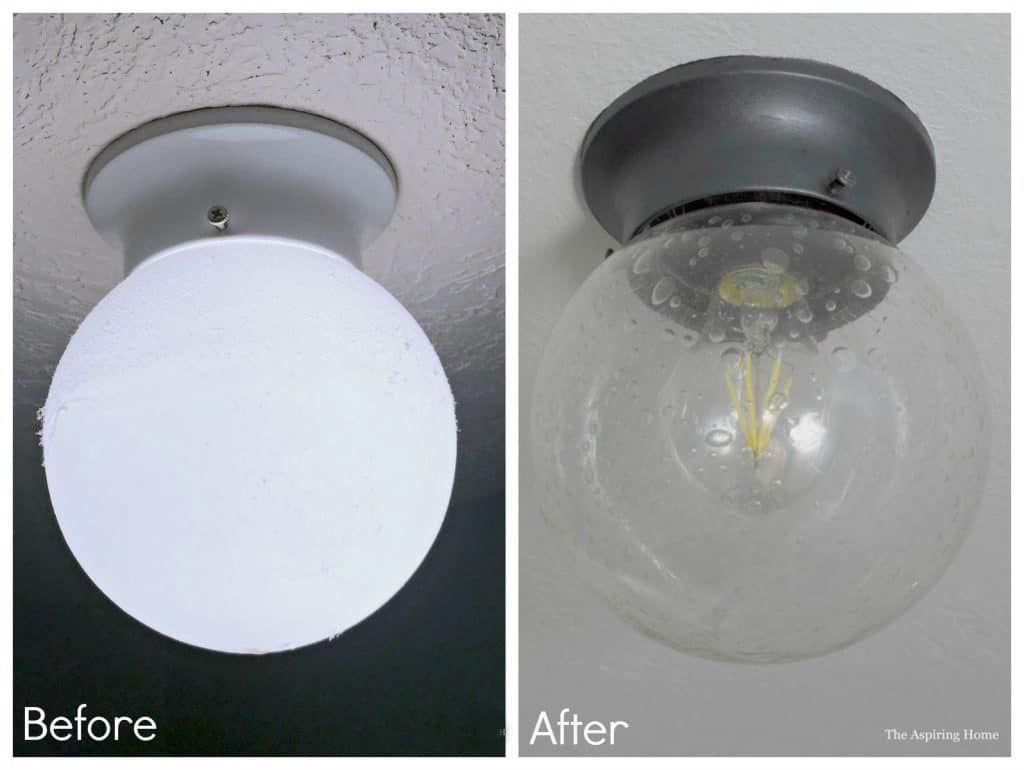 See the entire bathroom remodel here!
Next up, I broke out my favorite metallic gold spray paint and corrected a grievous wrong when these sconces showed up in a mustardy yellow pretending to be gold for my foyer makeover. The picture doesn't do it justice…it was so bad, so,so bad.
Read more about this foyer makeover here!
Now let's talk about fans… I took a gamble, scared my husband a little, and painted a wicker ceiling fan. I originally purchased it because I LOVED the texture it brought then I HATED it because of the texture it brought….dust would sneak into the crevices and made life difficult. It never looked clean enough. After thorough washing of all the wicker sections including the light fixture area, it had to be done. It had to be painted.
BEST DECISION.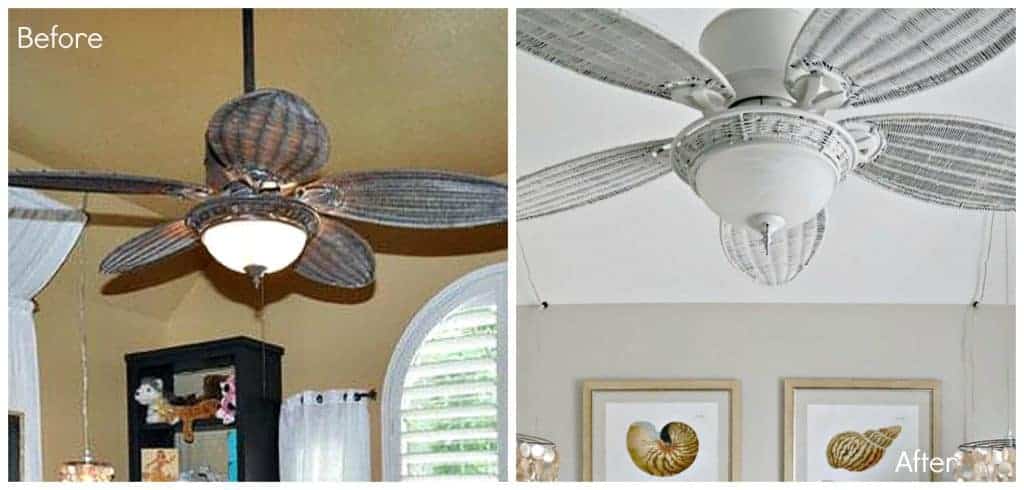 Read all about how I took a $100 budget and completely updated this room! Just click here.
and finally my latest project. This light fixture was pretty on its own and the color was fine. BUT I had my heart set on a much more expensive light and when I started thinking about why I liked it – I knew I could give this more budget-friendly light a little makeover, Some of the best advice I can give you is to ask yourself what draws you to a certain light fixture, furniture piece. accessory. Write it down. Then if you can replicate it for a more reasonable price do it. If you can't, find where the budget can be cut so you can incorporate that amazing too perfect for words item.
What drew me in was the mix of black metal and brass – besides the mid-century vibe. I can so replicate!
Read about the ORC Home Office Makeover HERE.
This was such a fun post! I hope I have encouraged you to go ahead and paint the light fixture!