Fall ORC Week 7 – Vivid Rustic Glam Foyer Reveal!
It's here! The final Reveal! It has been quite a haul but the outcome is more than I could have imagined or wanted, let me show you our beautiful foyer!
The Fall ORC Week 7 is now in the books and we have the most gorgeous foyer to show for our 7 weeks of sweat and toil. When I decided to take on the foyer – I thought I was taking on a small room. As per the norm, no room is EVER small. HA!
The foyer is the first welcome of your home, for you, your family, your friends and your guests. It sets the mood for your entire abode – is it a generous "So glad you're here!" or "Really?!? I wasn't ready for company". Our foyer wasn't bad by any means but it lacked character and the warmth that we wanted to present to our little world.
This is my 5th One Room Challenge as a guest participant. I so look forward to this biannual opportunity to take one room and revamp it in just 6 short weeks. The challenge can be tough at times but the outcome is wonderful. I love having a deadline to complete a space and I love connecting with other designer/bloggers over the ORC season. The sheer volume of inspiration from all the competed rooms is exhilarating.
As I mentioned before- I chose our foyer for this fall's challenge because I thought I could make it happen without involving my hubby a whole bunch and I was looking for a project that would handle a small budget. We have had to fork out money to make repairs to our home due to Hurricane Harvey (nasty tornado) and we have been trying to reach out and support others who were hit much harder than us.
The last few weeks have brought heart ache and happiness. A new roof, holes repaired, sheetrock restored and a gorgeous colorful entry.
Let's look back at where we started:
The Before:

Are you ready for the "After"?
TA DA! Here she is! Already for Company!
Ok, by now you know the gig is up… the idea of having antique mirror in this area didn't happen. Why? you may ask? Well, by the time I was able to figure out a antiquing process it turned out to be too busy for the space.
The Amy Howard Mirror stripper was amazing. It worked so very well. The mirror that I bought (like hundreds of people from Home Depot) was from China and as Amy Howard warns… it will not tarnish like you would hope. This was very sad and disappointing. If the mirror had tarnished it would work for the space but the old school way I used to antique mirror left me with a very busy patterned patina. When I dry fitted mirror pieces I quickly realized that the mirror would be too busy for the space.
After having a heart to heart with the hubby- I ran upstairs to find my leftover grasscloth in hopes of using it instead. It would be perfect for texture and I could paint it with a great soft metallic finish. Unfortunately, after measuring out the space and measuring of the paper – I didn't have enough. Back to the drawing board and brainstorming I went. Did I mention that this minor emergency was taking place this past Sunday? Yep, that's we roll.
I finally came up with an idea that might work so I asked John if he would mind helping me put up a wood wall in a herringbone pattern. He said, sure… and it happens to be the perfect solution (at least in my humble opinion). I will share the "how-to's" with you. Overall it was pretty easy.
The bench was such a simple project. I ordered the legs and began the hunt for an aged piece of live edged wood for the bench but had no luck. I found a few but just couldn't swing the price tag.
My hubby reminded me that I had a great plank on the side of the house that was probably "vintage" enough for my purposes. Hint, Hint.
This plank was an outdoor sofa table… until the pillars broke during a wind storm. Since the storm it had been sitting in the dirt waiting paitently for two years (yeah, I know…) Anyway, it was the perfect for the bench and I couldn't be happier. The coloring of the plank is so incredibly soft and antiqued. Crazy how very close the bench color is to my wall color.
Our stairs are so gorgeous now! The O'verlays Greek Key pattern added just enough old school glam to be noticeable. Kinda like Myrna Loy versus Mae West.
Click HERE to learn how easy it is to add this design element to your stairs.
The artwork is BIG like massive doses of color – this piece is 8ft by 6ft. As I shared on Instagram – I guess I had Hurricane Harvey on the brain and the massive flooding when I was painting. As I look at this painting I see the struggle and I see hope. A good reminder that any trial has hope if we (this ol' gal) will only look for it and hold onto it.
By the way – would you believe me if I told you that it cost me about $50 to make it? Yep, and I will shared the details with you soon.
I had this console for several years and took a chance on adding chalk paint and a bit, ok, a LOT of gold leaf paint.
The sconces do a beautiful job of adding light to a once very gloomy area. I ended up spray painting these lovelies with my favorite metallic gold paint. The original finish was just a bit too yellow and not the soft brass that I had ordered.
See how pretty they are lit?
That's it for pictures – I will have several tutorials for your soon. The majority of this room was done DIY and it would make me so very happy to share with you my simple tricks. If your are new to The Aspiring Home, I am super glad you are here. I purpose to try and share ideas that anyone can accomplish on a small budget.
Thanks for following along with me for another One Room Challenge journey! If you would like to catch up with season's challenge, here ya go!
Week 1 // Week 2 // Week 3 // Week 4 // Week 5 // Week 6
Please go take a look at the incredible room inspirations from my fellow blogger/designers – gorgeous inspiration my friends! I can't wait to see each one of their beautiful thoughtful designs. Click on the pictures and go straight to the fun!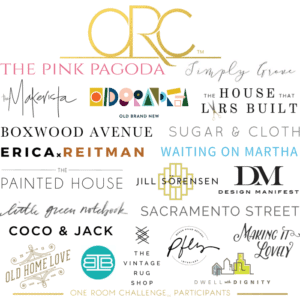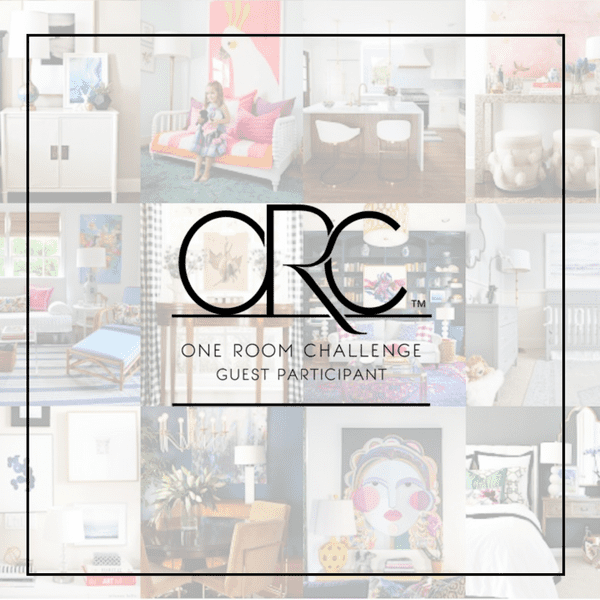 Hop over to see how we took stone tile and made over this foyer here!
If you would like to see my other One RoomChallenges:
Till later my friends,