Fall ORC Week 5 – Say It Ain't So!
We are in serious countdown mode now. A few more bumps and potholes have been added to this Fall ORC Week Five journey. Will we finish in time?!?
Fall ORC Week 5 is here. Can I just start this off with how very very very glad I am that Linda decided to tack on an extra week to this season's One Room Challenge? Really, y'all…I don't think I have EVER felt so pressured. Then again, I reread past challenges and I have come to the conclusion this is like giving birth… you immediately forget the pain and struggle when you are looking at your beautiful baby. Yeah, I just referenced my space to a beautiful bundle of joy.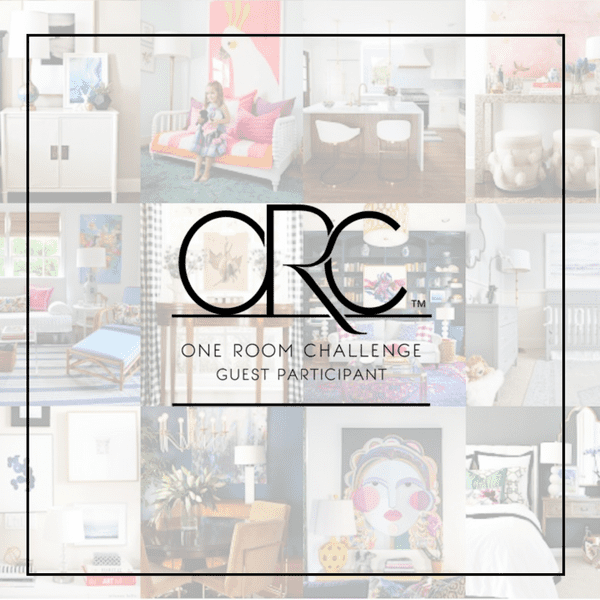 If you are new to The Aspiring Home – WELCOME! I am so very glad you stopped by. In case you would like to catch up with our progress, here ya go:
Week 1 // Week 2 // Week 3 // Week 4
Where we are on the Fall ORC Week 5
Antique Mirror
I had this really cool idea to add an antique mirror to the little alcove area of the foyer. I thought it would bring a little character and bounce light a bit. I still think it will be AMAZING… but I've got a problem y'all… I bite off more than I can chew… ALL THE TIME. I get these awesome designs figured out in my head and then when it comes time to execute yikes. I want to beat my head into the wall. Way too many emotions on this project. Keeping it real, folks.
So this little alcove space seems so unintimidating until you realize it will take 75 mirror tiles to wrap it. Let me just say that again… 75 mirror tiles...all need to be antiqued! I gave serious thought to choking down the price of just purchasing the tiles but after seeing how much they would run… it was too hard to swallow.
I started the antique process but the way I was doing it was taking too long and frankly too much elbow grease. I love the look and will share my process with you today, This method would be great if you had a reasonable amount of antiquing to do.
Step 1: Strip the Backing
I used Citristrip. I didn't want to be beholding to good weather in order to complete this project… At least that was the initial intent. Word to the wise, just a thin even coat on the mirror. Thicker isn't better, the product really does work well when it isn't "gooped" on. Imagine that… should have read directions first.
Wrap a paint scraper in old t-shirt material – this will help minimize scratching the mirror. I personally didn't mind the scratches. Be super careful if you do mind the scratches – it will scratch super easy.
Step 2: Clean the Mirror Backing
I scooped up the yucky mess with my paint scraper and paper towel. Then I used handy-dandy Clorox wipes to clean the extra yuck off my mirror. The cool thing I learned? Clorox wipes will remove some of the mirror silver and leave you with a brushed effect instead of a spritzed effect that muriatic acid or bleach process gives. Bonus! You can use the Clorox wipes INSIDE!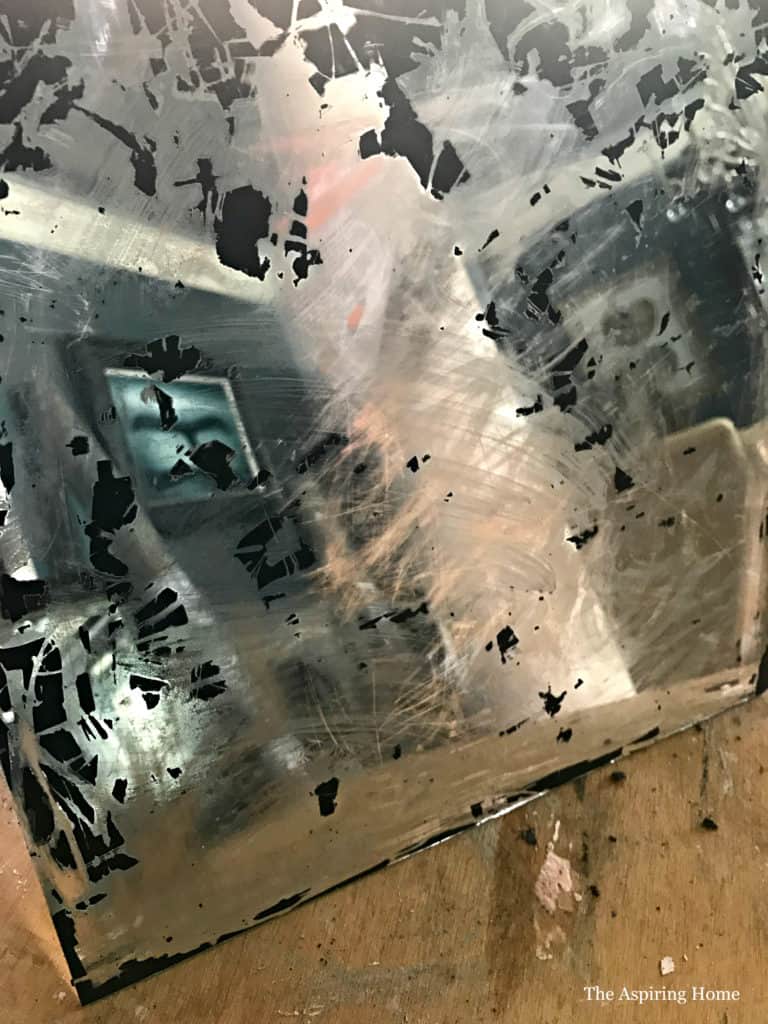 Mirror tile In Process
After taking the desired about of silver off, add a little gold and in my case, metallic blue and finish it off with dark grey or black paint.
I used this method for about 20 of my tiles before my hands gave out and I came to the conclusion that I have to find a quicker process, or I am going to be up the proverbial creek. After researching many different processes I purchased Amy Howard at Home Antique Mirror products. She has a fantastic video on the process and the product should be here tomorrow. I will have to find a space outside to make mirror magic, thankfully the process seems quick and I should be able to complete it before crazy weather issues arise.
Create a Large Canvas Art Piece –
I am really happy about this little project. We built the frame for the canvas and used my favorite fabric- Canvas drop cloth! I will have a full tutorial for you after the ORC so you can make a fun art piece as well! For now, here is a not so pretty sneak peek – use your imagination… go on I dare you. HA! I promise it is really good and the reveal will tell all. 🙂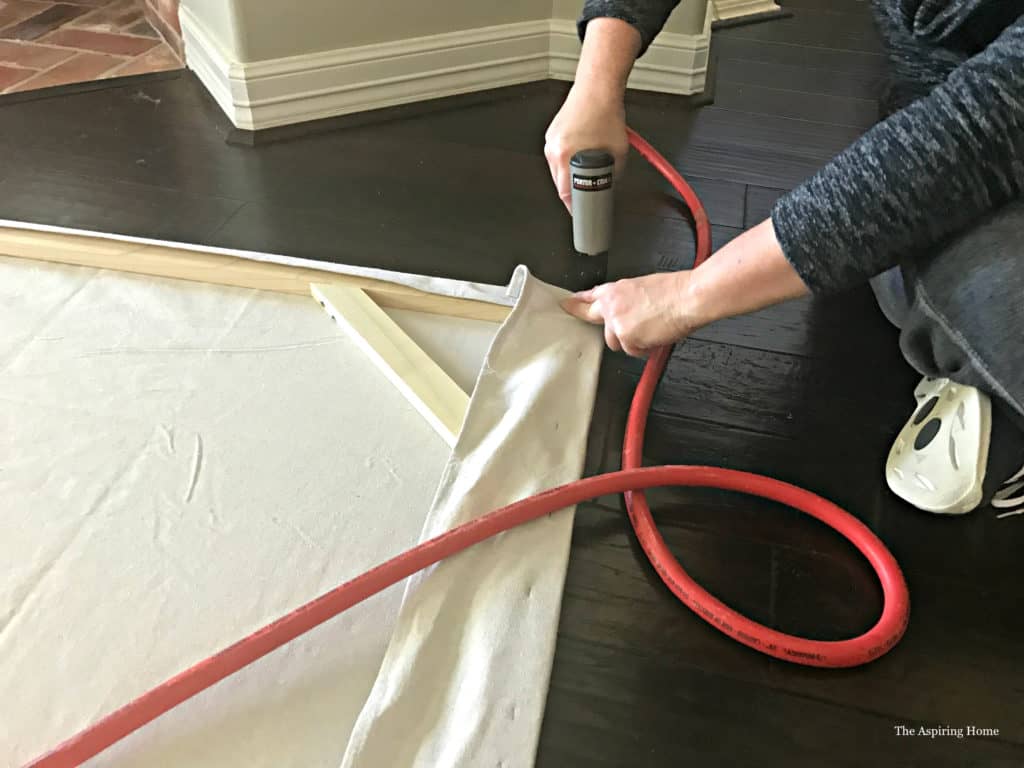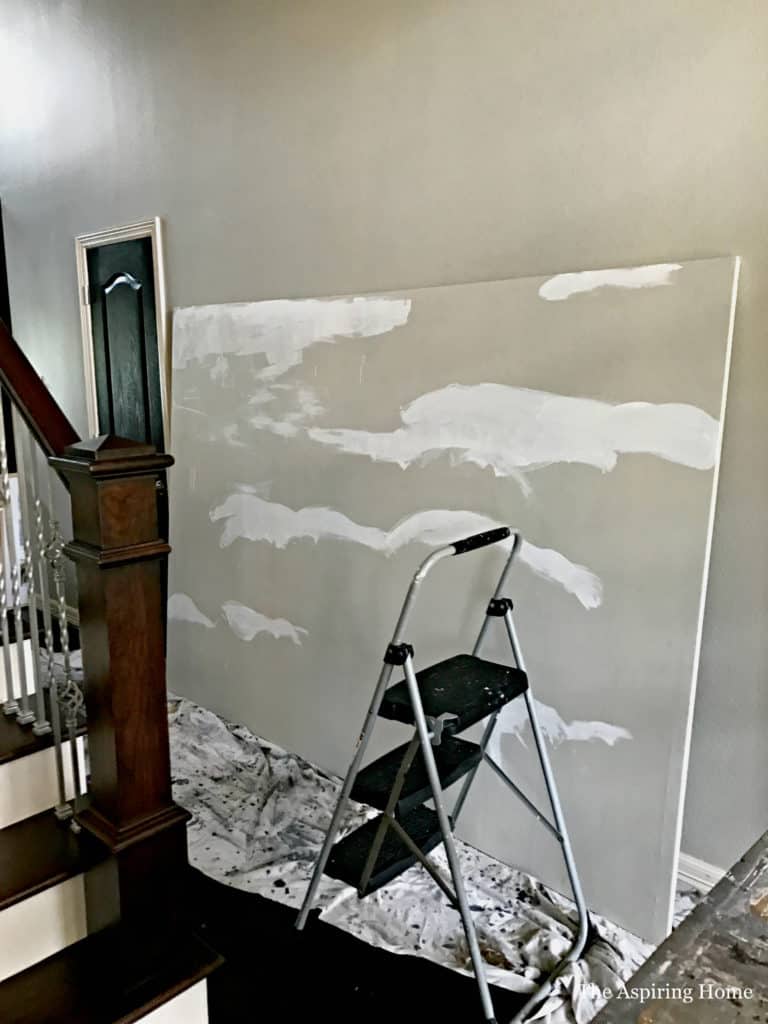 Yeah, this picture looks like a really poor attempt at clouds. HA! It does get better – pinky swear.
Build a Rustic Bench-
Hairpin legs are ordered and on their way. I found a super deal on four of them at good old Amazon. I decided to go with raw steel. I may paint them but My stair spindles are painted with automotive chrome paint and I think the legs of the bench might balance the space since I am mixing a crazy amount of metals.
Detail Out the Stair Risers-
Well, of course, I would choose the design that is NOT in stock… and the manufacturer lost power so, my awesome stair riser detail will be delayed. Really hoping it will get here before the reveal day, I promise I will burn the midnight oil to add them – my gut feeling is that the space will be that much better with them since I am having to hold off on adding other architectural elements to the room. Somehow it all works outright?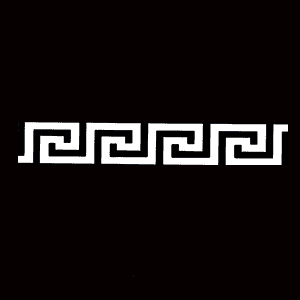 Other Items of Interest-
Foyer mirror – arrives TODAY!! Hooray!
Art for Niches – purchased supplies- the project will involve embroidery hoops… yep embroidery hoops.
Pillows- I broke down and bought pillow covers on Amazon. They were cheaper than I could make them.
Reframe existing artwork – I have two very cool pen and ink drawings that I am going to resize so they will mimic molding on the stair wall side of the little hallway leading to the living room.
That's about it folks for the Fall ORC Week 5 update, we will keep working away and fingers, toes, eyeballs crossed that we really can pull this off in time!
'Til Later,