Week 5 $100 Room Challenge Bedroom Refresh Reveal
Here we are! Reveal day! Week 5 $100 Room Challenge is official and the bedroom update is simply gorgeous.
I know I say this all the time but, boy, the weeks fly when you are doing a challenge! I am so very happy with the way our $100 Room Challenge turned out, the bedroom refresh is a breath of fresh air. Ready for the week 5 $100 Room challenge reveal? Let's take a look, shall we?
Read the entire series here:
Week 1 // Week 2 // Week 3 // Week 4 // You are here
Can't you just feel the breeze in this tropical room update? The majority of this room refresh was done by simply changing the paint color.
The bolster pillow was made from a scatter rug I found at HomeGoods months ago for the guestroom but decided it would make a great pillow. Here is a quick tutorial to make your own.
To stuff the bolster I grabbed three toss pillows that were lying around. Hopefully, I will not regret that decision (ha!).
The little table was a recipient of a little repose gray as well. Funny how just a tiny bit of dry brushing yielded an almost blueish hue? The surfboard hooks were a quick project involving old ladder hooks and twine rope that I had on hand. Yay for free! You can read the tutorial here.
The table lamp was a many a moon ago purchase and had taken residence near my sink area. I found the picture frames while shopping with my girls in World Market store, I have a thing for picture frames and boxes and I also have a habit of not filling picture frames or filling boxes with treasures.
It is on my "to change" list this year.
The chalk paint chair actually turned out! I know, I know – there are tons of tutorials with successful projects but it is STILL a little scary to purposely throw paint on a chair, you know what I mean?
Speaking of paint, I chose to paint the back of the bookshelves with more leftover paint. This color graces a couple of outdoor chairs and looks at home here as well.
I decided not to add sconce lighting to the bookshelves, I really want to research the idea and find a solution that doesn't take up too much visual space. Which brings me to my next little brilliant idea. I made the floor pillows years ago for lounging on the floor playing games or reading a good book.
We finally installed hardware on the cabinet and dresser!
I chose to go with matte black to keep the units from becoming too busy. Super happy with this decision.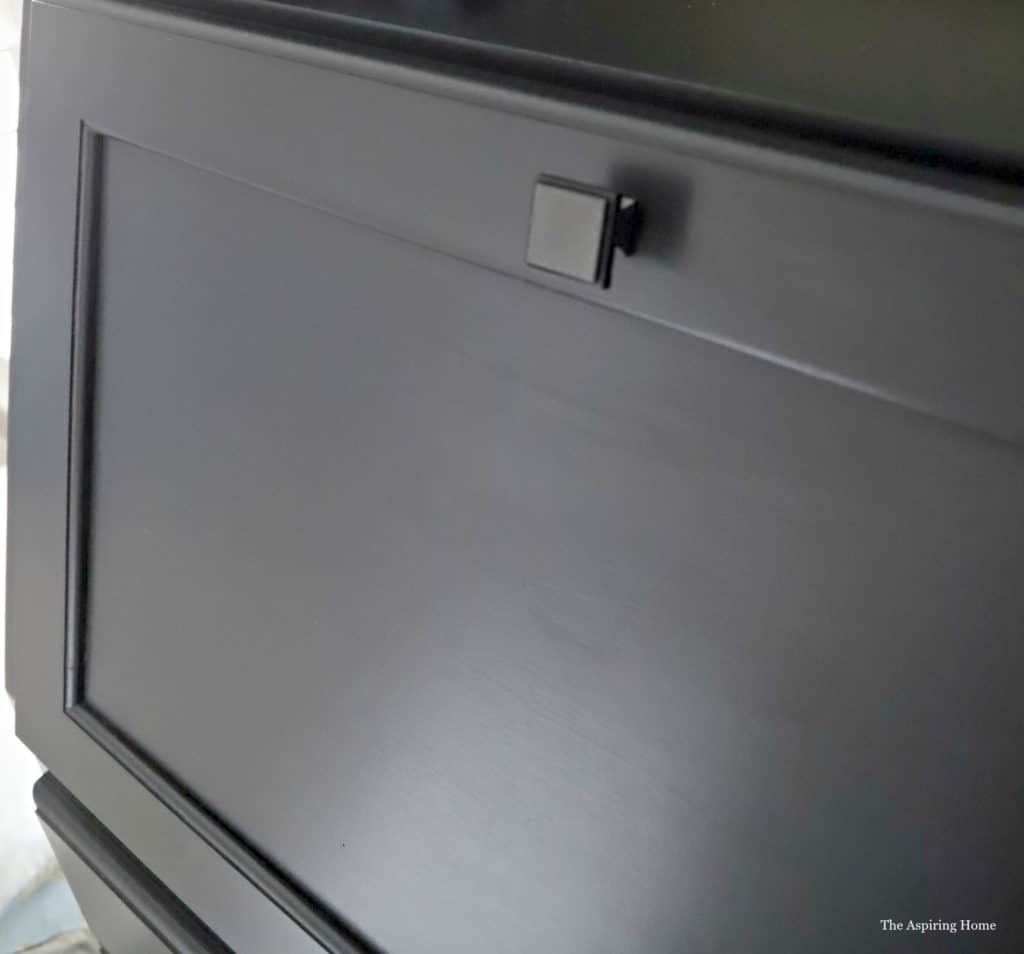 I share more about our cabinet hardware choice in this post.
So, what did we actually spend in this room refresh? Let's break it down.
Wall color – $0
Grasscloth wash- $0
Trim color – $0
Accent table – $0
Bookshelf accent color – $0
Decor – $0
Accent lamp -$0
Larger capiz shell lamps – $0 (they were in the master bedroom)
Chalk paint for accent chair- $50.25 (I ended up needing 5 jars of chalk paint and the extras were not on sale)
Cabinet/dresser hardware- $30.33
Grand Total: $80.58!
I won't lie- I had my doubts over pulling off a refresh for just a $100 but it can be done!
Small budget really does allow you room to embrace creativity.
Even though, I have always been a bargain shopper and never shied away from a project to save money but taking part in this challenge reminded me of how far the decor dollar can stretch if tested.
Thanks, Erin of Lemons, Lavender, and Laundry for creating this challenge and allowing me the opportunity to participate!
I have more ideas for this space and will share them as they come to fruition. One project I am excited about involves carving wood and no, it's not a TIKI which would be super cool…hmm.
How about the final picture? The beloved "before" and "after" shot.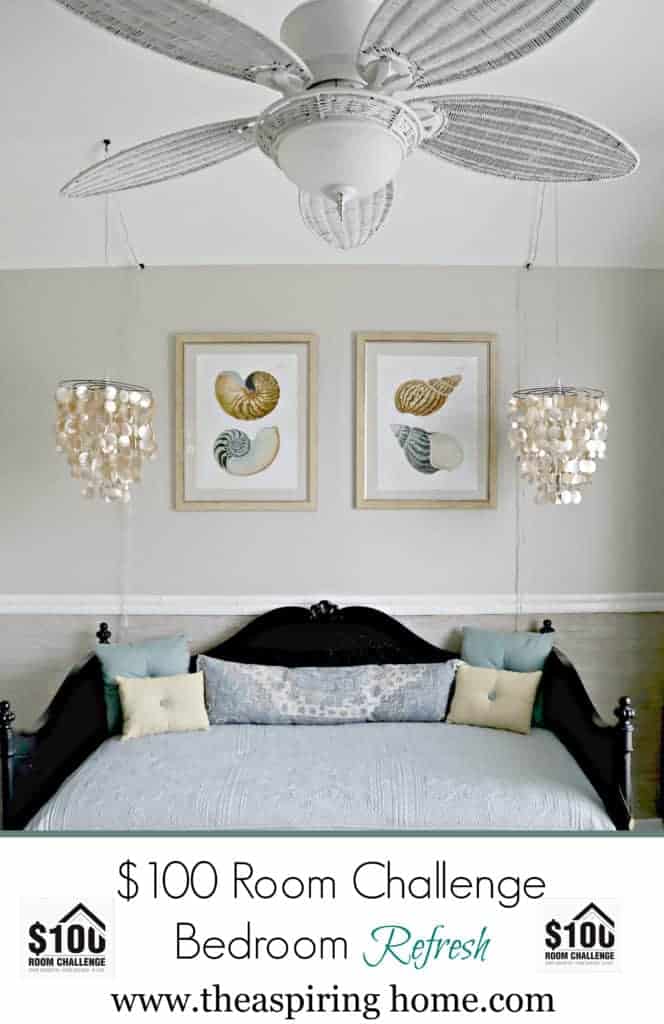 Ready for more budget-friendly inspiration? Take a look at the gorgeous reveals!
Week 5 $100 Room Challenge Reveals: