Saturdays On The Front Porch Vol.1
Welcome to my new post series, Saturdays on the front porch! Just a fun newsy little post filled with quick thoughts and little things to chit chat about.
I am so excited you are here. I have been working on developing this weekly post series for far too long and decided to just jump in and make it happen! I wanted a little spot during the week to just talk and share amazing things and Saturdays on the front porch was born.
Like what I have bought recently or a tip I learned that has changed my life or introduce you to some of my amazing blog and design friends who inspire me daily. I also get a few questions from time to time about little projects you are working on or design dilemmas that just need the advice of a friend. I will be answering a few of those each week so be sure to send me your questions and you never know – I might just feature yours!

Why "Saturdays on the front porch"?
Can I just be really honest? I agonized over this part for far too long. I have friends who do a weekly series tied to their newsletters and they have come up with the most amazing brilliant names.
I COULD NOT COME UP WITH ANYTHING.
Well, I couldn't come up with anything that I felt would be me or connect to The Aspiring Home. I started brainstorming…thinking about everything that makes this little spot on the web a good place to be. It's always been about creating a sense of home and encouraging you to create your sense of home. What makes your abode your place of comfort maybe different from what makes mine but the pursuit of creating is the same and inspiration can come from the expected and unexpected.
So, thinking of home as a physical dwelling and being born and raised in the South, the porch was always the place to congregate. Family, neighbors and friends hang around shooting the breeze. Telling funny stories, sharing sweet memories and in my family I can remember helping to snap beans, hull peas or shuck corn with my grandmother, Aunts and mom.
That's what I wanted weekly here. A place to come and share funny stories, encouraging thoughts, a few tips I have learned and introduce you to a few friends of mine.
Right here on our virtual front porch.
So grab a sweet tea or lemonade and let's chat!
Since we are talking porches
or the lack there of – our current home does not have a front porch but we do have a small patio (which will be getting a fresh makeover once it cools down around here) and here are some favorite porchy posts.
This Deck makeover for easy entertaining
Celebrate Summer with this quick refresh
Try this DIY Screened porch project
Keep the bugs away with these ideas
Use these tips to create a relaxing spot
Spruce up your porch or patio with these decor finds
Use this unusual item to make your plants beautiful
How to make a small deck live BIG
Give your porch an Americana vibe
This is the way to have a family fireside chat!
So, what's been happening around here?
I did a little hunting for outdoor rugs – affordable 8×10 outdoor rugs. I put on my post that they were under $300 but truth be told the majority are under $200 and they are GORGEOUS!
I shared over on Instagram some of my tried and true tips for taking care of antiques.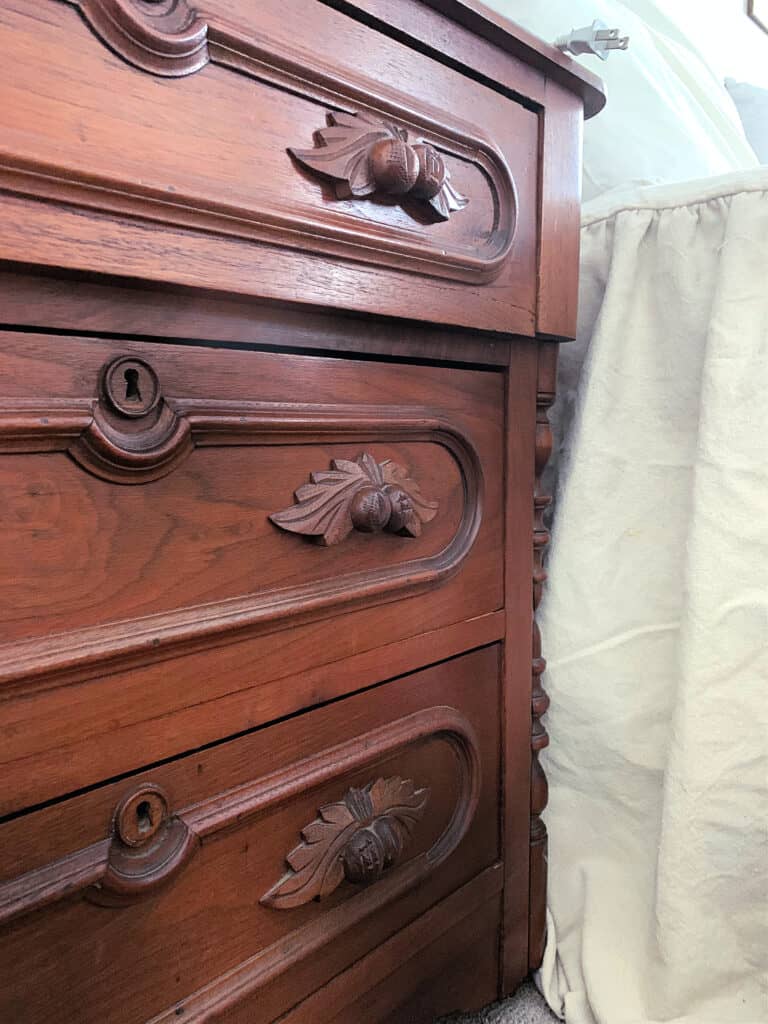 Tips like:
Here are a few things I have learned over the years:
Use a mild dish soap diluted with a soft cloth
If you need something stronger – Murphy's oil soap diluted
Crooks and crannies – use a soft tooth brush
For tougher stains and grime, carefully use #0000 steel wool – definitely use a light touch
For water rings – mayo is excellent
Wipe the entire piece with a soft cloth until grime in gone
Apply a small amount of bees wax paste and gently rub with (you guessed it) a soft clean cloth
Use a quality feather duster for dusting
Avoid placing your antique piece in harsh sunlight
Here are a few additional hints –
Avoid using dishwasher liquid as a cleaning agent – the chemical makeup is different and can be too acidic.
Catsup does an amazing job on bringing brass back to life.
Rough grain can be smoothed with a paper bag and a little elbow grease
White vinegar will help get rid of the musty smell that can happen with vintage furniture
I love the vintage pieces we have in our home, especially the ones that carry sweet stories like the rocking chair we bought at a market when I first found out I was pregnant. We hunted for just the right chair and found it in an American rocker that is just now hitting the official antique age of a 100 years., I have such sweet memories of rocking and singing my three little ones to sleep.
Do you have any little stories tied to furniture or decor finds? I would love to know! Email me : [email protected]
Thank you for joining me today on the porch! I know it sounds silly but this really is a little dream of mine to visit with you weekly. Please email me with design questions you may have or tips you would like to share – I am open and would love for this weekly chat to be more.
Until next time, Keep creating home my friends!