Simple Game Room Closet Organization Tips
Game room closet organization can be achieved with a few simple steps. The chaos does not have to overtake the board game fun!
Howdy Friends!
Well, the time has come. It's week 4 of the "No Place Like Home" Declutter challenge! Time has certainly flown- can you believe we are staring February in the face?
*This post was originally published two years ago and guess what? It's time to readdress the clutter around here, Ha! So, I thought, maybe you might need a little encouragement as well. 
So where are we decluttering today? The game room closet has been tagged as an under -utilized mess.  A bit of hazard zone yellow tape is in order… not kidding.
The beauty of closets, as we all know, is that the contents can magically disappear all by shutting the door. This is ideal if you didn't have to open the closet door. ever. again. Once we open the door and peer inside – the magic quickly dissipates and we are now staring down a nightmare of a disorganization and pure sadness. A messy closet can cause sunshine to become rain especially if you have to take EVERYTHING OUT to find the one item you really, really need and it may or may not be in that particular closet.  Yep, been there a time or two, or three. Who's counting?!? Not me! Ahem.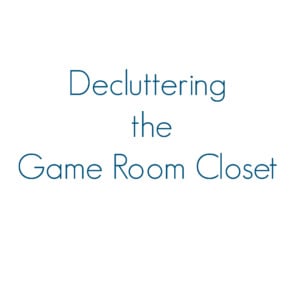 Back to the matter at hand, the game room closet. Here are the ugly before pictures. Technically I should get one star for 99 percent of the items falling in the "game room" closet genre.  That's about all this closet has going for it and since I don't really go for the whole participation trophy or star thing anyway, time to make a few changes.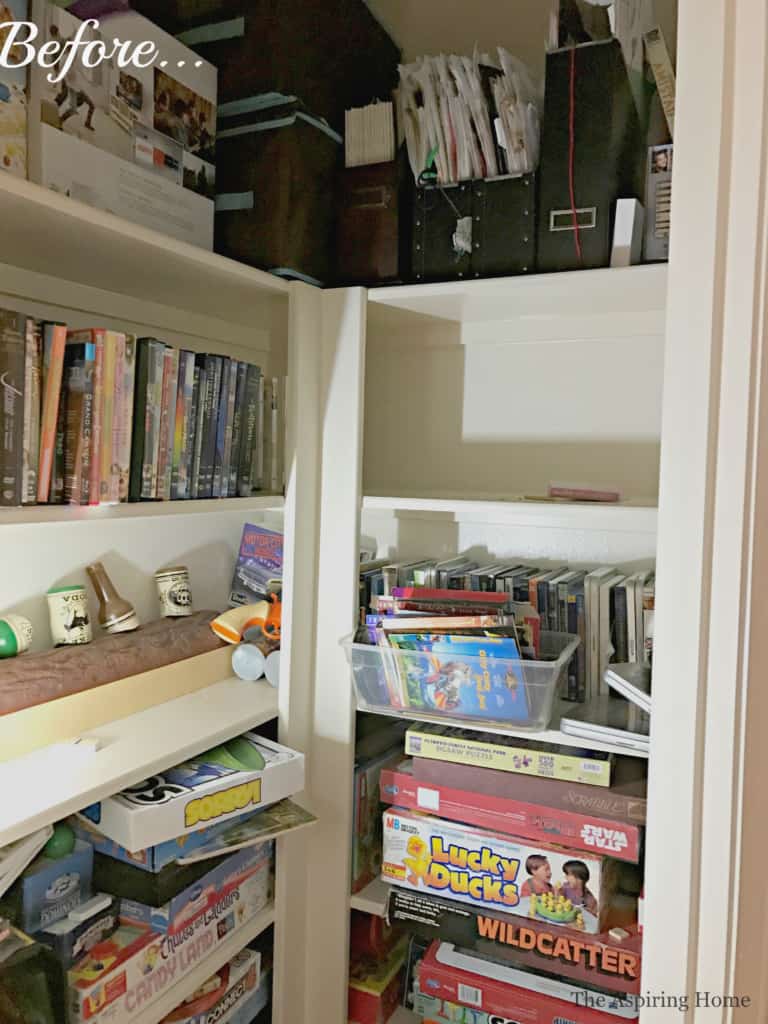 here we go… my messy closet.
Step 1
Remove anything unrelated to the gamer and media room. Such as the thousand papers corralled in holders at the top- those are my son's "best" work from kindergarten on. Really need to cull through those stacks. Guess what my next small project will be?
We are in process of moving all the movies into a consolidated organized system.
 Step 2
Time to remove all the empties and that Christmas tree stand I couldn't find, YIKES!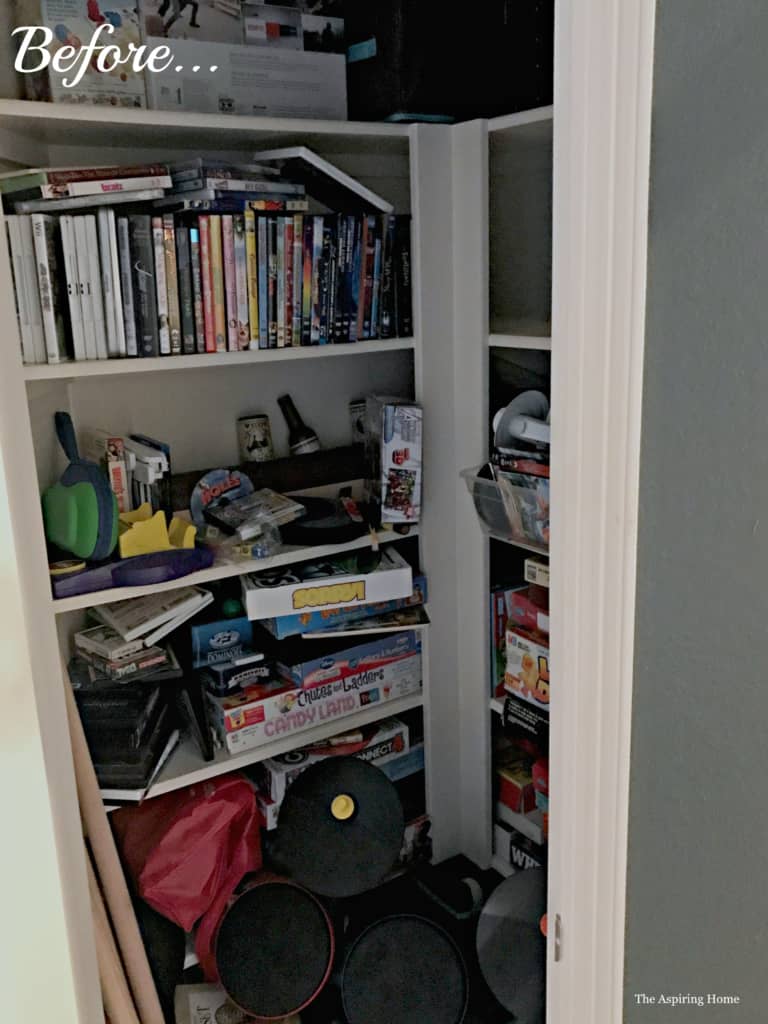 Obviously games are included in the game room closet.
Step 3
Remove any games that are missing pieces.
Step 4
Pull out games that are "too young" for our family but are still sentimental.
Step 5
Give away great games that are no longer interesting.


So, So, So much better! Hey look! You can see the carpet! You know what that means?!? It can be vacuumed! Woo Hoo!
See those little round dots on the walls? Well that is where I attempted to add light to this closet. Yeah, love the stick on battery operated lights but they just could not throw enough light on the space.
Now that the closet is organized, we can look into a better lighting solutions. I have a couple of ideas and will share them with you once we figure it out.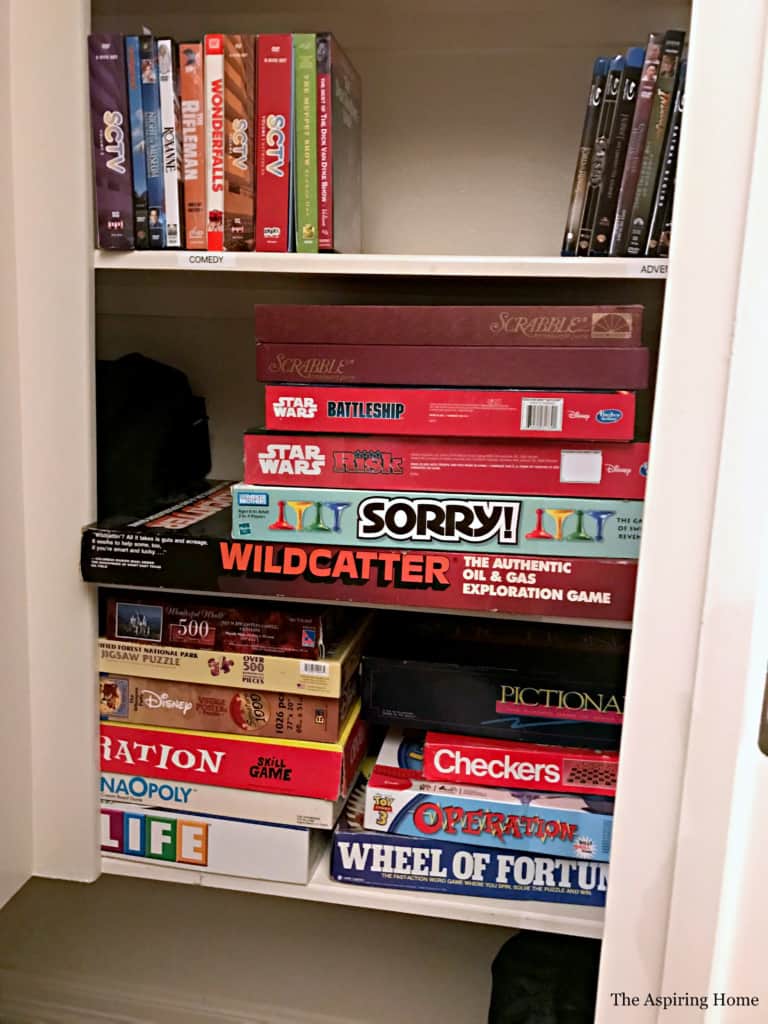 A few labels made their way onto the shelves. 🙂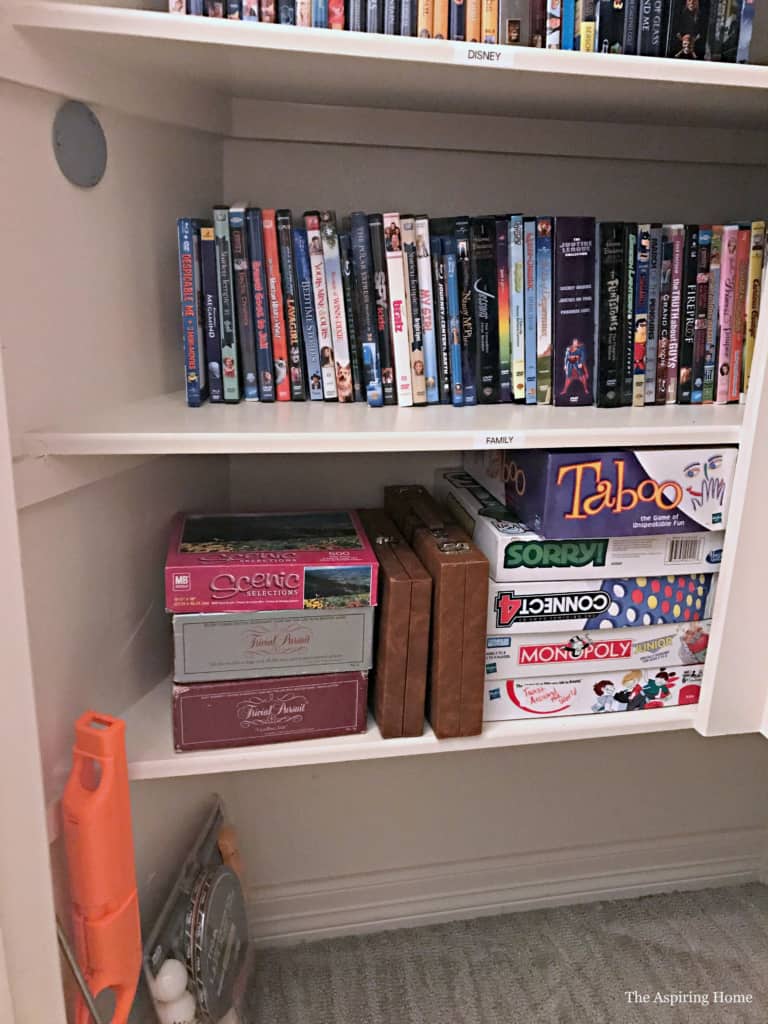 Time to check out my fellow bloggers of "No Place Like Home" for more organization inspiration!
A Home To Grow Old In | Hey Fitzy | Nourish and Nestle | Sweet Parrish Place
Paint Yourself A Smile | The Red Painted Cottage | Savvy Apron | The Aspiring Home
This also the last week of our $150 Container Store Giveaway! Don't forget to enter!
Each week submit a photo of a declutter challenge or success to the inlinkz below. (If you are not linking from a webpage and are just uploading an image from your computer, click on option 3 in the inlinkz box that says 'Image URL' and add your image from your computer. This link (http://blog.inlinkz.com/2010/07/adding-images-to-linkup/ ) helps explain that further.)
Link Party Guidelines:
1. Please only link up posts that are decluttering/organizing related.
2. Please only link up your original work.
3. Please only post something that you have not posted before during this 4 week challenge.
4. Please go to the original post before you pin something.
5. By linking up to this party, you are giving the ladies of No Place Like Home permission to share your pictures on social media or our blogs at any time in the future. Of course there will be a link back to your original post.
Till Later,