Home for Christmas Tour 2020
Today is all about the home. It's the Bloggers Best Holiday Home Tour and I chose the theme, Home for Christmas.
Hello and Welcome to the 2020 Bloggers Best Holiday Home Tour! I am so very happy you are here and I am thrilled to be a part of such a special event. I can't wait to show you my tour this year – it's a little different – I've chosen different rooms this year and we are in a new home! This is officially our first Christmas and it has been fun reimagining the Christmas decor for my Home for Christmas feel this year.
We have all dubbed 2020 as the year that shouldn't have, but it did. We all have stories of crazy happenings and deep losses this year. Big changes and small changes have caused us all to become more flexible, to embrace the good, and let the drama GO.  Unless it's beautiful dramatic Christmas decor, we can keep that!  Speaking of beautiful decor – didn't you love Jennifer of Cottage On Bunker Hill's home? Love her style!
I am so looking forward to having my little family home for Christmas. We have a few traditions that I am itching to do, everything from the gingerbread house building contest to creating the ultimate hot chocolate bar to Christmas Eve service (even if our service may be in our home).
Let's tour, shall we?
-The Guestroom-
New this year – I decided to decorate our guestroom. We are in a new season of life, where our children are grown or almost grown. So, the guestroom is just a little more special now and I am excited to our younger daughter home from college for Christmas.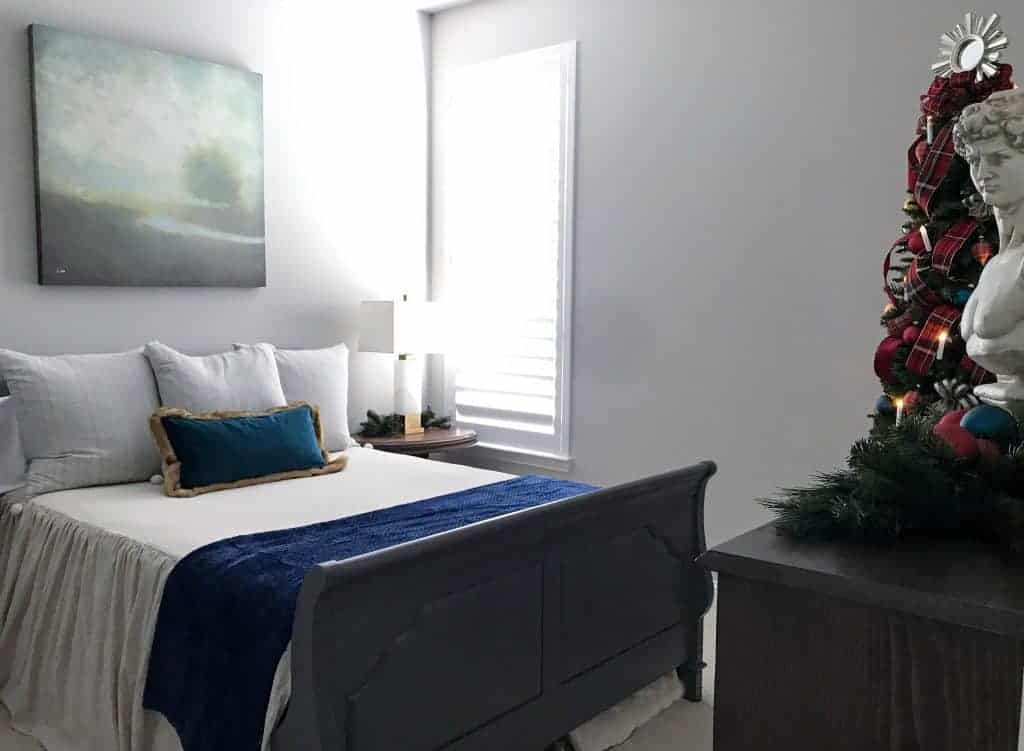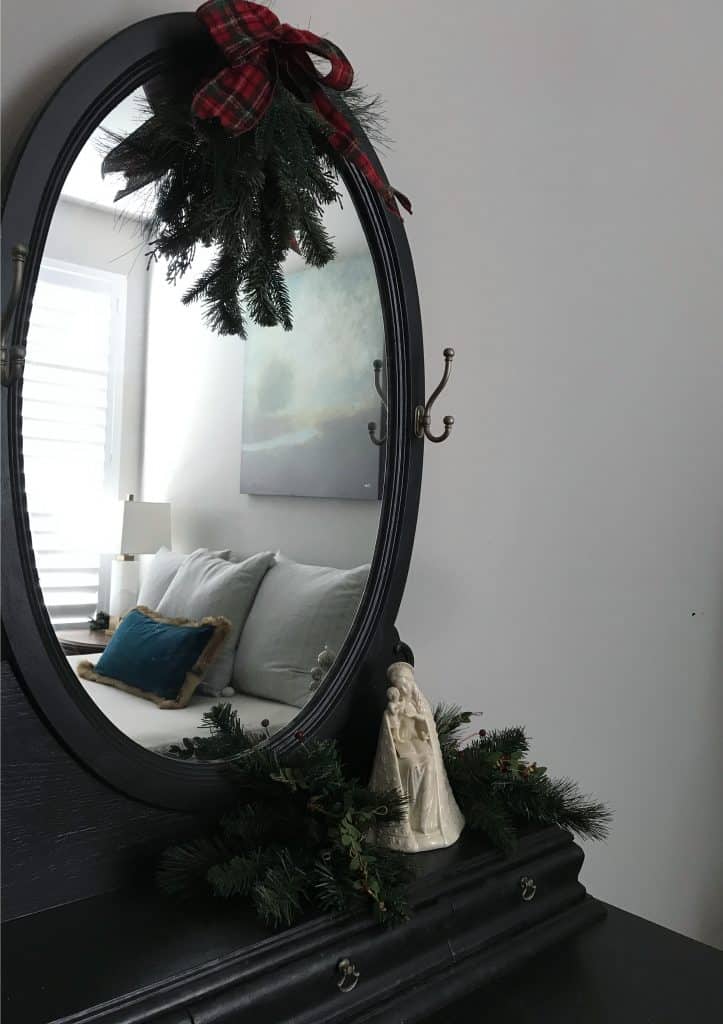 Part of preparing this room was making the bed. A couple of years ago, I sewed the bedspread out of simple painter's dropcloths – it has held up very well. Pillows were on hand just hanging out in the upstairs closet. I love a pretty bed but add comfort to the mix and you've got a little piece of heaven.  To bring in the comfy factor, I started with beautiful sumptuous Boll & Branch sheets. Our weather is crazy so for those warmer winter nights, these cool, crisp percale sheets (that's the official name!) are perfect but when temps drop – I've got a uber soft velvety throw within reach at the foot of the bed.
-The Living Room-
Our new home has an open concept feel and I decided to position our main tree to be visible from multiple areas. Another "new this year spot" is the kitchen. I rarely photograph the kitchen for home tours but this year felt like the time was right.
We are still unboxing things and moving stuff around and around, HA! A few items have seen better days and I will be on the hunt soon for reasonable replacements. Doesn't that always seem to be the thing?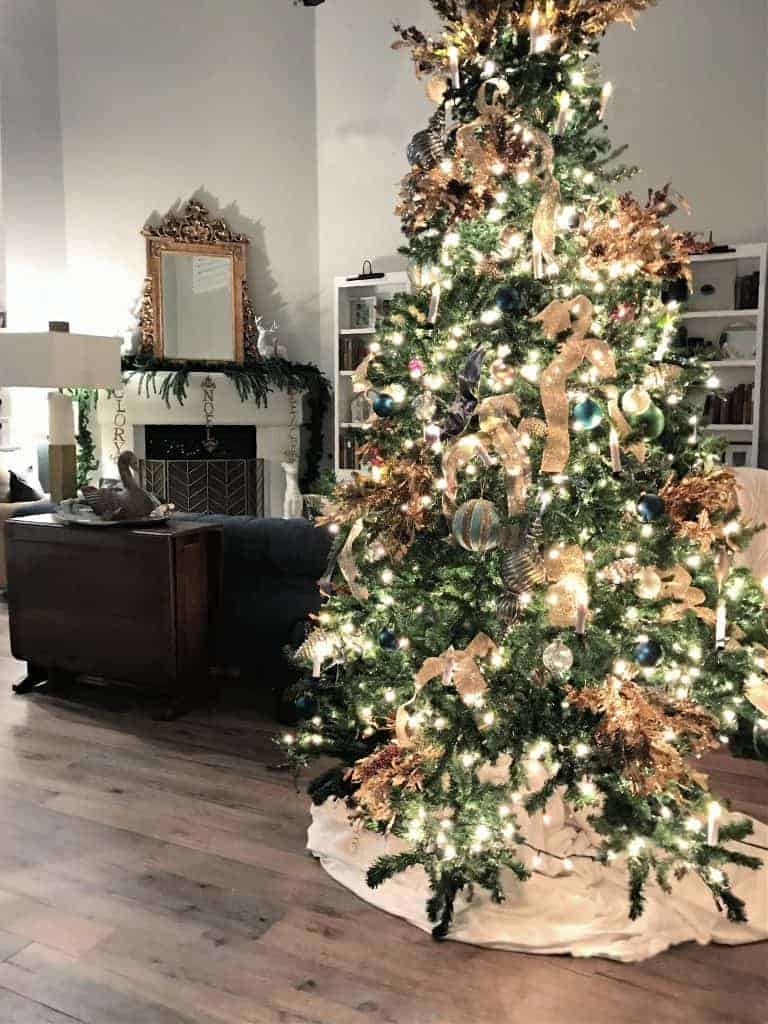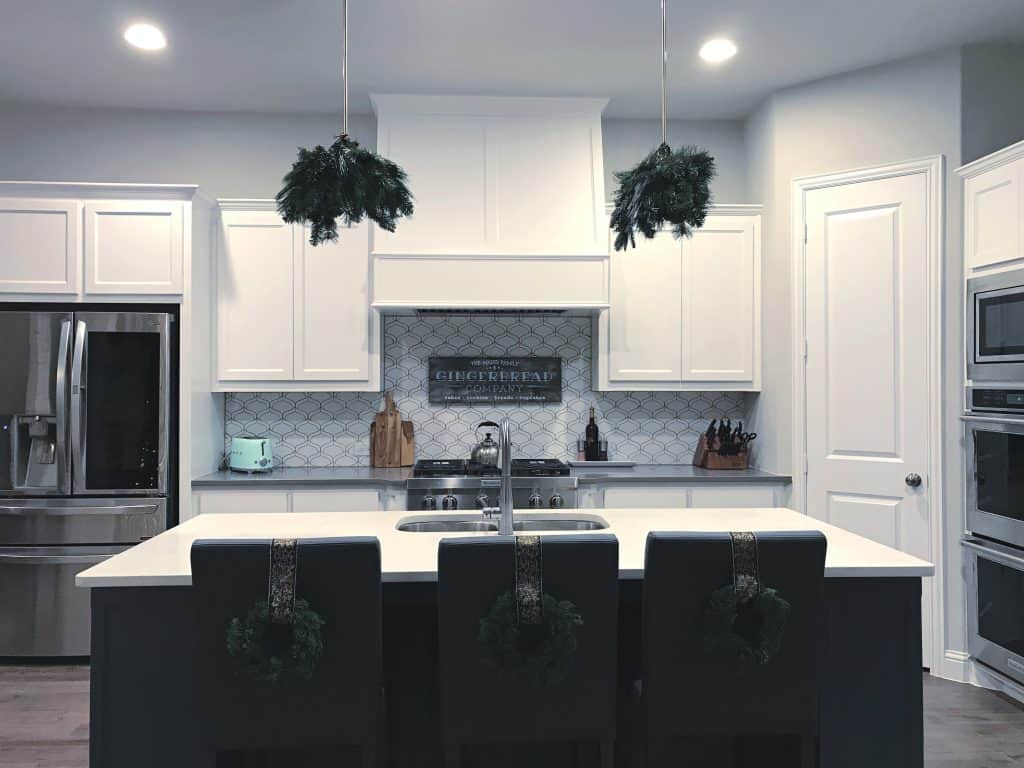 The weather has been winterish and it makes for extra cozy feelings for the season. Our fireplace is full of Christmas cheer and waiting on the stockings to be hung with care. I am looking for just the right ones – we happily added a wonderful son-in-law this year and we now need 6 stockings! In the meantime, I donned the mantel with words perfect for this time.
Merry Christmas dear friends and thank you for stopping by.
Next up on our tour today is Lantern Lane Designs. I can't wait to see her take on decking the halls!
Catch up with my wonderful friends' gorgeous homes!

Monday's Tours

The Tattered Pew // My Thrift Store Addiction // Simply 2 Moms
Worthing Court // Bricks N' Blooms // Open Doors Open Hearts
Tuesday's Tours

Lora B Create and Ponder // This Is Simplicite
Shiplap and Shells // The Ponds Farmhouse //
Wednesday Tour's

Stone Gable // Midwest Life And Style // Follow The Yellow Brick Home
Noting Grace // My Wee Abode // The Farmhouse Life
Thursday's Tours

Aratari At Home // Caitlin Marie Design // Sweet Pea
Fiddle Leaf Blog // First Day Of Home // White Arrows Home
Friday's Tours

Cottage On Bunker Hill // The Aspiring Home // Lantern Lane Designs
DIY Beautify // Cassie Bustamante // The Flowering Farmhouse
Til Later Friends,