Turn A Wall Mirror into a Gorgeous Ceiling Medallion DIY
Unique ceiling medallions can be very expensive. Let me show you how to get the look using a wall mirror in this ceiling medallion DIY tutorial.
Let's talk about the need for a good reasonable unique ceiling medallion DIY. I am a detail gal. I'm that friend who will let you know (discreetly) that you have spinach in your teeth or makeup lines. When it comes to beautiful homes- attention to detail is not lost on me. My eye goes directly to all the intricate fine points that make the abode beautiful.
Ceiling Medallions do for a home like a fabulous pair of shoes do for an outfit – doesn't just complete but, makes a statement.
Gone are the days of well crafted appointed homes being the norm. Today, we have a cookie-cutter, semi cookie-cutter, "I want you to think I'm a custom home because of my price tag but in reality, I am being built on the other side of town" home, and the "Once in a blue moon I gathered craftsman and artisans to build my dream house" home.
I live in a semi cookie-cutter home. I used to live in homes from the '20s, '50s, and '60s (a lot of fun!) but when we moved to our current community (which I love by the way) we were a little burnt out on renovating. Plus, the idea of being the first homeowner of this property was intriguing. The home is lovely but I have spent the last 10 years slowly (well kinda slowly) transforming each room into a little more than its semi cookie cutter label.
Ok, now that you have a little back story – whether you wanted it or not (ha! I tend to do that from time to time.) Let's talk about the project that created a bit of pizazz. The idea came to me when we were knee-deep in a One Room Challenge.
I, mean We were busy with the transformation when I realized that my little $5 brass chandelier needed a little more oomph. Oomph like a ceiling medallion- yep my chandy needed a killer pair of heels to make her look complete (yes cheesy analogy, but I'm trying).
Three problems arose from my spectacular idea –
The vents in the ceiling were awful close and we were not moving them.
I was having a hard time finding a small ceiling medallion with character.
Did I mention I was on a budget?
As I ran into Hobby Lobby for… who knows what, I saw these.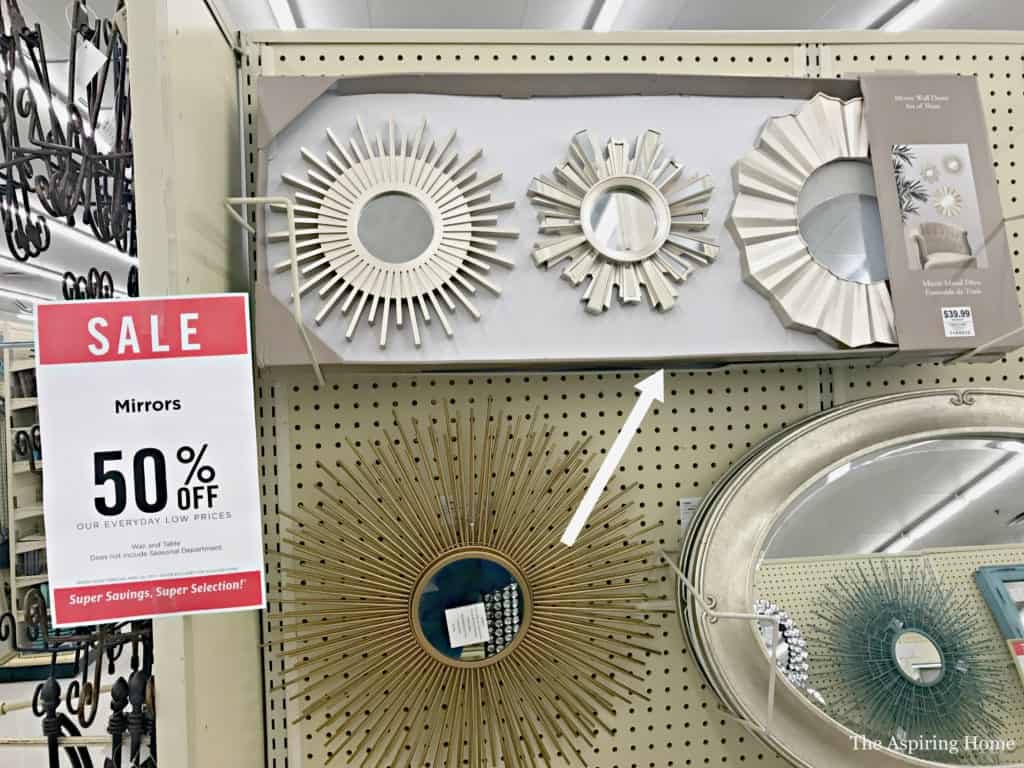 Are you seeing what I'm seeing? Friends, let me introduce you to my new ceiling medallion! These were $30 originally but at 50% off… hello little architectural miracle, you are jumping into my shopping cart!
Remove the mirror-
The mirror came out very easily with a Philips screwdriver.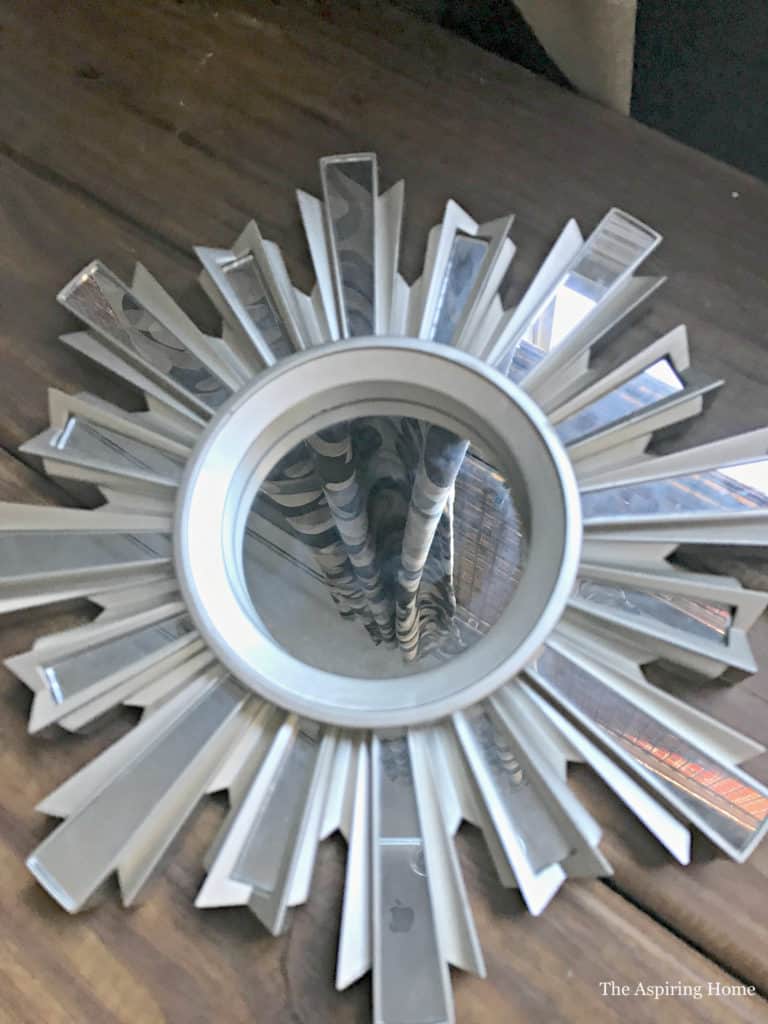 Please note that this is not the mirror I chose for the powder room – I kinda got too excited to see if it would work that I didn't take pictures of the process. If I was going to paint this – I would use Elmer's glue on the mirror part. Paint and peel Elmer's glue off – you're welcome!!
Paint-
I wasn't too keen on the color since I had gold-leafed the chandy. I grabbed one of my favorite metallic spray paints –
Krylon Spray Paint in Pewter
And changed its destiny. No longer a simple wall mirror but now a little bit of ceiling art. Because I had the spray paint in my stash, wanna know how much this set me back?
5 big ones! 5 "buck a roos"! $5!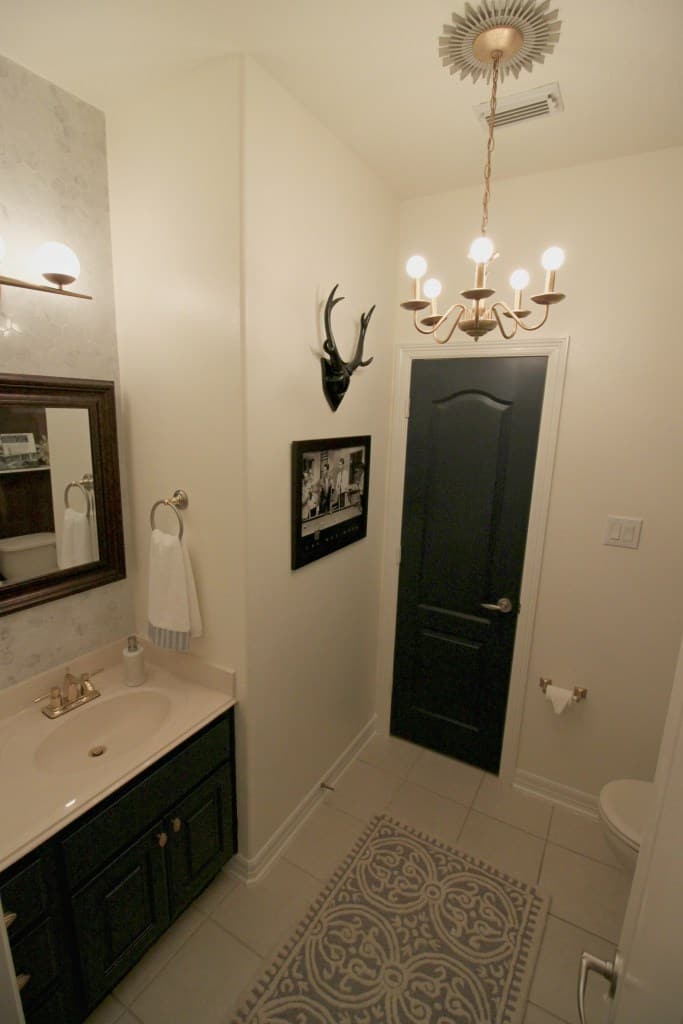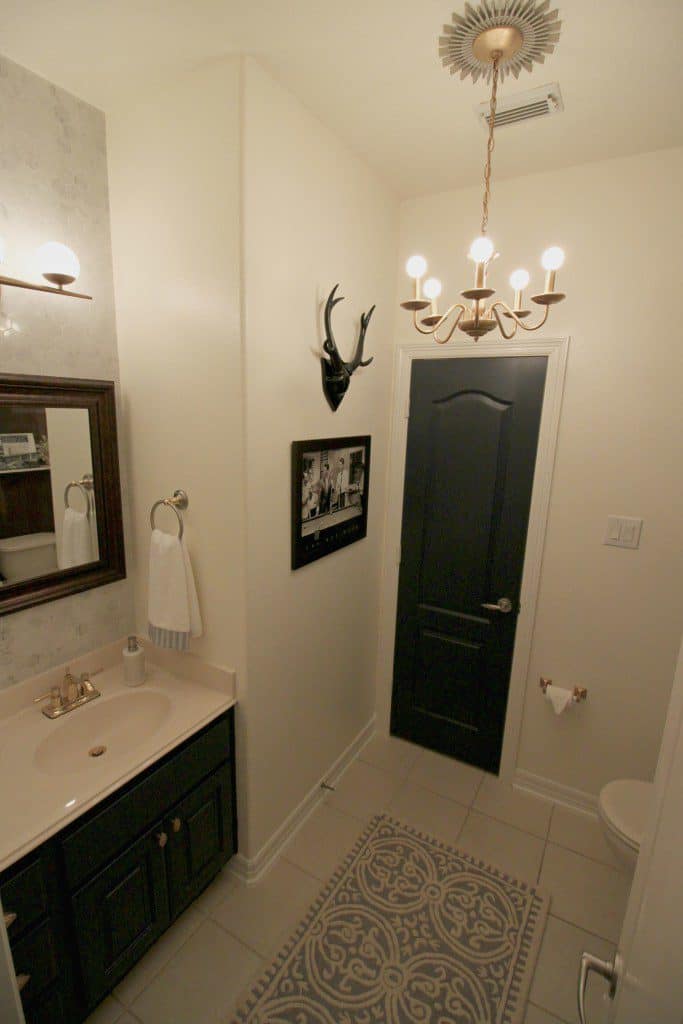 My apologies for the photo lighting- it's hard to photograph in a room without windows. But you see how complete the ceiling lighting is now, right?
Installation of the ceiling medallion DIY
This "ceiling medallion" was so lightweight that I didn't have to add liquid nails or screws or hooks to keep it in place. Please overdo the safety if you find your dream mirror turn medallion – make sure it won't come crashing down in the middle of the night or on you.
I was looking online and came across this little guy from Ballard Designs… for $79.99. You could purchase this idea but it is no longer available, so there's that.
I took the liberty to include a few mirrors that might work. I've included mirrors with a bit of character that would make fancy medallions. If you are like me and need to keep it to a certain price range- take these ideas and while you are out and about, find your way to the clearance aisles of stores (you know I am a big fan of clearance aisles. HUGE.) You never know what treasure might await!
These are affiliate links which basically means if you decide to purchase one – I get a small commission. Doesn't cost you a dime but it helps keep The Aspiring Home up and running. Thanks in advance if you do decide to click through. 🙂
Have fun and let me know if you try this idea- would love to see pictures!
Pin It!
'Til Later,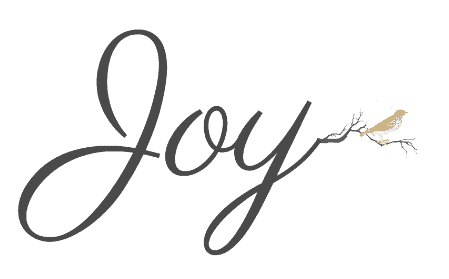 SaveSave
SaveSave
SaveSave
SaveSave