Week 3 Jeffrey Court Tile Renovation Challenge – Massive Progress!
We are at the halfway point! Can you believe? Week 3 Jeffrey Court Tile Renovation Challenge is accomplished!
Hey Hey! All of the destruction is complete and we have had a HUGELY productive week 3 of this epic challenge. You know that old saying, "so busy that you don't know whether you found a rope or lost a horse? " let me tell you, perfect words for this past week!
Let's recap before I share all the goodness that is week 3 progress!
We started this challenge with one very tired, slightly dysfunctional, dark "jack and jill" bathroom. Week 2, we discovered just how sturdy a linen closet can be and how many blisters we can obtain from busting out a tile floor ( a lot, in case you were wondering). Now we have this…
Now it's time to build and move the necessities. With the sheetrock gone we can now safely move the plumbing. I say "we" but I mean our friend who is a professional and while I am at confession, we have another friend who is a professional electrician who will need to move a couple of electrical outlets and one of the vanity light.
Hear me now my dear wonderful friends, bring in professionals when professionals are needed. There is no shame in the DIY world if you need help and you get help. I will tell you that I shadow those who know more than me so I can gain knowledge, so it's a win-win. I learn and I don't flood or burn the house down. HA!
So, we moved the vanity light and the sink plumbing where the linen closet used to be.
The electrical outlet was moved to the linen closet inner wall which is now the new bathroom wall. We added an electrical outlet in the vanity wall. I will share later why this is important.
We decided to let the beige tub go and replaced it with a steel soaker tub in white, which is very helpful since our gorgeous Jeffrey Court tile for the shower is the Winters Peak Ceramic Wall Tile.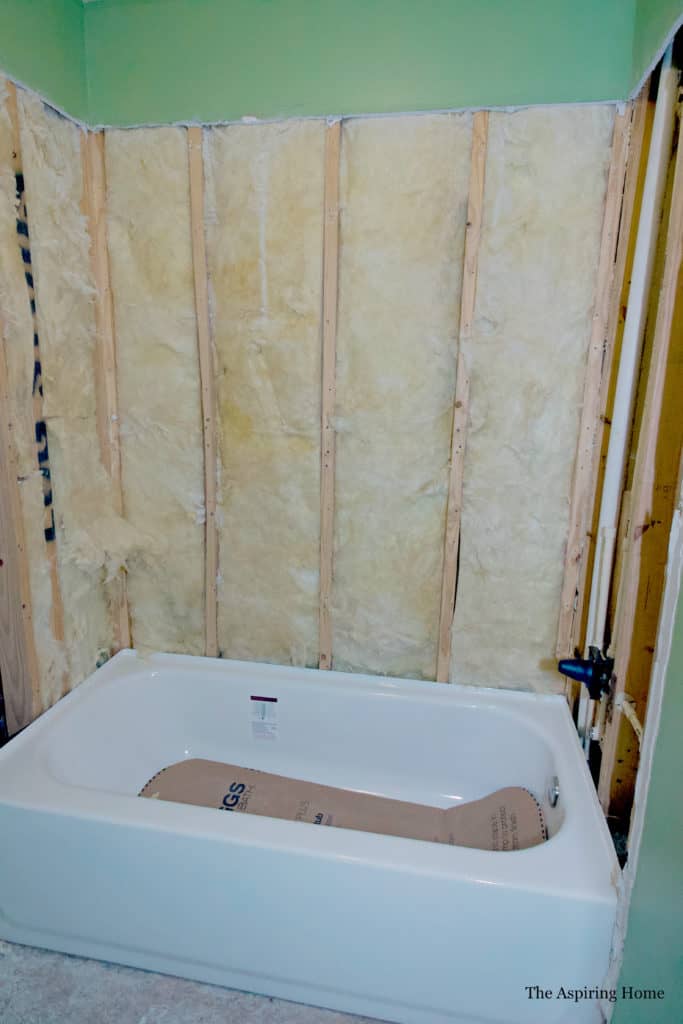 Isn't just lovely!
Hardie backer is now covering the studs in the shower area! I told you we made huge progress! But wait, there's more!!
The sheetrock with texture is back up! Woohoo! So much easier to start seeing the vision for this space! Actually, I am breathing a sigh of relief, this just may work out!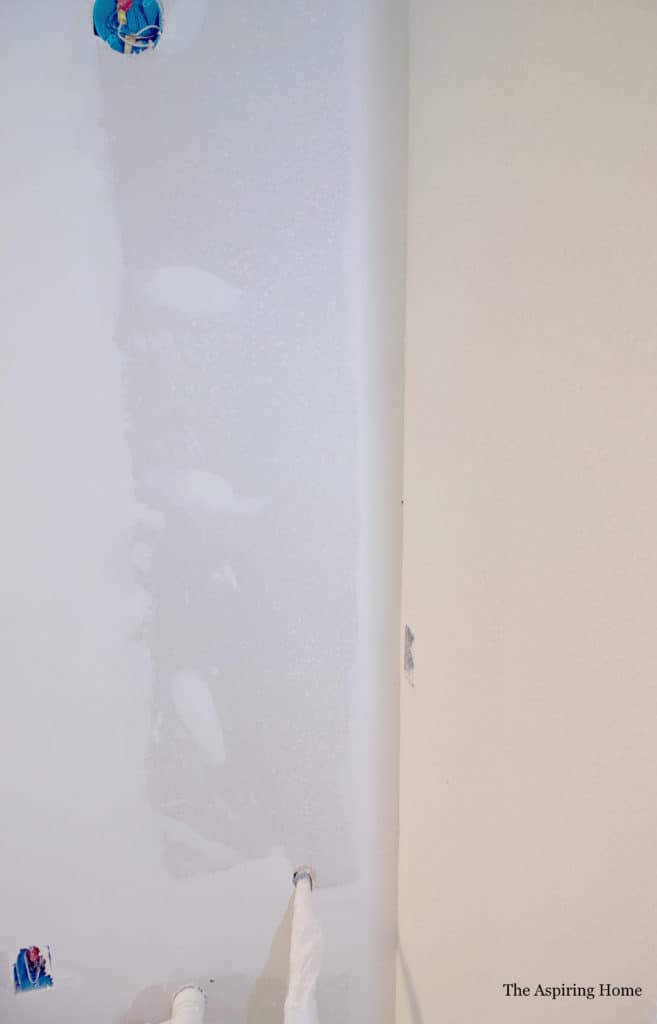 This coming week should bring paint and a peek at some very beautiful tile!! You know, let me leave you with the inspiration picture! To remind you of the hopeful swan status of this ugly duckling!
Since it is week 3 – it's time for the judges to weigh in on Facebook and for you to vote for your favorite project! Click here to vote in this friendly competition!
Voting opens today at 5 am EST and closes weekly Mondays at Midnight EST.
Till Later Friends!