Just Bling It….. Overcoming Circumstances
No one is immune to having to battle difficult and many times unfair situations. Sometimes overcoming circumstances requires a different way of thinking.
Today, as I went through thousands of photos – I came across this one: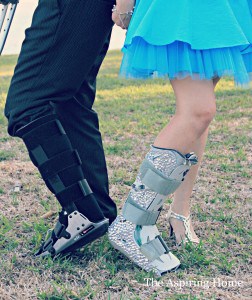 It is of my daughter and her high school boyfriend. It tells the story of the Homecoming that almost wasn't. My daughter suffered from an Osteochondral lesion of the talus since the 8th grade.
In August of 2011 (junior year), she underwent her third surgery with high hopes of a permanent fix.
The recovery was long and painful and she began the school year in a boot and on crutches. The days were long and her spirit was down.
After 8 weeks, she was able to cast of the crutches but not the boot. As time continued to march on, she became more frustrated with the situation. This was the third surgery after all.
As she was dealing with her own issues, one Thursday night she got a call that her sweet boyfriend had been injured badly and was being rushed to the hospital.
He played high school football and stepped in to replace an exhausted player. His valiant volunteerism cost him a badly broken leg.
He spent many days in the hospital and seven surgeries later he was released – on crutches and in a boot.
Given all that this little couple had been through – doubts of a happy homecoming event were rampant.
My daughter finally felt that it was time to "throw in the towel" and just skip the year.
As a mom, it was hard for me to accept this. I believe making great memories of the high school years is imperative.
But going beyond that simple thought- I was concerned that my daughter was sinking into a state of sadness that would be hard to climb out of.
Our conversation went something like this:
(me) "Darling, you HAVE to go to Homecoming!" (daughter) "No, I don't – do you realize how boring it's going to be and I can't wear my dress with a boot!
One heel and the boot!
(me) "You are going to the dance and you are going out with your friends- you can't let what happens to you dictate your life. You can't just quit."
This is where I get teary and smile with pride.
The good kind of pride- the pride when your children accept your challenge and then "up it"!
My daughter decided to "bling" her boot!
Yep, she sat on the floor for hours- hot gluing little rhinestones to her boot until it was completely covered.
It looked FABULOUS!!
As she sat on the floor gluing the rhinestones- I saw a change in her outlook.
From the moment the last rhinestone was applied – her attitude changed. Because she dealt with the situation and CHOSE to not be hindered by it- she was free.
How many times do we let situations dictate who we are?
How many times do we let circumstances tell us that we should quit, that we should just give up?
Ladies and gentlemen, as you know life is full of uncertainty and difficult situations- it is how WE deal with them that matters.
You can change your outlook and you can change the outlook of those who are watching your actions.
Sometimes, our hurt and pain aren't visible as my daughter's injury.
Sometimes, the wound lies within the emotional realm. Guess what my friends, the same advice applies.
I would love to report that was the LAST surgery my daughter had to deal with concerning her ankle. But, that wouldn't be the truth. I am happy to report that she "blinged" the new boot almost immediately. 😉
Update: After the fourth and final surgery failing- she decided to continue on with her goals of college. Her swim coach invited her to run with the Cross-Country team at the University. The constant impact of running began to regenerate the bone. I know there are specific terms for this phenom and I would love to get all sciency but I can't- Ha! The good news is she is not in terrible pain anymore. It is not perfect but it is good enough and she is happy.
Just like life- we will take "good enough" and be happy.
'Till Later,