High Point Market Fall 2023 Beautiful Light Trends to Follow
Let's explore the latest beautiful light trends to follow from the Fall 2023 High Point Market. Let's Go!
Back from a successful High Point market! So many things to talk about and I will be posting my "take-aways" with you over the next couple of weeks. Let's start with one of my favorite things to spec – lighting! The following beautiful light trends to follow are my own take and I am looking forward to sharing them with you.
Details, details, details. Intricate, beautifully crafted lights with a strong organic vibe could be seen everywhere.
Biophilic design is more than trendy verbiage. The science behind our basic need as humans to connect to a natural environment is both fascinating and deeply researched.
Now, what we saw at market and what you will see as your scroll through is definitely more ornate but nature is represented albeit in a bit more glamorous way.
Gold continues to be a top contender, everything shade from antiqued to champagne hues were accounted for. Silver and chrome options were also abundant.
Let's break down these beautiful light trends a bit further, shall we?
Hand-Crafted Details
Floral chandeliers and sconces gave a stunning presentation and the materials that created these looks were exceptional. Case in point, look at the picture below, this light comes both as a chandelier and as a sconce. The pretty blue green stones are created from the interior of abalone shells and glued back to back to form jewels.
This next beauty is made up of hundreds of hand carved stones, simply stunning, don't you agree?
Mixing Metals
This one had me at hello, stopped me in my tracks and I was totally smitten. The simple shape draped in slinky rope… at least I thought it was rope until I got closer and realized it was tubing make from a fine metal mesh.
Can't you see this in a moulding-clad foyer? It feels reminsecent of the low back slinky dresses of the 1920's and ready for a swanky party.
Abundance of Floral Designs
I mentioned early in this post, we saw a plethora of floral inspired designs. Everything from Roses to Birds of Paradise to Palms.
These beauties harken back to the Golden Era of Hollywood sets. Ginger Rogers and Fred Astaire in "Top Hat" comes to mind.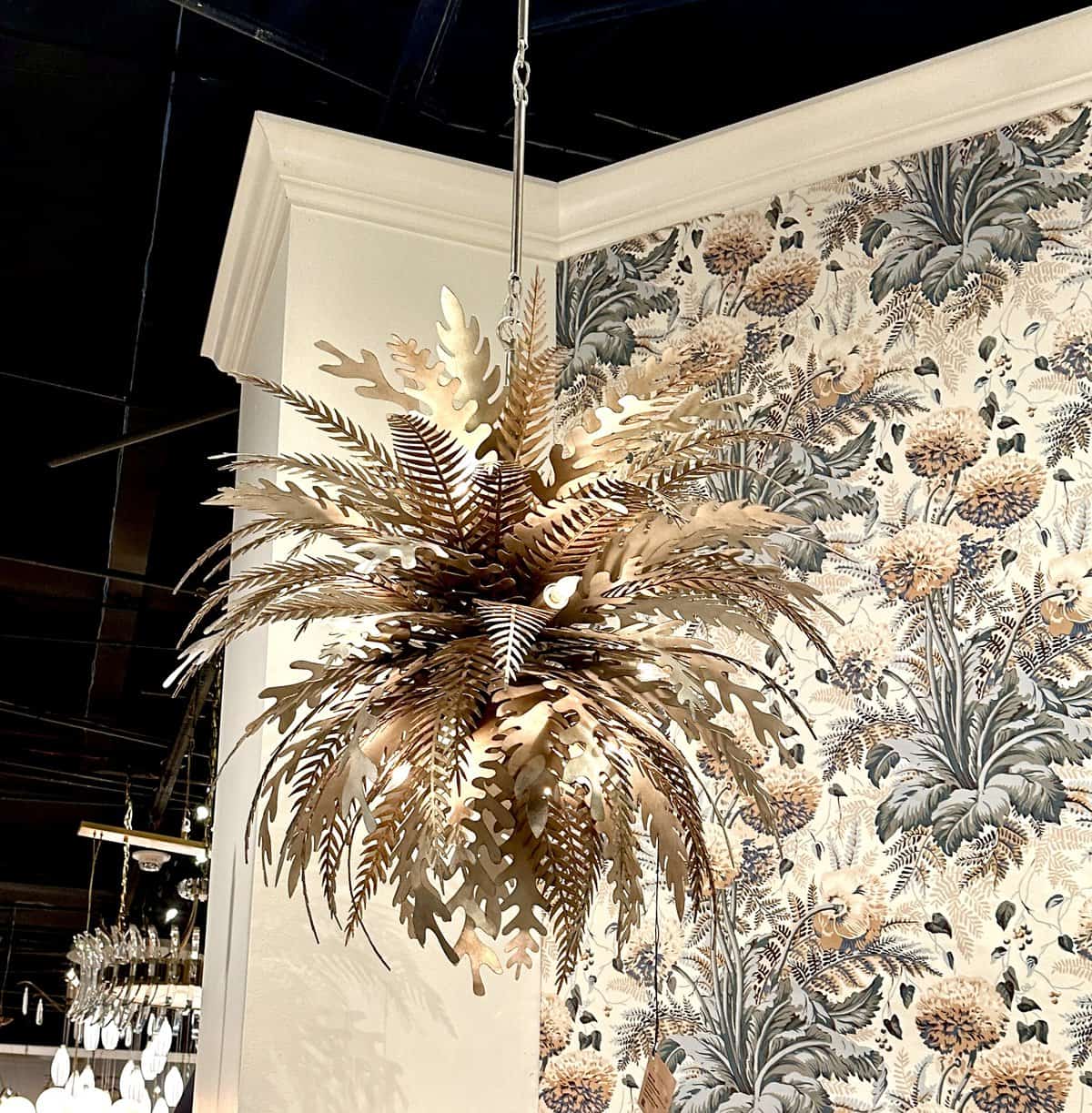 Multiples
We have seen a resurgence of multiple and nesting cocktail tables and lights in multiples are a beautiful light trend here to stay.
In Summary, the Fall High Point Market brought stunning light offerings and will be showing up in gorgeous room designs, so be on the look out! If you would like to add these to your own home, feel free to click the links below.
*just a heads up the following links are affiliate links and if you choose to purchase through them, I will receive a very small commission at no additional charge to you.

Until later, keep creating home my friends,