Colorful Fall Tablescape Fall in Love with Texas Blog Hop
It's time for the Fall in Love with Texas Blog Hop and this year I chose to do a colorful fall tablescape.
Howdy friends, I just love this time of year and I love participating in the fun blog hop with my Lonestar Sisters. One full week of Fall inspiration all around Texas for you to enjoy. I was in the mood to do something a little different, so I chose a colorful fall tablescape. My color choices actually came from the vibrant colors that are displayed during Día de los Muerto, The Day of the Dead.
The idea started with a few old candlesticks. I decided to paint black horizontal stripes, I then tucked the candles into my old silver candelabra. Pretty cute, they remind me of the Wizard of Oz.
Guess what I found on Amazon?-
Of course, my immediate thought was, "wouldn't these look so darling hung on the candelabras?". Um, YES! is the answer. I used a little fishing line to tie two pom poms together to secure the tassel to the candelabra.
Next, I needed to find an appropriate vase to live up to the darling candles. I remembered my son's, old little classic plastic "trick or treat" pumpkin.  Plain orange just wouldn't do. I painted the pumpkin in bronze and copper with a little turquoise patina.
Completely upgraded the old jack o'lantern!
I placed the pumpkin on a little stand to give it a bit of height and to give it a bit of drama, I created a floral arrangement out of happy flowers.
You can not pass this little guy without breaking a smile. It reminds me of the hat the Chiquita Banana lady (on the label) wears, HA HA. I bet you see it too now.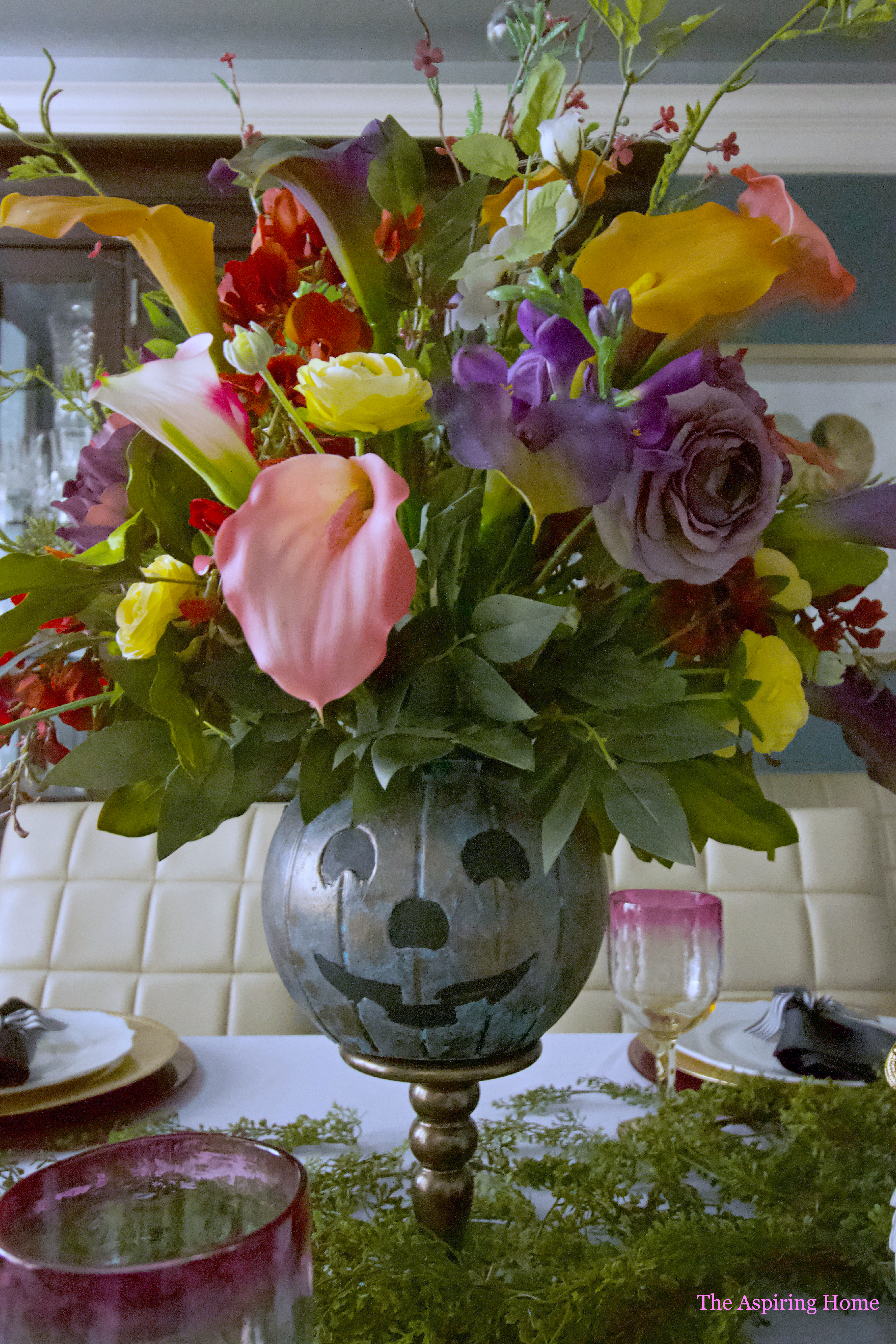 To keep the whimsy alive, I allowed my owl to wear my favorite Venetian mask and I added red chargers and pink glasses!  A little black and white striped ribbon was the finishing touch.
Isn't it fun? It makes me smile every time I walk by. I love the concept of The Day of the Dead, that family members live on in our memories and they are not far away.
Now it's time to hop! Enjoy friends and many thanks to Katie with Let's Add Sprinkles.com for putting this blog hop together!
Fall in Love with Texas Blog Hop 2018
Poofing The Pillows
White Spray Paint 
Till Later friends,