Week 5 of the Jeffrey Court Reno Challenge The Storm Before the Calm
The countdown just sped up in a major way, it's week 5 of the Jeffrey Court Reno Challenge. Loose ends are being tied up, new ends are being discovered – little frustrations are being handled, we are almost there folks!
Howdy! Week 5 is here in all its glory! So much has changed in this little pass-through bathroom. If you are new here, WELCOME! I am so glad you are here. If you would like to catch up with this ugly duckling – here ya go; Week 1// Week 2// Week 3// Week 4
I am in the middle tiling the vanity wall and I am in serious love. Makes your heart skip as beat kinda love. The Heirloom Blues tile makes the space feel grand. I was not in love with making mistakes, however.
A few very intricate cuts made me want to become the dad from the movie "The Christmas Story" when he would beat the furnace into submission.
Yeah…not so pretty. Keeping it real, friends.
Half the issue was dealing with my older generation Ryobi wet tile saw… I think it is time to replace it. It has made a valiant effort even with all the attitude I have thrown at it and I am happy to report that I figured it out the saw ornery nature the Heirloom Blues (which is made in England, by the way) is creating a beautiful focal point.
Forgive how light the tile looks in the picture- I was working with funky light and very little of it so, I had to super brighten the picture. I can not wait to get the other fixture back up!
The countertop is in and it is beyond perfect for the room! I am a huge fan of Carrera marble (I know along with 70% of the population) but for this bathroom– I needed something that looked pretty but was a workhorse deep down. Hello, quartz in a Carrera finish!
Ok, that's not enough of a peak… here is it after install.
Plumbing and electrical are wrapping up. I have run into an issue with the seeded glass orb I bought to replace the frosted one in the bathroom/toilet area. Ugh, it's the little things that bite the hardest, like mosquitos. No one can tell me where my little orb is, just that it is delayed but on its way.
Maybe they will wrap it in pretty paper and yell surprise! when they deliver it… hey, it could happen.
Ha! Can you tell I am getting a little slaphappy? Oh, remind me to share with you my music genres for each phase of the bathroom renovation. Music makes everything better, don't you agree?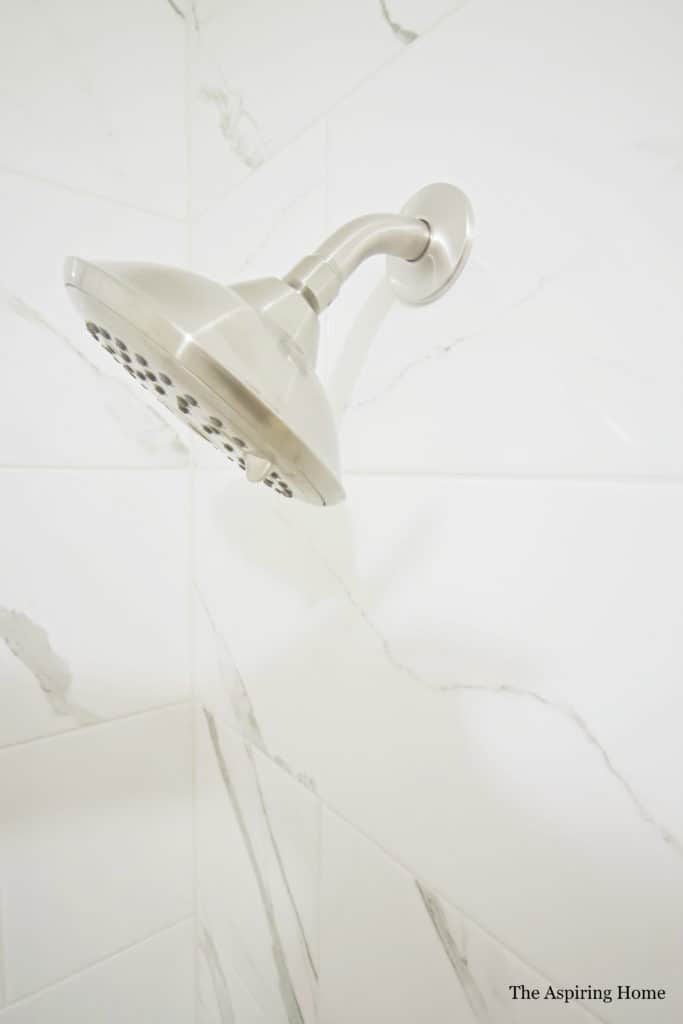 The bi-fold doors are just what the room called for. I painted them in Sherwin Williams "Dustblu". I have been staring at them for a while now and I have decided to add a little bit of the unexpected but you will have to wait for the reveal to see what I do! Why? Well, if you have followed me long enough-you know that I get these ideas and I'm not really sure how or if they will work until I try it
I am also super excited about these gorgeous beauties Liberty Hardware sponsored! Liberty is my favorite hardware hands down. I have used their products for years – longer than this blog!

I finally finished ALL of the caulking! Now it's time to wrap this little beauty up and put a bow on her! I am tickled pink to show off the finished design so…
IF
I am going to make it
in time–
I better quit my yapping and get to work!
Voting is still going on and you can now vote AGAIN for your favorite designer and room! I'm so hoping it's me! Vote HERE, pretty please!
Till Later Friends,