ORC Week 1- Bringing the Indoors Out!
The Spring ORC has officially begun! We have chosen our room and it is going to be a big one! We are bringing the indoors out!
Hi! Guess what time it is? It's The One Room Challenge time! That's right, that wonderful time of the year where 20 featured designers and 200 plus guest designers take one room and transform it into a dream space in six exciting short weeks. This will be my 6th ORC round as a guest participant and we have chosen to bring the indoors out!
If this is your first time on The Aspiring Home blog, Welcome! I am so very happy you are here. My name is Joy and I have been happily blogging and creating here since 2014. I have worn many hats over the years wedding designer/coordinator, event planner, event decor creator (I'm sure there is a better word but I'm going with this, ha!), Interior designer, and momma. The last is my most prized and beloved hat. I believe every house can be a home, a place of comfort, a place of rest, a place to build strong roots.

It is because of that belief I decided to take on my most challenging and should be the most rewarding room…The back patio and yard.
The Backstory
When we moved into our home in 2005 it was brand spanking new. We were so happy to move to our beautiful community and this house had so many positives. The backyard, although on the smaller side backs up to the golf course. In 2006, we chose to build a pool. Little did we realize that our kiddos would end up loving swimming so much that they chose to join a year round swim team. In 2010, we built an covered outdoor kitchen area that we use ALL THE TIME. Well, we did until the grill burners failed.
Summers are really tough here in south Texas and everything now looks tired and worn and as the weeks go by – I will elaborate.
Let's take a look at the BEFORE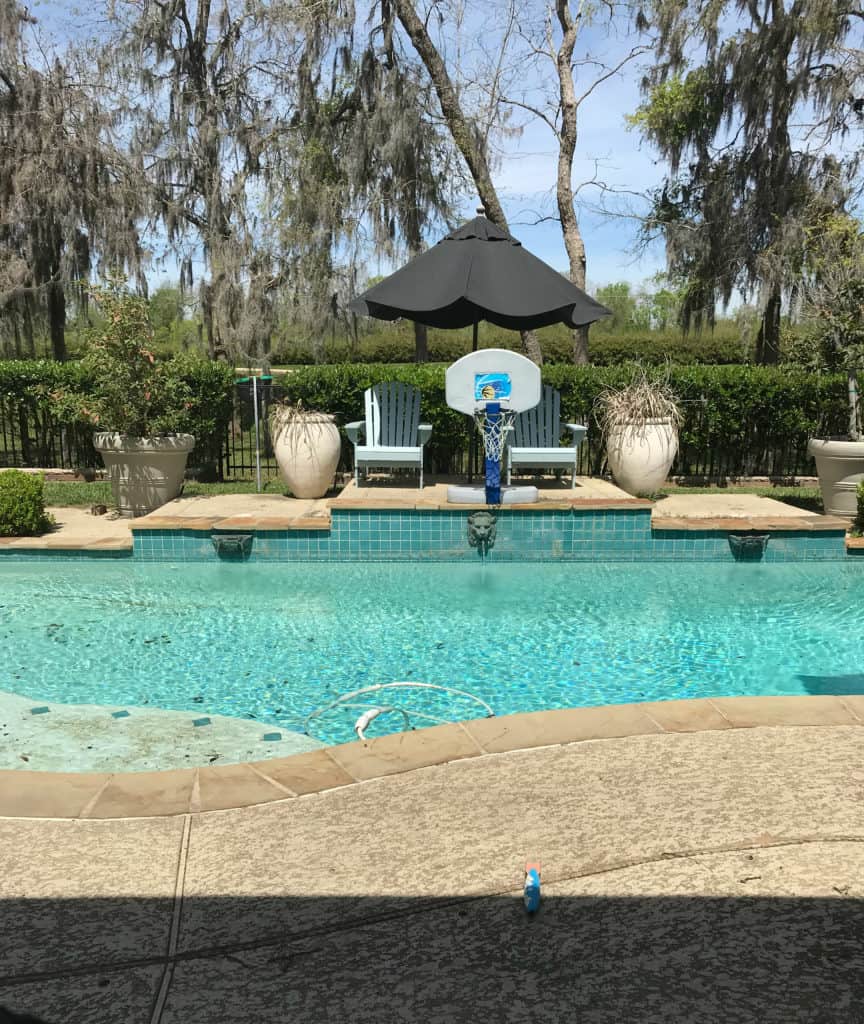 What needs to be done:
Change the counters in the outdoor kitchen
Take "L" part kitchen off
Replace sink and faucet
Build shutters for garage window
Paint ceilings
Paint columns and trim
Replace cool decking
Replace coping
Replace pool accent tile
Add fan under small patio area
Paint outdoor furniture
Sew new cushion covers for outdoor sectional
Create more defined seating areas
Add landscaping
Whew…a lot to do my friends and some of the projects are out of our skill set so we are going to rely on the experts quite a bit this time around.
Ready to see my inspiration?
When dreaming of how I really wanted the space to feel, the words Eclectic Southern Glam Oasis came to mind.
I'm so excited to do this makeover! It will be collected, fun and a little sophisticated with a dash of crazy – just like a good southern gal. I have been fortunate to be born and raised in the deep south (Biloxi), live in southern California (Huntington Beach) and make the great state of Texas my home (Houston).
Fingers crossed that I can pull this off! Make sure you go to www.oneroomchallenge.com to see all the wonderful room inspirations and designs. Looks like this ORC season will be a super fun to follow!
Till Later,