The Pantry Makeover Home Stretch! ORC Week 5
We are officially in the pantry makeover home stretch now! So many little details need tweaking before the final reveal but we will be ready!
Week 5 is here!! The pantry makeover home stretch is in sight and we are inching closer to the reveal of The One Room Challenge. A challenge that seemed a piece of cake at the beginning… when 6 full weeks were ahead. Now, here we are, almost at the end of a great journey to an organized and happy pantry.
This week's post will be on the shorter side, my friends. Well, maybe not, you know how I like to talk.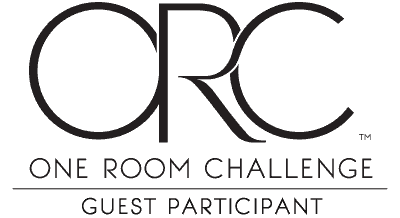 The Pantry Makeover Home Stretch!
The Ceiling-
OH MY GOODNESS!! I promise every time I open the door- there it is… all kinds of happiness when I look up! Pictures just do not do it justice- but next week at the final reveal- I am determined to capture the sheer awesomeness. Pinky promise.
Lighting-
The new light is fabulous and going from a two bulb light to a three bulb light is spectacular! The space is now well-lit. The motion sensor lights under the stairs are working out splendidly. No dark cavernous areas here!
Floor-
All the "oops" from the painting are cleaned up and the grout looks beautiful. The rug has been located bought and placed! It looks great!! I went with a super durable, washable (at least that is what the reviews say). In order to get the length I wanted at the price I wanted – I ordered two smaller rugs and will bind them together with upholstery thread. I decided to go with a more subdued rug in a ticking stripe for two reasons: 1) the ticking stripe reminded me of days of old 2) the gentle pattern and lighter colors allow my ceiling to embrace her stardom.
Organization-
MANY items have been arriving via Amazon for storage options (we will see what works and what goes back). Baskets received their second coat of paint and look gorgeous. Amazing what a little paint will do (hey- I say that about myself, lol ).
One of the big projects for this week dealt with all my reusable bags, coolers, and lunch boxes. Before we took on the pantry, I had the bags on the ground and tried to keep them neat. With a busy household that "organization" lasts all of 5 minutes. As I stood in my underutilized little room 5 weeks ago and tried to imagine a place of peace and organized harmony, I had a lightbulb moment! "Why not find crates to store all my stuff?" and "Why not add wheels for ease?"
My mind began to crank on the idea, I realized that a crate just would not simply do.
The whole concept centered on having things feel clean and crisp- using crates would mean at least 4 would be needed. Let us not forget to mention how short they would be (even with castors). I would see all the clutter peaking out every time I enter the room. No Thank you. Building storage boxes really was the only way to go. Take a gander:
See? Are they not perfect? We measured and chit-chatted until we figured out the "how-to" part. Sleek hardware was ordered and arrived yesterday. They are a game-changer in this pantry makeover home stretch!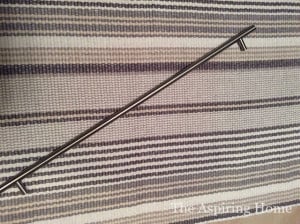 This weekend they will be painted the same color as the pantry shelves. I had to test them out and for their little shallow selves- WOW! They can hide some clutter! I will show you in the final reveal.
What's Left-
I had really hoped to cruise in on this last week but I will be pushing to finish this race (cue "Chariots of Fire" music). Who knew that a little pantry would pack such a punch on time? I know I should know but I was soo hopeful y'all.
Ok, so to pull off this beauty I need to:
Finish restocking (yes I am still at it, ha!)
Bind the two rugs
Paint the rolling bins
Create the "Grocery List" board
Add a little more artwork
Label a few baskets and jars (more like 50 million)
Make hooks for the aprons (these are going to be so cool)
Photograph this beauty
That will close this week's post. I can't believe we are in the pantry makeover home stretch but we are!
If you would like to catch up on all the progress, come on. 🙂
Week 1, Week 2, Week 3, Week 4
If you would like to see 20 AMAZING bloggers/designers take on this challenge with featured sponsors click here.
If you would like to see more AMAZING bloggers/designers take on this challenge as guest participants click here.
I promise- you will find kindred spirits with genuine creativity.
Fingers cross and say a prayer for me.
Let's finish the race!
'til Later,