One Room Challenge: The Pantry
It's time to join the One Room Challenge and I have chosen to give my pantry an extreme makeover!
Hey Hey!
I am so excited to jump on board with the One Room Challenge as a Linking Participant! The ORC is a brilliant idea belonging to Linda of Calling It Home. The ORC is a twice a year design frenzy chopped full of all sorts of creative goodness. On Wednesdays – follow along with 20 fantastic bloggers as they give you all the highs and lows of developing beautiful spaces. We are talking from concept to completion.
Then on Thursdays head back to Linda's blog- Calling It Home for all the Linking Participants! I just love the inclusive feel of this challenge. I am in desperate need to have a fire lit to complete this room so… come find me on Thursdays!
The room that I so desperately need to create you might ask?? It is a room that for an organized challenge soul such as myself cringes at. Yep…talking about… THE PANTRY!
I have a marvelous pantry with great potential. When we were looking at homes to purchase, the two areas that were on the must-have list – a laundry room and a pantry. The pantry size is great- the builder grabbed extra space under the stairs and I am grateful. As I eluded to before- I am not a natural organizer. I have to GO OVERBOARD to stay organized. I tend to live in creative chaos contently until the stress of life wears me down and I realize that I need to get my rear in gear. Then I sit down and desperately tap into the other side of my brain, lol. I'm good once I get rolling -anyone else like that?
For me, the ORC is going to help catapult me to organized awesomeness. My goal is to have a pantry that functions and looks like a jewel at the same time. So pretty and perpetually organized that I could have a glass-paned pantry door with soft backlighting which highlights the honest to goodness homey feeling of a well-stocked pantry. Yes, there is pantry out there like that and I so admire their bravery!
Let's take a look at some truly inspiring photos… Click on the picture and see what Babble.com put together.
The internet is chop full of incredible pantry do-overs. I will bring you more as I delve into our home project here.
Take a look at the direction I am going…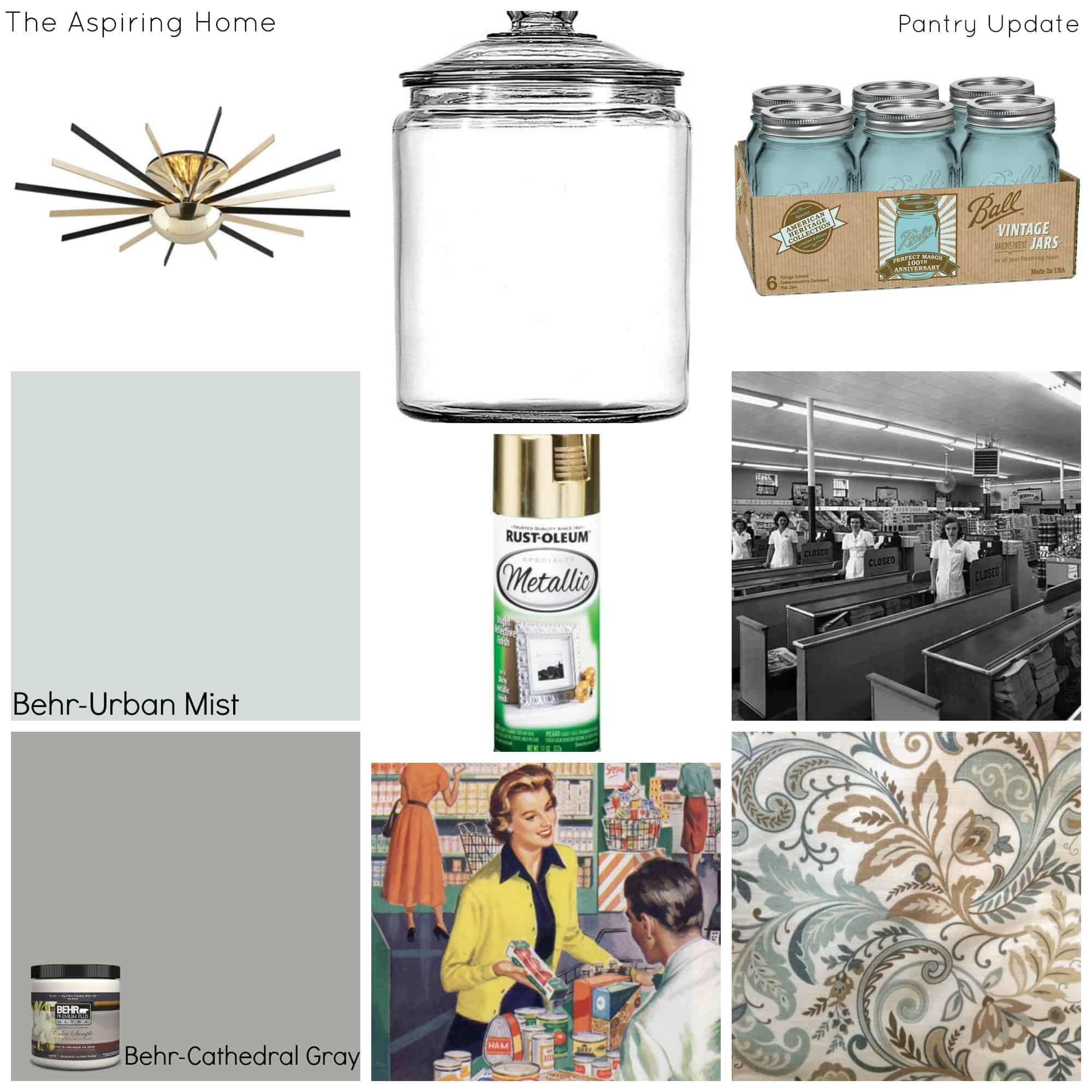 Isn't that light just simply DIVINE?!? I will be doing a DIY version of this beauty.
I gravitate to old school styling. I'm the gal who has watched every episode of "The Donna Reed Show", "The Dick VanDyke Show", "Father Knows Best" and the list goes on. I try to mix a retro vibe in everything I do. It just plain makes me happy. I will be keeping this project on a tight budget which means spray paint will once again be a hero. I dig the black and white photo of the cashiers- pantrys are just mini grocery stores. 😉 The fabric will play a small role in this room but will make sense when you see it in the kitchen. My goal through this challenge is not only to show you a fabulous pantry BUT to finally reveal the kitchen facelift that I have eluded to for way too long.
See you next Thursday – fingers crossed that I have oodles to show you!
'Till Later,