Banish The Bathroom Clutter
The Clutter monster can lurk anywhere. Here are some easy tips to organizing your linen closet and banish the bathroom clutter.
Hello! It is week 3 of the Decluttering series and we are going to banish the bathroom clutter! Wait, did I just use an exclamation point?!? To tell you the truth – I thought getting ready for this space was going to be relatively easy. Famous last words… especially when you get so busy with life and events that you just tuck towels in when they are clean and keep the "in date" meds up front and with in easy reach.
Now that I have a bit of time to breathe and really look at this space, I realized just how bad it was. Serious defeat my friends. Instead of crying over spilt shampoo, I jumped in and made it better. Two trash bags full better. Not. Kidding.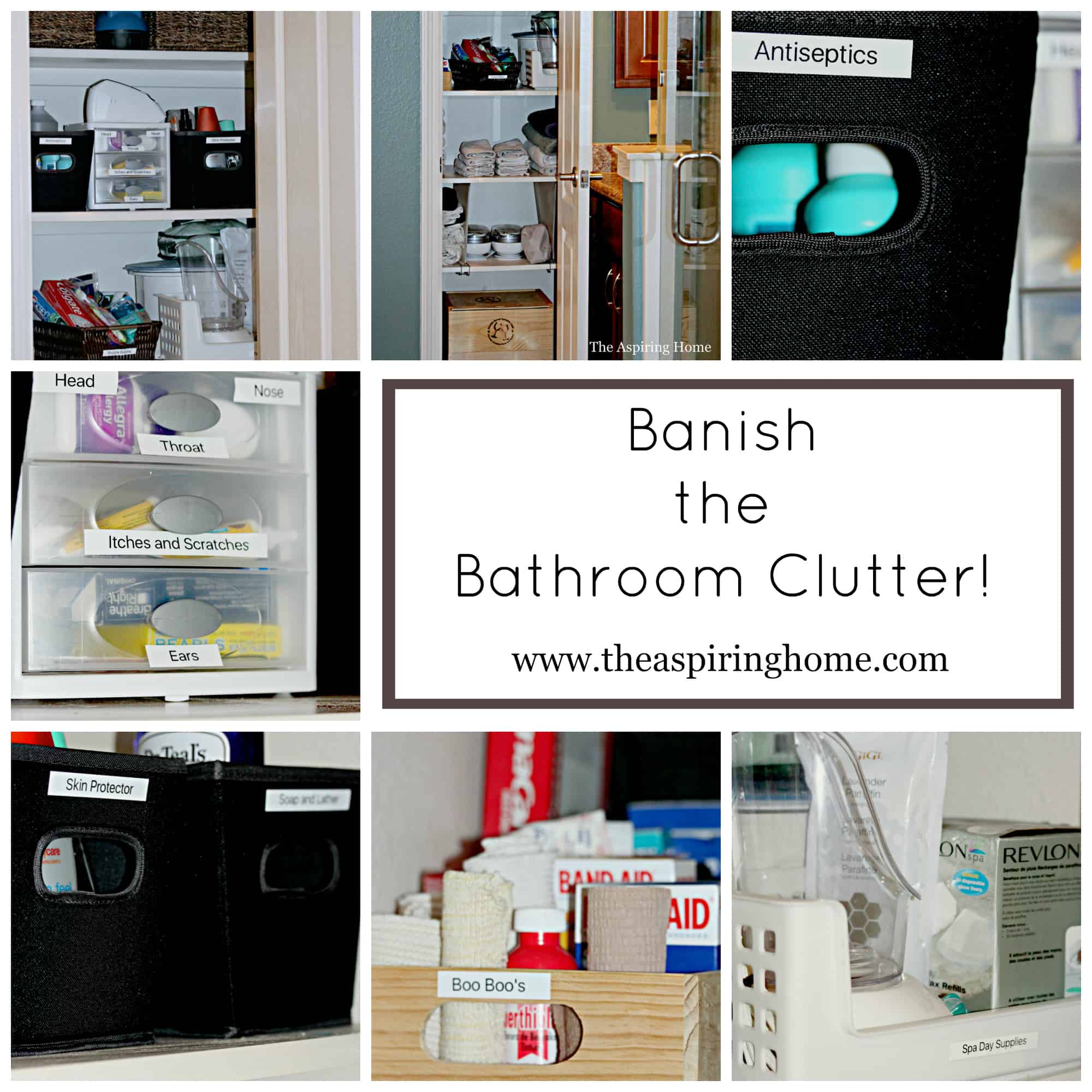 I am a recovering perfectionist. When I see just how bad I let things get, I think of all the lovely ways I can make it better IF I go and purchase this and this or if I paint what I have. I get so caught up in the details that I end up getting very little done.
I am proud to say that I did not give into my perfectionism this time! I jumped in, threw away old stuff, donated items no longer useful to me but in great shape and grabbed "good enough" baskets to make do until I am ready to really make this space shine.
Bottom line- I DEALT WITH THE CLUTTER.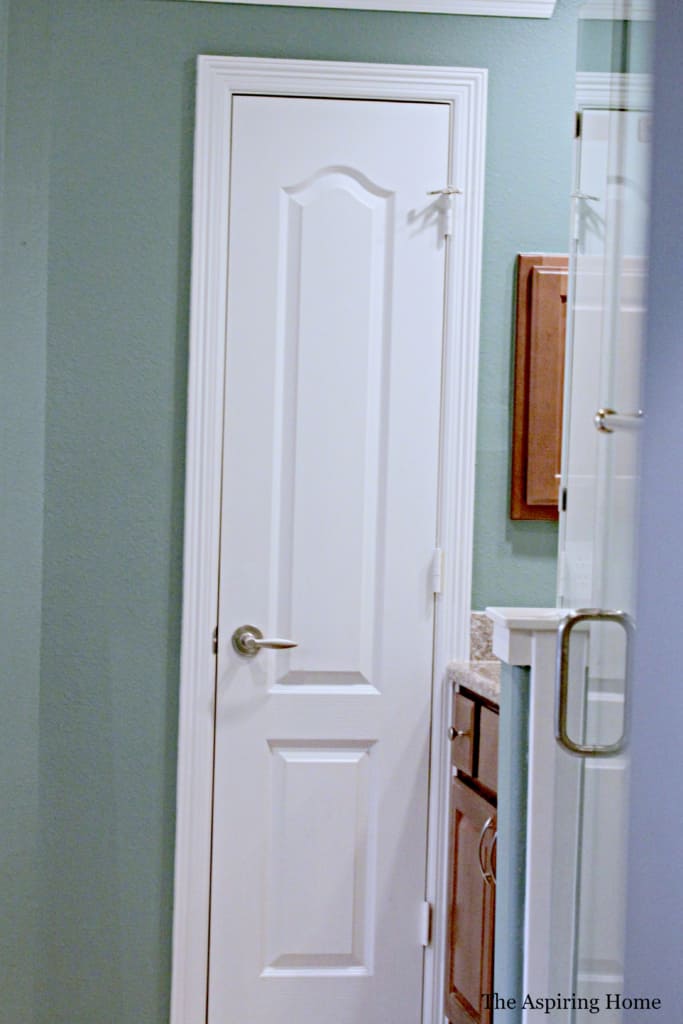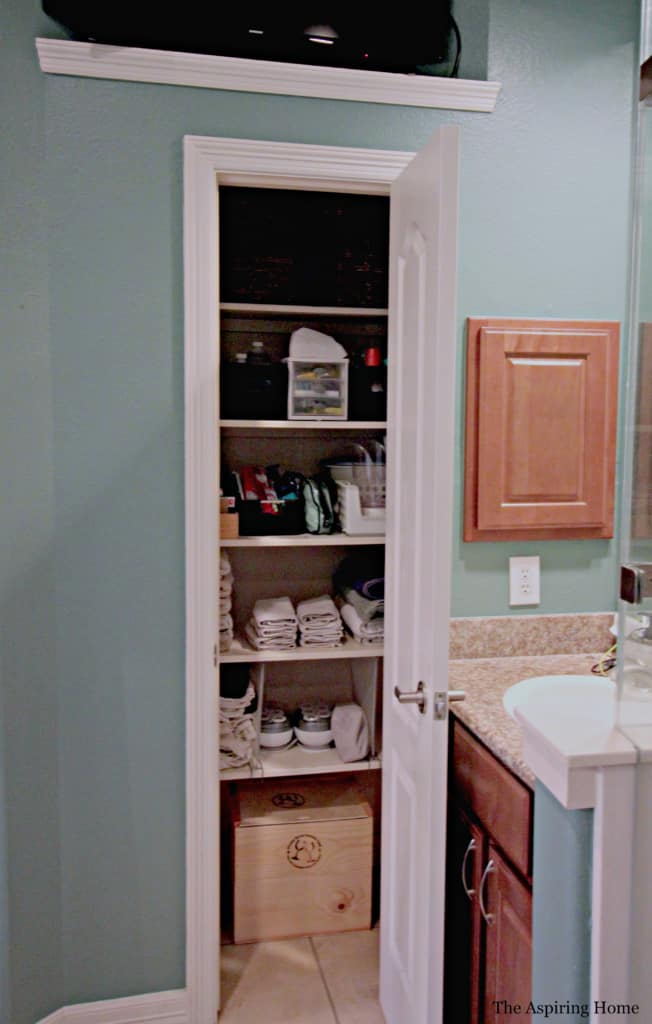 Even a wine crate makes a great storage basket! Put furniture sliders underneath and slide it out with ease!
Label,Label,Label…
Not just for you but for your family! Much easier to find and put back items when everyone knows where they belong. Yeah, I know… no system is perfect. I would love really darling labels and will come later but these were quick and did the job!
I am super happy with the outcome. Before it was an embarrassing mess. This is my master bedroom linen closet and I highly doubt anyone would be eyeing it… BUT I knew what lurked behind the closed door. I deserve a better space and you know what? YOU do too.
Now it is so much better. I'm already putting a scheme together to make this little space fabulous! I will share when it is completed.
Now it's time to check out The No Place Like Home Crew and their tips and tricks for Banishing the Bathroom Clutter!
A Home To Grow Old In | Hey Fitzy | Nourish and Nestle | Sweet Parrish Place
Paint Yourself A Smile | The Red Painted Cottage | Savvy Apron | The Aspiring Home
Don't forget to enter for YOUR chance to win the $150 Container Store gift card and share hints, tips and pics of your organized space.
Each week submit a photo of a declutter challenge or success to the inlinkz below. (If you are not linking from a webpage and are just uploading an image from your computer, click on option 3 in the inlinkz box that says 'Image URL' and add your image from your computer. This link (http://blog.inlinkz.com/2010/07/adding-images-to-linkup/ ) helps explain that further.)
Link Party Guidelines:
1. Please only link up posts that are decluttering/organizing related.
2. Please only link up your original work.
3. Please only post something that you have not posted before during this 4 week challenge.
4. Please go to the original post before you pin something.
5. By linking up to this party, you are giving the ladies of No Place Like Home permission to share your pictures on social media or our blogs at any time in the future. Of course there will be a link back to your original post.
Share your decluttering successes with us and earn an entry for an $150 gift card from The Container Store! Come back each of the 4 weeks to earn 4 entries!
Till Later – Keep decluttering!