$100 Room Challenge – Guest Bedroom Final Reveal
How do you completely change the look of a room for $100? Join me as I share how I took a hodgepodge room of leftovers and turned it into this beautiful guest bedroom final reveal.
Hello friends, this post has been LONG overdue. This challenge took place in the fall of 2019. Since late summer/early fall, life around here has been completely a day by day process. I will share more later but let's talk about how far my $100 budget took me on this guest bedroom final reveal challenge!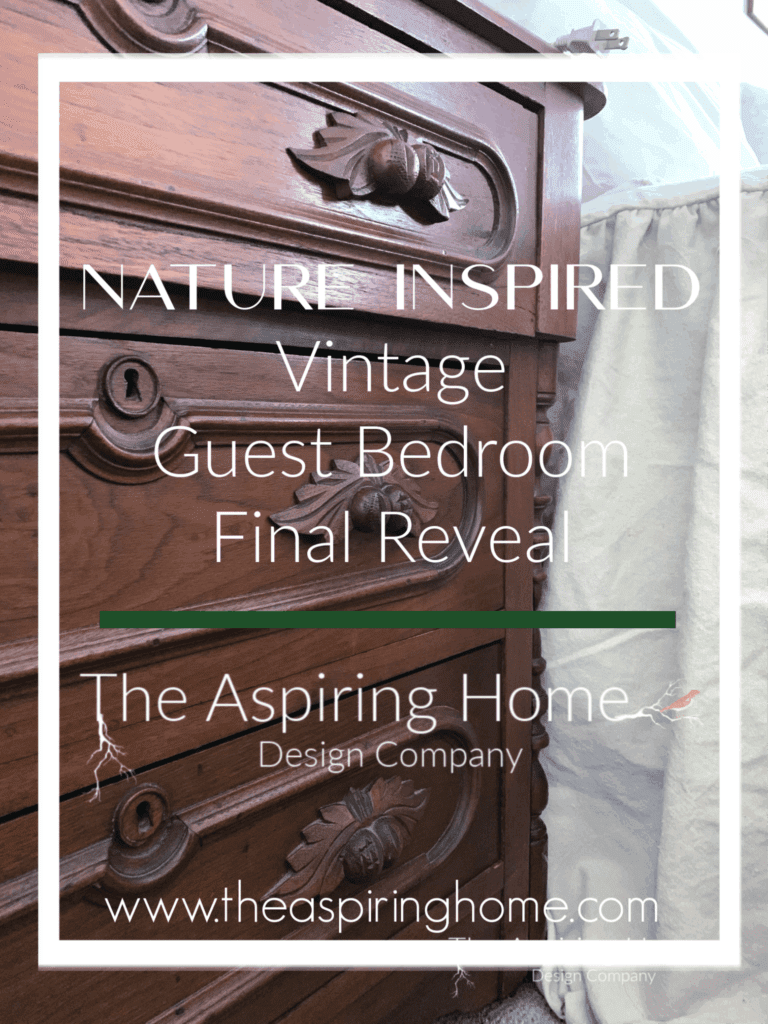 Erin with Lemons, Lavender, and Laundry created this challenge to help shine a light on just how far a small budget can go if we employ a bit of creativity and ingenuity.
This concept is so up my alley, I believe you can create a home without breaking the bank. Having a home that makes you happy and stays within a budget your family can handle is everything, right?
Before I share the results let us go back to the beginning of this room. This room at one time was apple green, hot pink and all little girl.
As the years passed the colors have muted. When I decided to tackle this room for what would end up being the last time, it looked like this…
The room became a giant closet basically for my college girl. It's hard to live between two towns with two rooms.
That college girl has now moved on to grad school and it was time to revamp this room and make it feel more like a restful retreat.
When I pulled together this mood board, I wasn't completely 100 percent sure if we were moving to another town or staying put in the home we have loved for over 14 years.
The board was ambitious but I was excited, then we took a leap of faith and started trying to prepare the house for sale just in case that was our path.
So, the idea of turning the fan into the gorgeous chandelier you see on the board – went out the window.
Good news? I will be recreating this room in part in the new house and I will be incorporating that amazing chandelier! On a side note, I am so in love with the Audubon prints (have been for YEARS) that I will be adding larger versions to my laundry room! So much to stay tuned in for, my friends! Ok, back to the reveal at hand.
Ready? Ok. Here it is!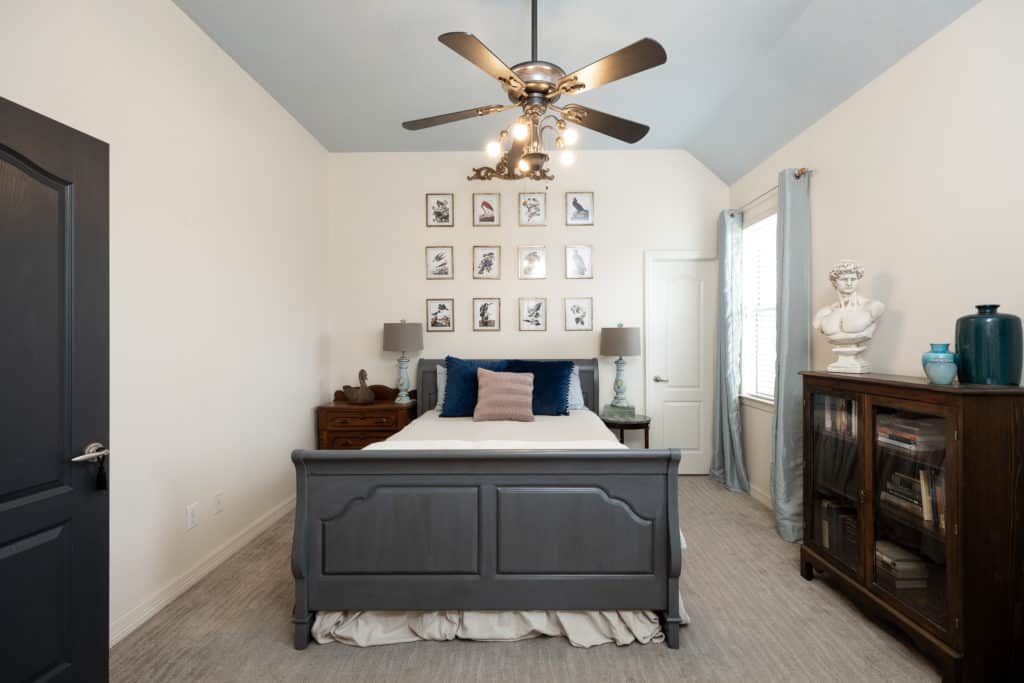 Photo Credit: Taylor Brown
Final Total Cost: $99.52
Not too bad right? What you are not seeing is my coastal take on Intaglio shadow box art. We chose to keep a" less is more" approach due to staging our home for sale. The cost of that project IS included in the final total cost since it was going to be a part of the final reveal.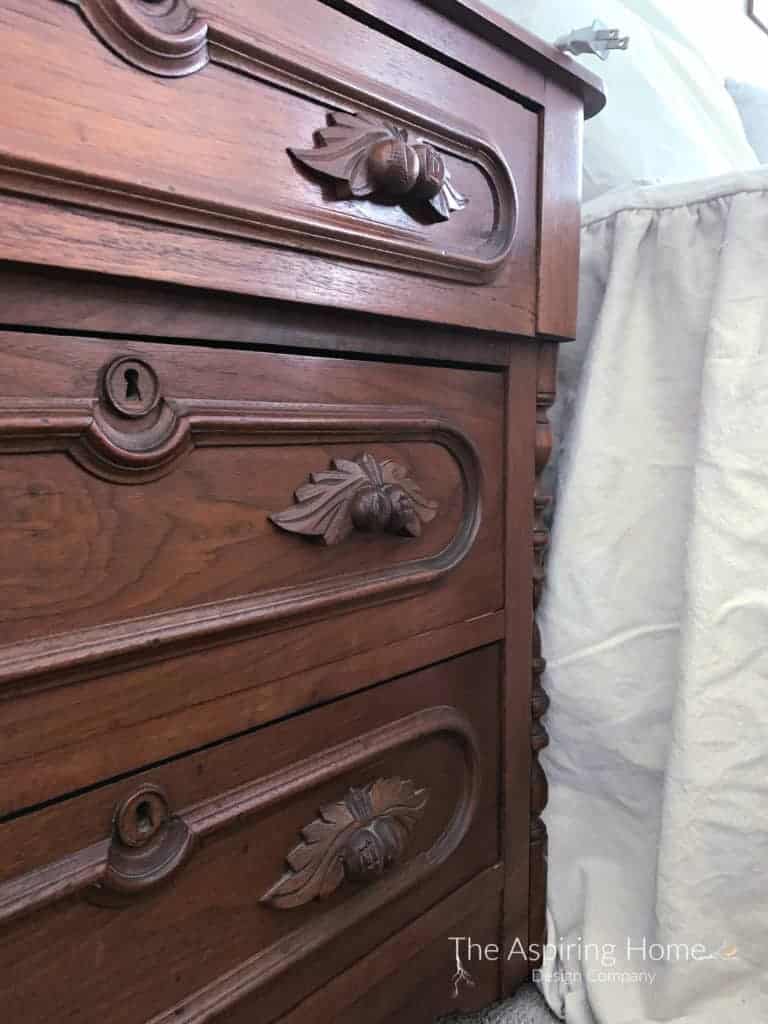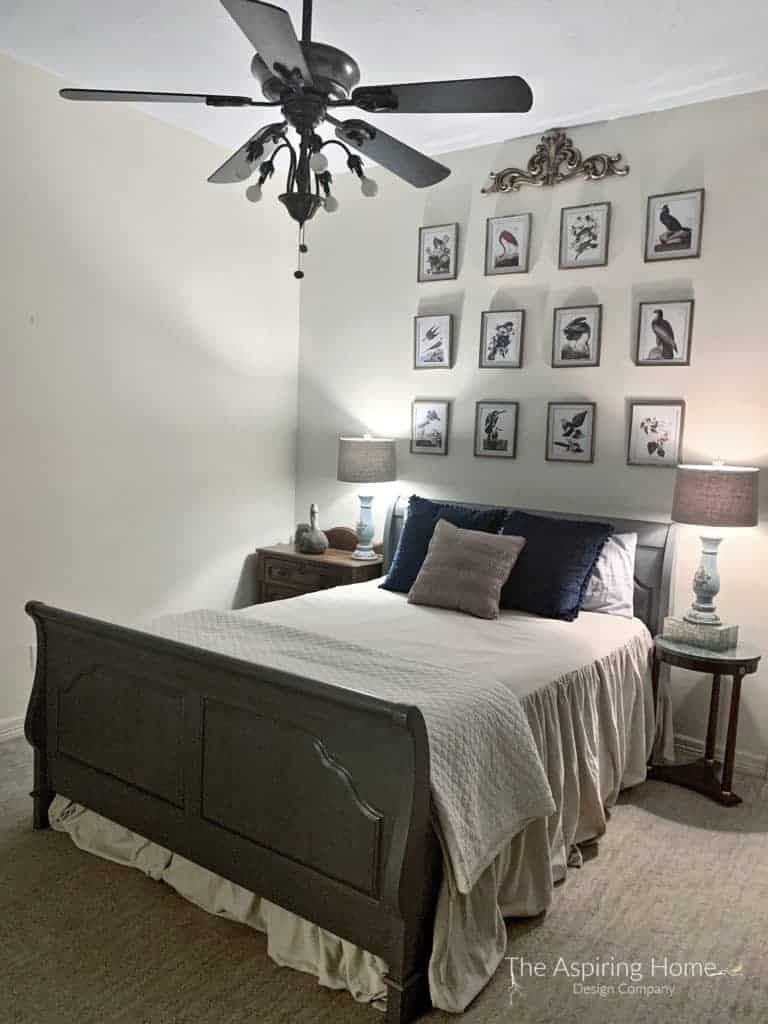 What would I have done if we were staying?
I would have added molding panels to the walls, changed the wall paint color, added the chandelier, search for a more ginger jar style lamp and hang a bit more artwork.
It would be slow additions but I think they would be welcomed in this space.
Final thoughts ~
To keep costs down we did everything from restaining the bed to sewing the bedspread out of painter dropcloths I had on hand, from Dollar Tree frames to repainting old lamps.
I'm pretty happy with the end results, it's amazing what a little decluttering and repurposing can do!
Great design begins with basic questions not a carte blanche budget. What do I love about this room? What do I dislike about this room?
How could this room benefit me or my family? Starting here will help you determine the next steps. To learn more about how I approach a space, click here.
Read the whole $100 Room Challenge 2019 Fall Edition:
Till Later my friends!