Simple Ways to Decorate a Gift Plus Free Printable Christmas Gift Tags
The Joy of giving this time of year is wonderful! Do you like to wrap? Need some encouragement? How about free printable Christmas Gift tags?
Howdy Dear Friends,
Are you shopping like crazy? Finding the best deals on the most wanted gifts? I sure have. As the packages begin to arrive via the delivery companies, I am now thinking about the second phase,the pretty wrapping.
I am a huge fan of making presents beautiful. There is just something about the time taken to craft a lovely presentation.
The Wrapping
Creating a special wrapping doesn't have to be expensive. Brown paper rolls can be bought in bulk. $1 a yard fabric can make a great wrapping options. I was at the Dollar Tree earlier this week and they had a great selection of papers.
The Bows
Bows can be made out of scrap ribbon (I have a tutorial here). Curly ribbon is beautiful when piled in bulk on top of a present. Satin ribbon tied in a simple bow can make a stunning presentation.
The Additions
Adding a little greenery, a bell,or a wooden bauble elevates the present. Greenery can be foraged add a bit of silver or gold paint to glam up. Jingle Bells can be bought in multi packs and the dollar store has great little items to attach to the top.
The Gift Tag
A gold or silver pen brings a bit of fancy to a package. Chalkboard stickers and permanent chalk markers look great with rustic wrapping. Handwritten gift tags are lovely but if you are not fond of your penmanship – type it out in a gorgeous font. If you are looking for something a little different that the store bought tags – I created a couple of options as my gift to you. I will be using these on my packages this season. Just click below each picture. Print on card stock and cut out.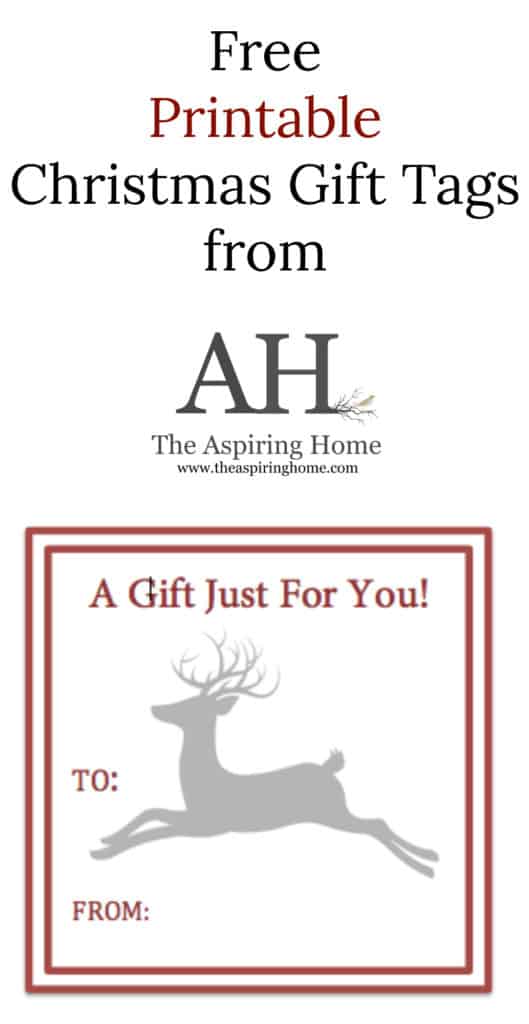 Merry Christmas and the Happiest of Holidays to you!
Till Later,