This DIY monogram tray makes such a lovely gift for friends and family. Christmas will be more special because it is from the heart & hand.
Hello sweet friends, I have a wonderful little project for you. This DIY monogram tray is a day project that will create a beautiful memory for your friends and family.
Today's post is part of a bigger event.
Welcome back to year 6 of our Festive Christmas Event where we team up with a bunch of talented blogging friends to bring you a plethora of creative ways to celebrate your holiday season.
We will be baking some cookie recipes for you, sharing some party games, making some handmade gifts, doing some ornament crafting, and sharing our Christmas movies family fun. There will be breakfast recipes and as always our decorated Christmas Trees which is always a fun tour of homes.
New this year is Gift Guides. We are right there with you shopping from home due to Covid 19 and we understand how hard that can be so we have been busy little Elves doing tons of research to create fabulous Gift Guides to help you with your holiday shopping.
You will find new ideas every Monday and Wednesday between Oct. 19th through Nov. 18th. Scroll all the way down to find all the ideas linked at the end.
Ready to get started on making this beautiful handmade DIY monogram tray? Let's GO!
*This post contains affiliate links. Please read our disclosure here.
Supplies:
Assorted craft paint brushes
Disposable bowls
Step 1: Create the Monogram
I found a great website that allows you to create a monogram and download it for free.
Download and print the logo. I printed mine on the 8×10 printer paper. Next, we are going "old school" and shading in the monogram with the side of a pencil. Once the back is covered, we will trace the monogram onto the tray bottom.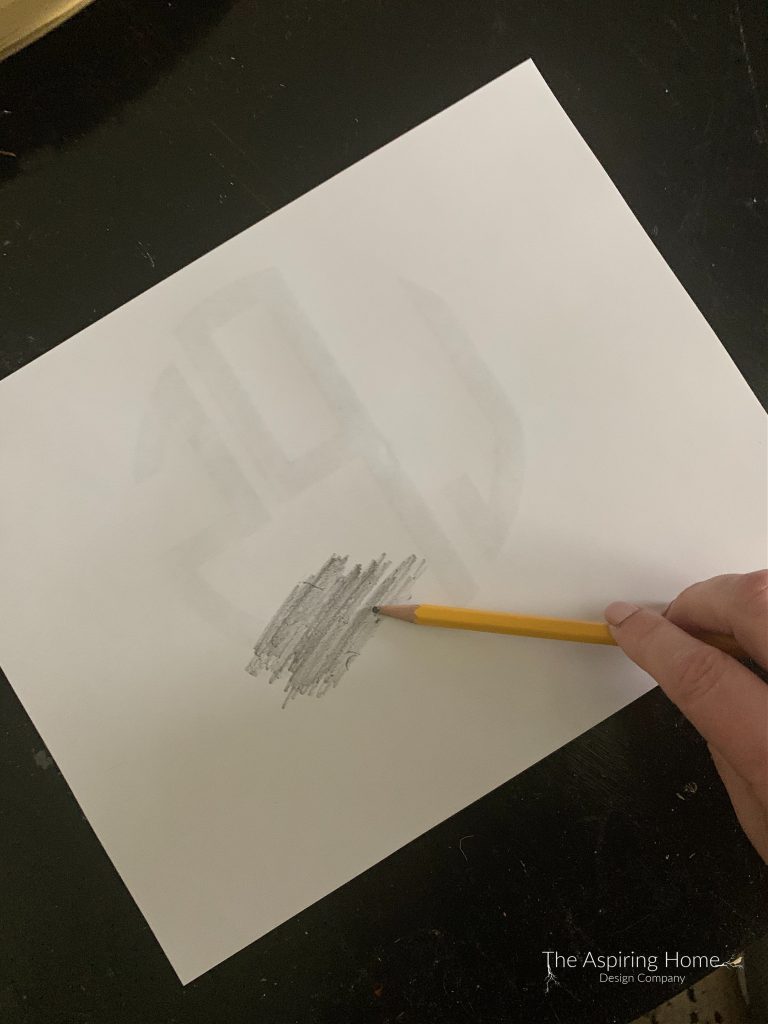 Step 2: Paint the tray
Apply a couple of coats of paint. Allow the tray to dry in between coats.


I mixed "Shamrock" color acrylic and glossy black to achieve this color.
Step 3: Trace the Monogram
Position your monogram in the center of the tray bottom. Secure with painter's tape. Trace the monogram onto the tray bottom. Gently lift a corner of the paper to make sure the monogram is transferring. Remove the paper and use a pencil to trace lines if needed,
Step 4: Gold leaf the Monogram
With a fine tip brush, fill in the traced-out monogram with gold leaf paint. Allow the gold leaf paint to dry completely.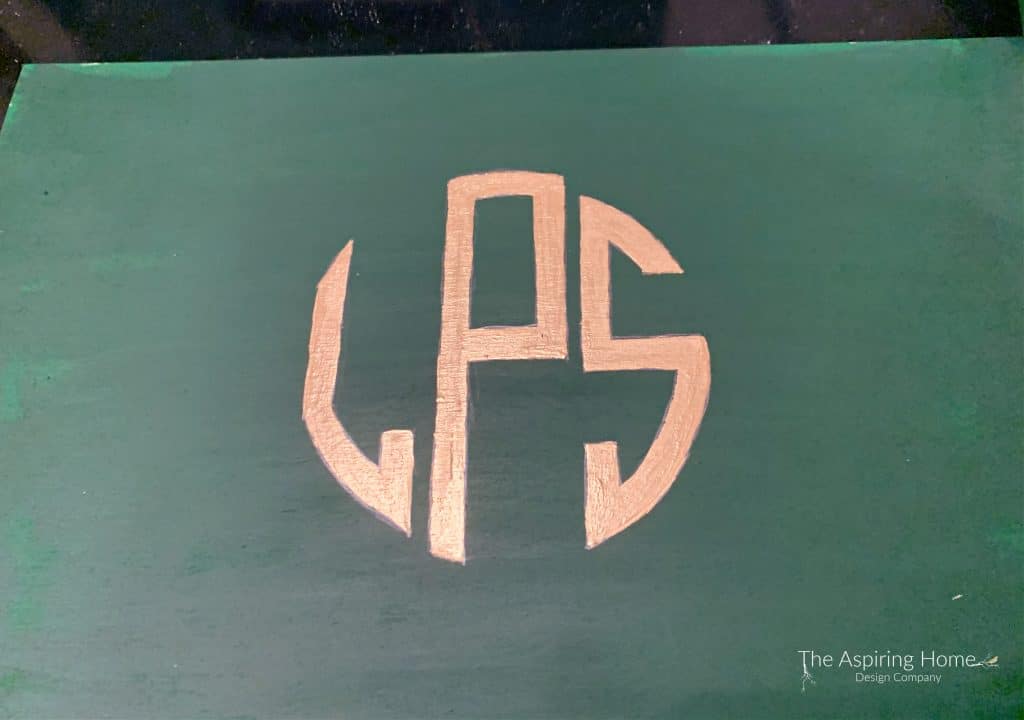 Step 4: Protect your project
Use a non-yellowing polyurethane to protect your beautiful project. I chose a spray formula. Apply 2 coats.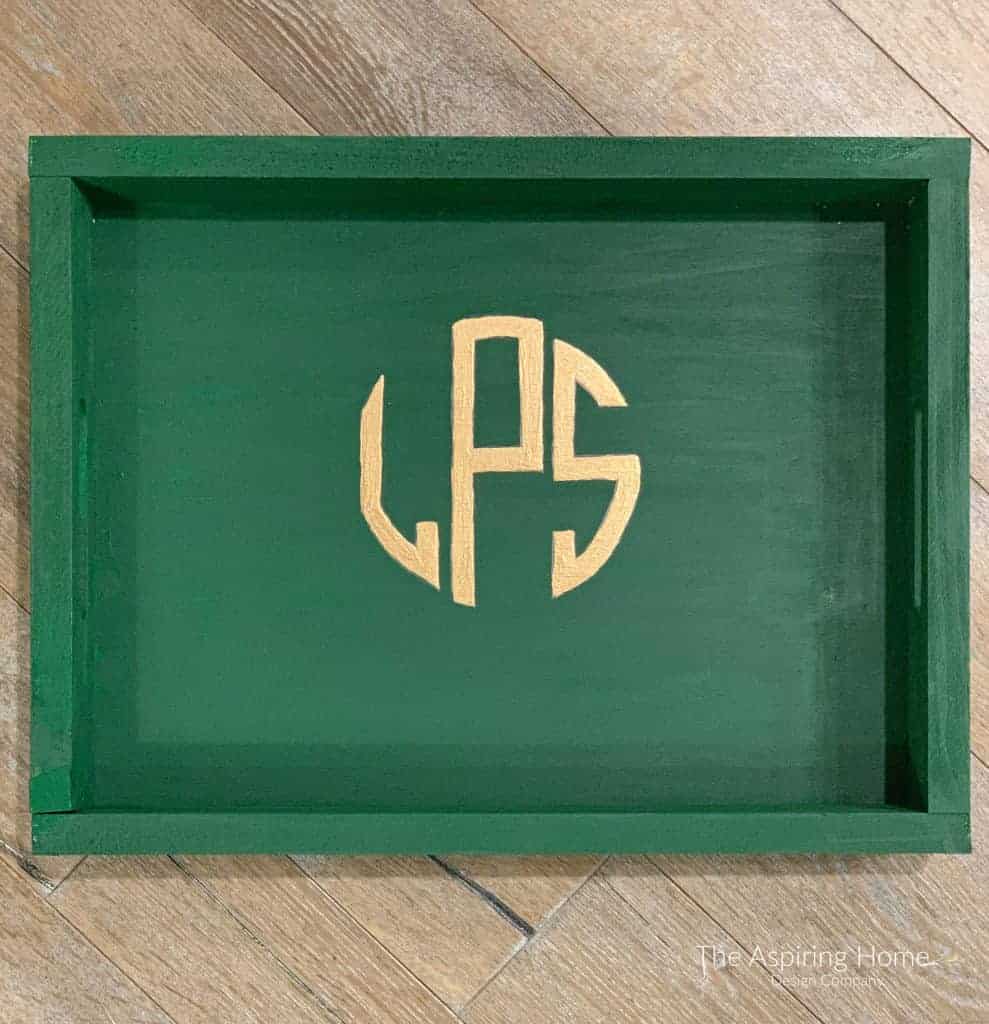 Now it's time to share your gift. I would keep it simple with a pretty bow and gift tag.
Ready for more wonderful handmade gift ideas? Just click the links below!
DIY Fabric Face with Center Seam My Pinterventures
Make This Dollar Store Gift Elf Cam Mug Using Cricut Intelligent Domestications
Christmas Treats Rock Art Christmas Tree Lane
DIY Herb Markers Made with Cricut Creative Cynchroncity
How to Make a Coca Cola Clock Farm Girl Reformed
Handmade Soap Gift Purple Hues and Me
DIY Snowflake Soap As For Me And My Homestead
DIY Car Care Gift Bag For Her – Festive Holiday Ideas – Homemade Gifts! Little Vintage Cottage
ZGallerie-inspired DIY glam candle holders From House To Home
How To Package A Cookie For Christmas Gift-Giving My Humble Home & Garden
Homemade Hot Chocolate Mix Coffee With Us Three
DIY Angel Mason Jar Gift An Alli Event
Memory Garment Hand Warmers Interior Frugalista
Christmas Cookies In A Jar With Free Printable Simply Inspired Meals
Snow Globe Shadow Box Craft Rocker
Holiday Cookie Mix Gift Sack with Printable Gift Tags Blogghetti
Lighted Snowflake Wine Bottle Mom Home Guide
Christmas Tea Towels DIY Across The Blvd.
DIY Gifts For Teens By Teens Polka Dot Poplars
Felt Holly Christmas Napkin Rings Tikkido
DIY Coasters with Infusible Ink Domestically Creative
DIY Monogram Tray -The Handmade Gift The Aspiring Home
Handmade Earrings Domestic Deadline
Til Later Friends!