DIY Dr. Strange Costume Accessories
We are wrapping up part 3. Our DIY Dr. Strange Costume Accessories post is ready! We have the tunic, the cloak and now let's pull it all together.
DIY Dr. Strange costume accessories part 3 will wrap up our Halloween attire. Accessories make it work, right? Let's get started!
DIY Dr. Strange Costume Accessories
The Belt-
I made the belt out of faux crocodile vinyl leftovers from these chairs.
Cut 4 inch wide strips. My strips ranged from 24 inches in length down to 16 inches in length. This was a happy accident – I was working with scraps so some pieces were just naturally shorter BUT because of the varying lengths the belt actually wrapped around easier. I made the belt three times the size of my son's waist.
I reinforced the seams for added strength.
To tie the belt I sewed two ties.
I added a few swipes of bronze paint to highlight the crocodile texture.
The Eye of Agamotto Amulet
So I found a costume jewelry medallion in my stash and painted it gold with a green accent to mimic the amulet. Then the next year when he wanted to be Dr. Strange again, I found a proper interpretation.
You can purchase the amulet here
*Affiliate link
The Sling Ring –
My son decided that he wanted to make his own sling ring so he used a cardboard box flap and cut the ring out. He used hot glue to create a design on the top and allowed it to cool then he painted it gold.
But if you would just like to purchase one -here ya go. Click here for the link. *affiliate
Pulling it all the accessories together –
We chose a black shirt and black dress pants. I cut strips from the leftover scrap of the navy blue sheet and crisscrossed tied around the arms and legs.
For shoes – black army boots
And just for comparison – here is a deluxe costume with a whopping $140 to $190!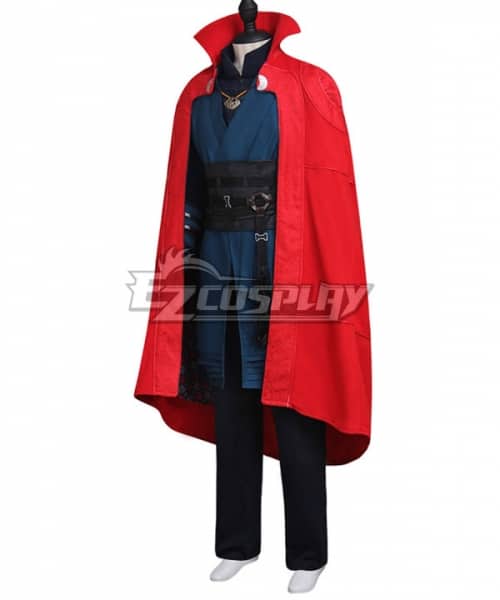 The homemade version isn't perfect but man, not bad right?
I hope you have a fun night trick or treating!