How to Clear the Kitchen Clutter!
Even though the kitchen is the heart of the home and cooking brings the family closer together, it can be one of the most stressful areas to keep clean. Today, let's clear the clutter!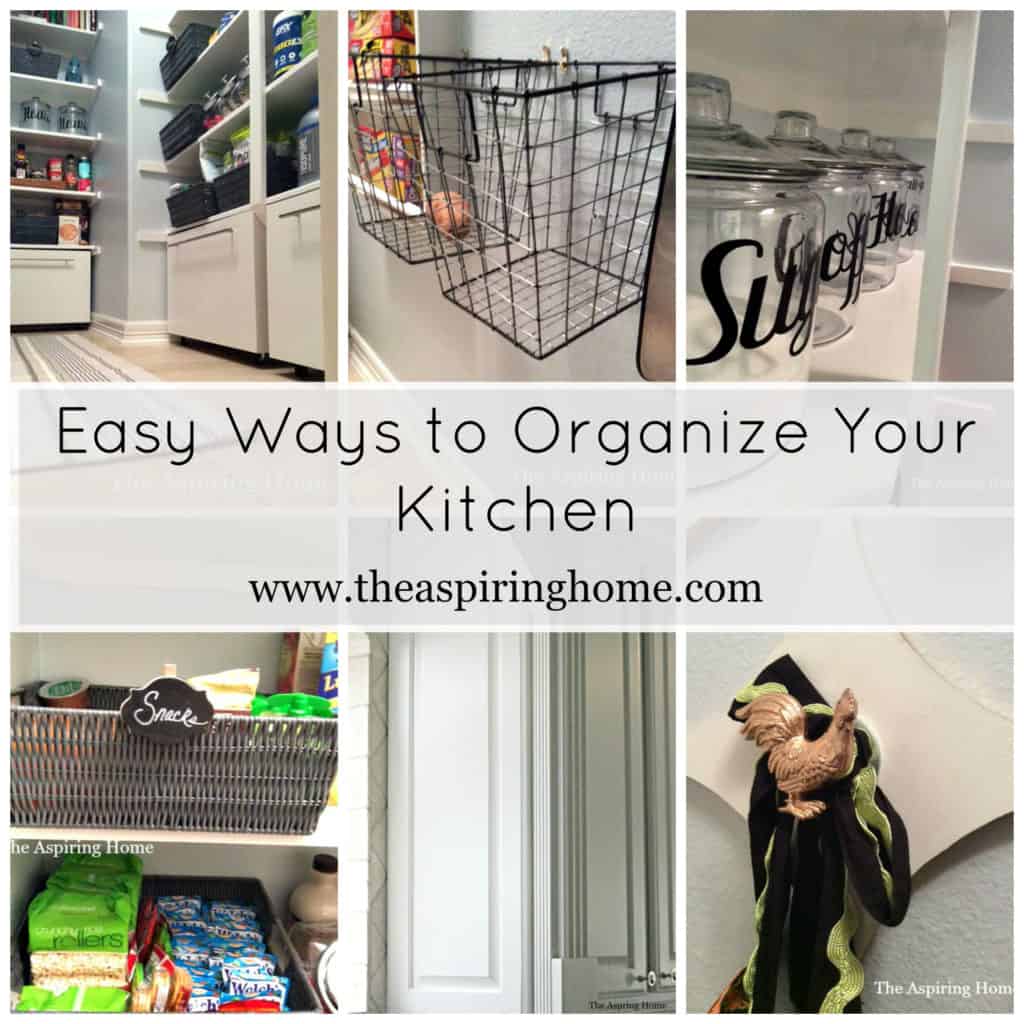 Happy New Year and Happy Friday to you!
Today we kick off a fun weekly series dedicated to decluttering our homes! Every new year brings new promises, like "This year I am tackling the ______." For me I would fill in the statement with kitchen and fortunately my good friends of "No Place Like Home" are ready to help with ideas, printables and a chance to win a $150 gift card to The Container Store!
Plus… we know there are some phenom organizers out there as well as first timers and we want to share your awesomeness.
How did I tame the Kitchen clutter?
I haven't. I know, you are shocked. That is not the answer you initially look for when searching for organizational help. Keeping the kitchen clutter, any clutter at bay requires vigilance. Life gets in the way here and despite my best efforts, my kitchen can quickly go from running smoothly to a hodge podge mess. I used to spend hours trying to get it back in order but now it only takes a short 15 minutes thanks to these simple ideas.
Step 1: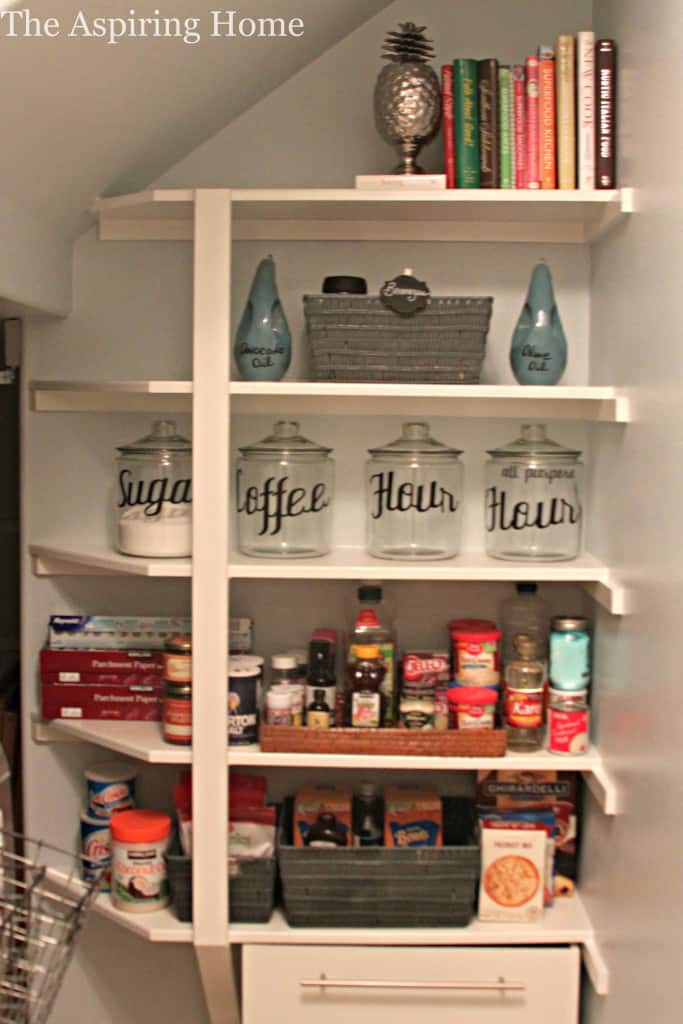 I LOVE cookbooks but I have a few that I really use. I finally found the courage to send my unused cookbooks off to make others happy.
I tried to designate areas of the pantry for baking, sauces. breakfast items etc. My baking area is looking a little rough in these pictures. I had to clean out the old flour- you know how that goes.
Step 2:
I've got to be honest- this is one of my all time favorite projects. I was in desperate need of storage. Part of my struggle with clutter was how to corral all the reusable bags, lunch boxes, coolers and paper goods. One day a light bulb went off – I had prime real estate staring me in the face. Why not create bins for these items? Why not put them on wheels so the bins can be rolled all the way out? These little babies have made such a difference! They are narrow but hold a TON of stuff. Want to make your own? Click here.
Voila all that necessary "stuff" rolled away and magically disappears!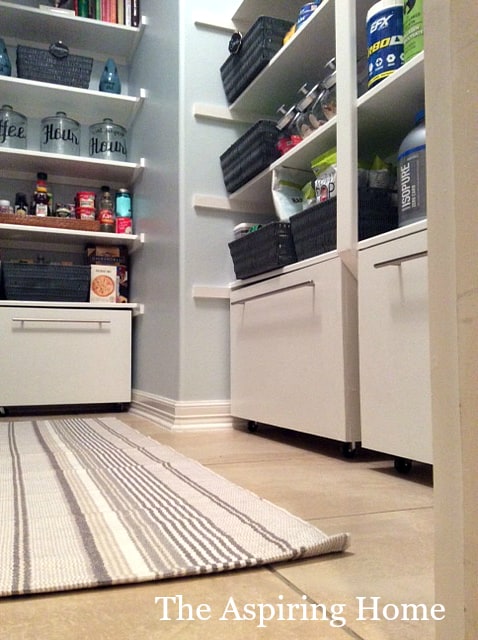 Step 3:
Wood crates are a great economical addition to your pantry. I picked these up at JoAnn's fabrics and gave them a quick "weathered" stain. I just love mixing glam and rustic elements.
Need a home for potatoes? These baskets were a Home Goods find and hung with simple hooks.
Step 4:
When we run out of an item – whoever was last in the pantry has to write it down. Believe it or not- it works with kids… even teenagers because if it isn't on the chalkboard it may not make it onto the official grocery store list. 🙂 Ice Cream seems to be a popular add, ha!
Step 5:
I love using baskets and to save a bit of cash – I gathered baskets from around the house and gave them a good dose of spray paint. $1 Chalkboard labels complete the organization.
Old school bread boxes still make great organization options.
These glass containers were purchased via Amazon. The vinyl labels were quickly made using the handy dandy Cricut cutter.
Step 6:
I love aprons probably a tad more than cookbooks and created super cute hooks to keep them all looking happy. Wanna know how easy it is to make them? Click here.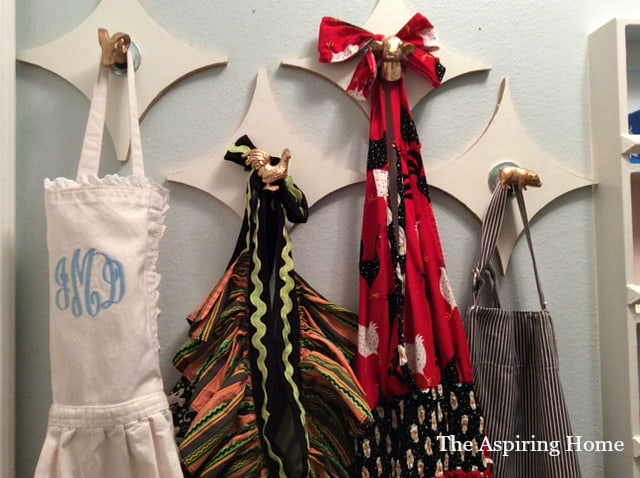 Step 7:
Now we have come to my last little brilliant kitchen idea. Our home builder had the brilliant idea of putting narrow shelves above the stove area for spices. The idea is logical BUT I can't stand the cluttered look of the spices and the pretty jars were just too wide for the shelf space… what to do? I tried just leaving the shelves bare but that drove me just as crazy until one day I had a light bulb moment. Why not create doors to cover the shelves? Would it work? You bet it did! Take a look…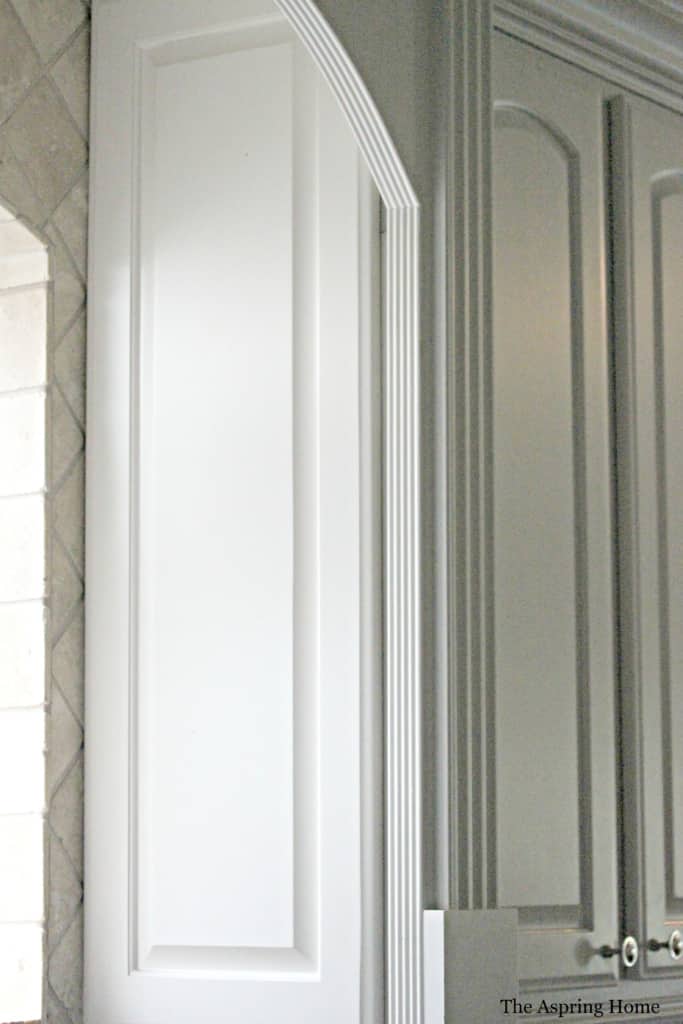 Love how the clutter goes bye bye with hidden storage! *We gave our builder grade cabinets a fresh coat of paint a few years back – changed the whole feeling of the space.
Be sure to check out even MORE organizational goodness!!
Hey Fitzy// Nourish and Nestle // Sweet Parrish Place // Savvy Apron // Paint Yourself a Smile // A Home To Grow Old In // The Red Painted Cottage
How about $150 to get your organizing creativity going?
As previously mentioned, the gals from No Place Like Home are hoping to motivate you to declutter your home with the opportunity to win a $150 gift card from The Container Store. You have multiple opportunities to enter the giveaway:
1) Each week submit a photo of a declutter challenge or success to the inlinkz below. (If you are not linking from a webpage and are just uploading an image from your computer, click on option 3 in the inlinkz box that says 'Image URL' and add your image from your computer. This link (http://blog.inlinkz.com/2010/07/adding-images-to-linkup/ ) helps explain that further.)
2) Follow the rest of the Rafflecopter prompts below. '
a Rafflecopter giveaway

Share your decluttering successes with us and earn an entry for an $150 gift card from The Container Store! Come back each of the 4 weeks to earn 4 entries!
Now for the rules… yeah…there always seems to be rules. 🙂
Link Party Guidelines:
1. Please only link up posts that are kitchen decluttering/organizing related.
2. Please only link up your original work.
3. Please only post something that you have not posted before during this 4 week challenge. 4. Please go to the original post before you pin something.
5. By linking up to this party, you are giving all 8 of us permission to share you pictures on social media or our blogs at any time in the future. Of course there will be a link back to your original post.
6. Please follow all hosts.


Till Later my Friends!
SaveSave
SaveSave
SaveSave