ORC Wk 2- Creating Courtyard Character on a Budget
The One Room Challenge Week 2 always has a few hiccups but add Mother Nature's two cents and we have a few more hurdles to overcome.
One Room Challenge Week 2 – So, you know how if you wash your car – you're pretty much guaranteeing rain? Well, same thing goes if you decide to do an outdoor space for your One Room Challenge. Our plans for adding Courtyard Appeal have been paused momentarily due to the crazy weather, but that is A OK by us. We are using the time to redesign the plan a tad. It is early in the game, right?!?
The Flooring –
To create the perfect outdoor space floor took a little research. We chose Sherwin Williams Concrete paint in Bohemian Black and Pearl Grey.
The Ceilings –
The Porte-cochère ceiling will get a beautiful dose of color. To continue our southern courtyard feel the ceiling will be going blue. Aquaverde to be exact. You can find blue hued porch ceilings all over the South.
The open air of the courtyard will be strung in lights, a great portable option.
The Doorways-
I am so excited about this part- We will create a bit more architecture in the courtyard by adding long door shutters. The shutters will be bathed in the color "Underseas".

The Plantings-
We will keep the beautiful olive jar planters and I will be replacing dead fruit tree with a beautiful Meyer Lemon tree. For the herbs and vegetables I will be utilizing a few horse troughs (which may or may not be altered).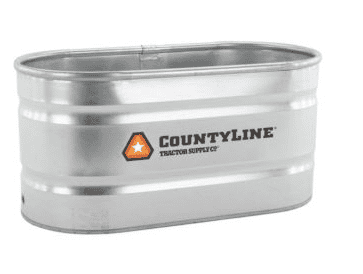 Fence-
This is one of the easier projects- the stain will a shade of grey… I think. Ha!
The Outdoor Movie Theater-
Let's just say… I've gotta plan and it is so easy- you are going to want one of your own!
Well, the sun is shining so better get to work – while we can! Check back in next week, fingers crossed that we have major work accomplished!
Until then – you have to go see week 2 of the featured designers and week 2 of the guests participants! Every room in and out of the house is covered by this talented lot!
One Room Challenge Week 2 – 200 plus talented designers/bloggers
Till Later Friends,