Last Minute Easter Tablescape & Brunch
Easter is such a special time for family gatherings but sometimes the prep work can be overwhelming. Add the pressure of trying to create the perfect setting and the joy can be quickly lost. Here are some tips to help keep that from happening.
I have to be honest. I play favorites. Yes, when it comes to the seasons, I adore Spring. The fresh new life that springs forth gives me such hope. We have been going through some serious struggles here and I have faith all will be well but sometimes, hope gets thin. This week is reminder of why even though thin – hope remains. I have put off decorating a whole lot for spring and literally just pulled my table together for tomorrow's meal earlier today. As I was putting the final touches it came to me. Every item that was on the table – I had. Was it the original idea I wanted? Nope, it wasn't. Did it look family ready? It absolutely did. Maybe you are like me, not in the best place but want to make an inviting table for your family and friends. Let me share with you my tips to creating this Easter tablescape and Brunch recipes.
What better day to do a lovely little brunch?
Tips for Creating a Easter Tablescape –
This is not rocket science my friends. Whew!
Layers are key here.
Grab a tablecloth or a bit of fabric.
I decided to keep it simple and do table runners. I had the sparkly pink from a friend's birthday dinner and the buffalo check was a great find on Amazon back in the fall.
Add a centerpiece
This can be anything from:
A pretty bowl of lemons or strawberries raised up on a cake stand surrounded by a little greenery.
A collection of candlesticks
A small bouquet of flowers from your yard
A stack of cake stands holding lovely little cupcakes
I pulled a faux boxwood wreath from my kitchen window and tucked in faux Hydrangeas and gold dipped petite eggs.
Next I took a large candelabra and plopped it right down in the middle of the faux boxwood. To shake things up, I used a mix of candles.
Set the Table
Mix it up here or don't. Use paper plates. Add chargers, if you have them.
I took chargers I have picked up over the years and layered them. The gold ones were $1 each on sale from Hobby Lobby. The blue ones used to be silver, I painted them with Modern Masters metallic paint a couple of Decembers ago.
The white dinner plates and braided jute placemats came from Target and the little dessert plate is part of my wedding china.
The cute little bunny egg holders were a clearance treasure from Sur La Table years ago.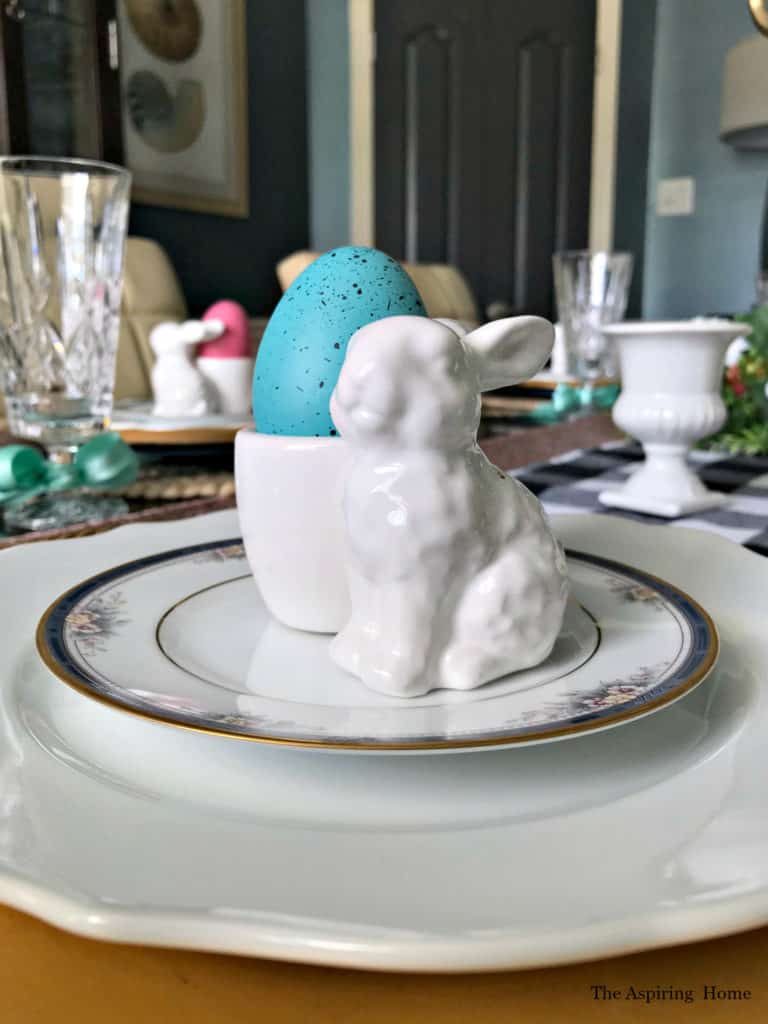 The sweet tea glasses were also from our wedding and I added the mint green ribbon on a whim. I really dig it.
Add the Extras
Not much needed here. The food will be your biggest asset and you will be happy to have space for all the yummy delights.
The little robins were found after Easter a few years ago in the clearance section of Hobby Lobby and the little urn candles were just hanging around in other rooms.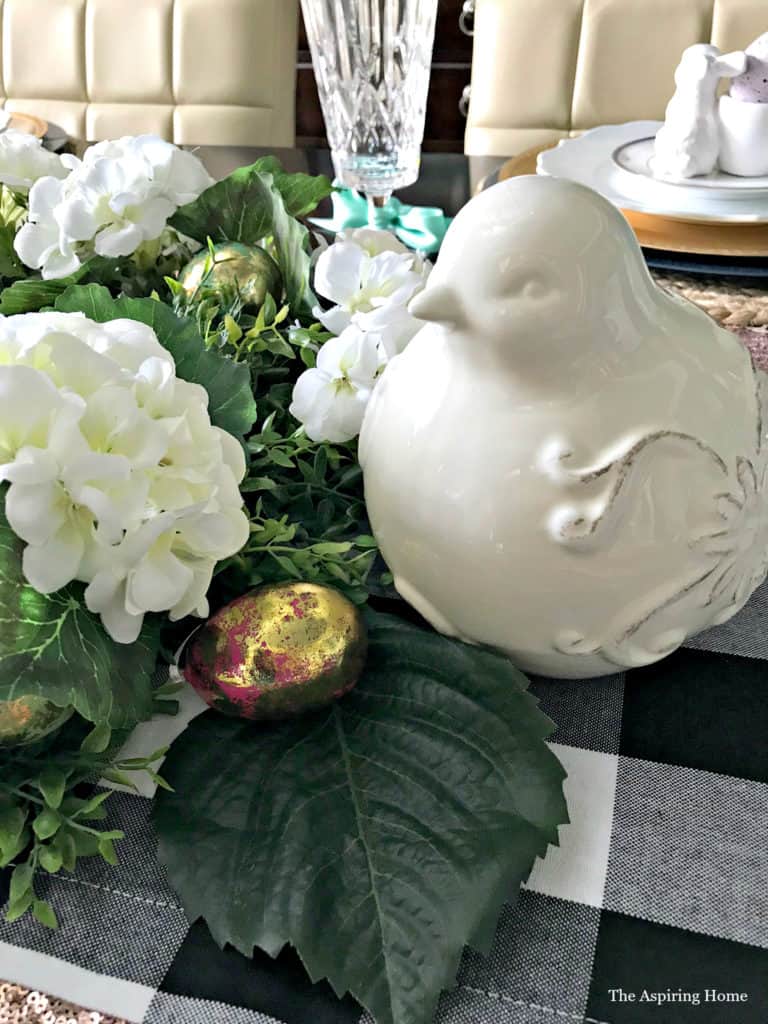 That's it, not too bad huh? Shop your house. Use the kiddos' dyed eggs for fun. Don't get absorbed in the perfection. As a recovering perfectionist, I give you permission to live in the here and now. Keep it simple and smile really big. Your happiness will set the whole atmosphere.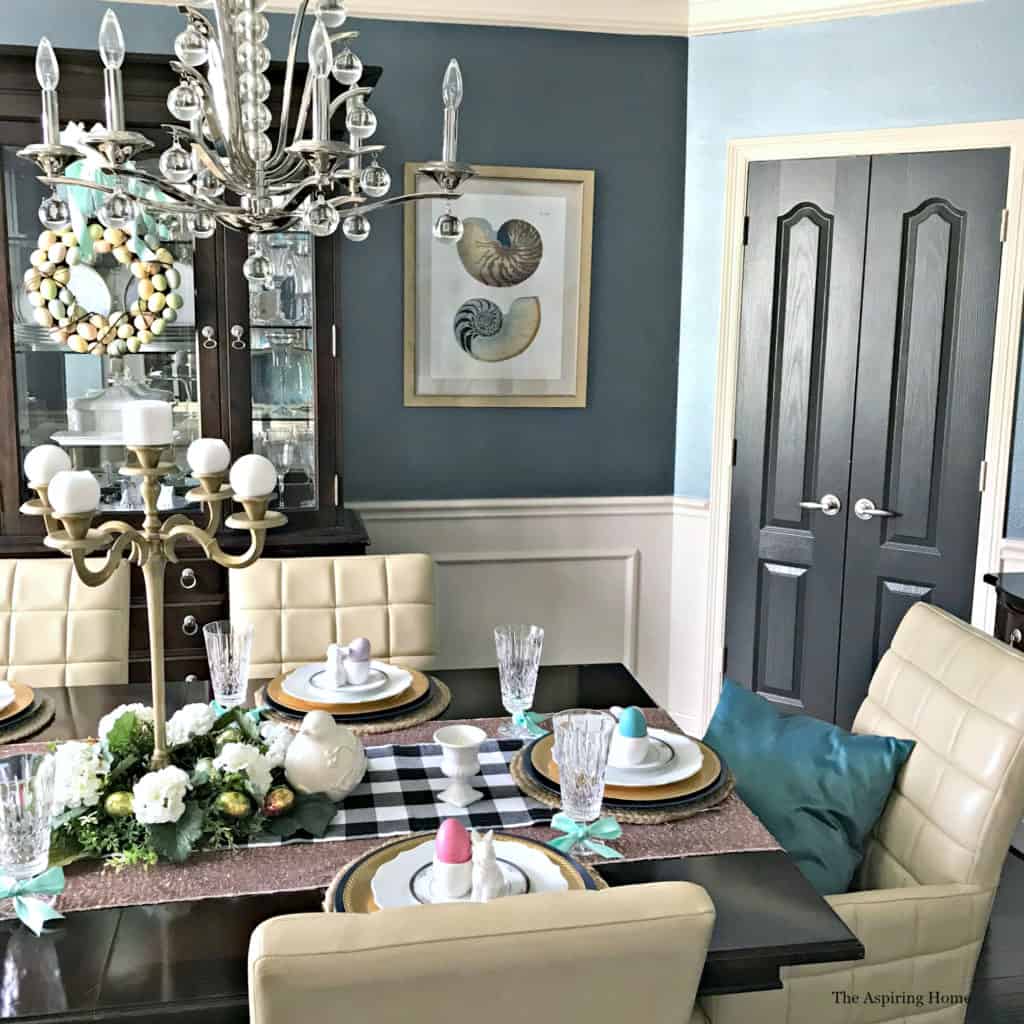 Restaurants fill up and get crowded, why not create a simple meal at home? Prepping the day before will help but if you go the brunch route it isn't the end of the world if you don't.
My Menu:
Egg Quiche
Shrimp and Grits
Roasted Vegetables
Croissants
Fresh fruit
Spring Salad
Lemon Meringue Pie
And here's a round-up of recipes to help you create your own easy brunch.
Happy Easter! Savor the time with family, build memories and hit the pause button on the worry. The stresses will be there tomorrow.
Till Later,