Easy Chicken Soup Recipe to Warm the Soul
Chicken soup soothes the soul and this recipe is a simple delicious take on a tried and true family favorite that you will want to make often.
Happy Day to you!
Chicken soup…. the very words conjure up the feelings of comfort, home and love. When we have a cold? Chicken soup. When we have had a bad day? Chicken soup. When the weather is torrential and terrifying? Chicken soup. When you have a super busy evening schedule and have NO energy to cook? Chicken soup.
I want share with you my easy version of this age-old staple. You can throw it in the slow cooker or simmer it on the stove. Enjoy!
Ingredients:
4 chicken breasts, cubed
5 carrots, chopped
5 celery stalks
1 yellow onion, chopped
3 cloves of garlic, minced
1 fennel bulb, chopped
1 jar of Artichoke paste
64 oz. of chicken broth
4 cups of water
Fennel seeds
Salt, pepper, adobo seasoning
Your favorite pasta
Step 1:
Sauté the carrots, celery,onion,garlic, and fennel bulb with a little olive oil. *I usually saute my carrots by themselves. I do not peel them. I saute until the color deepens. Throw all the sautéed ingredients in your soup pot or slow cooker.
Step 2:
Brown cubed chicken is skillet or grill pan. Pour Artichoke paste over chicken and continue until chicken is cooked throughly. Add chicken and paste to your veggies.
Step 3:
Add Chicken broth and water to the slow cooker or your soup pot. Stir and sprinkle in fennel seeds about 2 tablespoons worth.
Step 4:
Add seasonings to taste. I salt and pepper then add Adobo seasoning- this stuff is sooo good!
Step 5:
Add your favorite pasta – I used Casarecce.
Step 6:
Allow soup to simmer and meld into the ultimate comfort food. When I use my slow- cooker, I put it on low for 6 to 8 hours. My soup pot- 45 minutes on low.
The taste is light and the soup is so fragrant. My family gets excited when they walk through the door, their first words… ah, you made soup!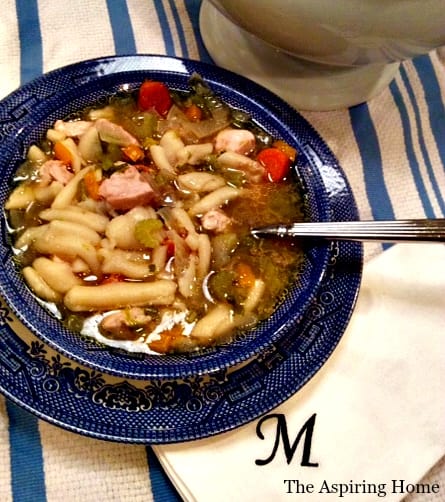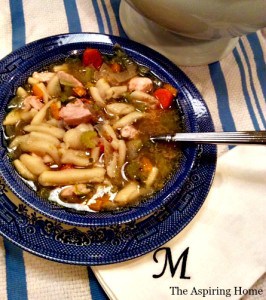 Unplug for a while my friends- allow time to decompress and don't forget a loaf of good crusty bread!
Till Later,
SaveSave