The Almost Worry Free Pool Renovation
Have you ever heard about a worry-free pool? What about an almost worry-free pool? We were able to renovate our existing to pool with finishes that provide an almost worry-free pool renovation thanks to the guidance of our friends from Houston Pool Renovations!
The One Room Challenge is over and we have such a happy lovely backyard for our family and friends. One of the gems of this great makeover was the pool. Our pool had seen 12 years of fun, sun, and deterioration. We decided that it was time to do a major overhaul and this time around we were targeting an almost worry-free pool renovation.
We were so happy to partner with Houston Pool Renovations for this massive project.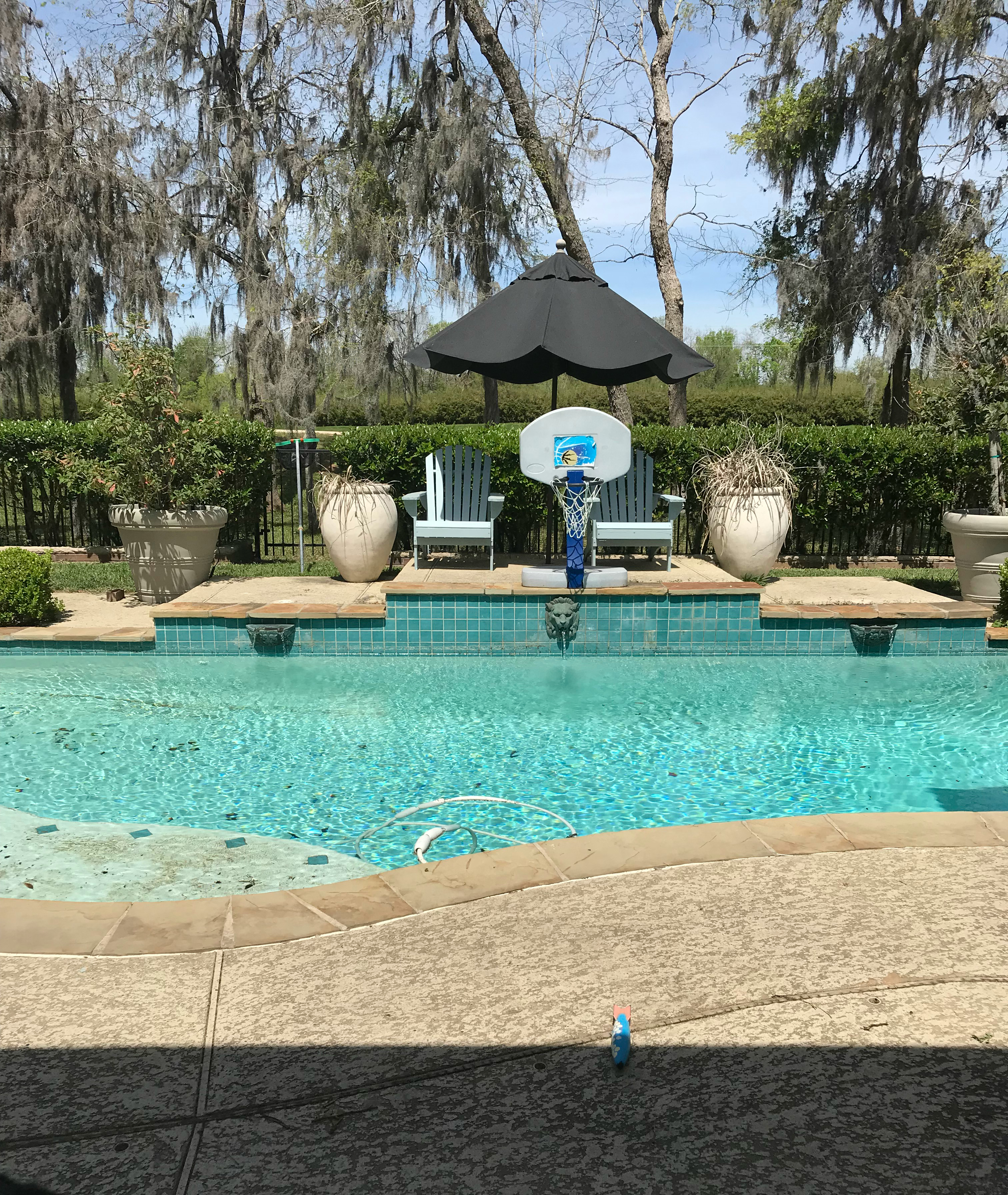 Salt systems can be very destructive to pool coping and our coping began causing issues with the filters due to the huge daily amount of sediment. The tile started to fall off due to water seepage and fire ants had tunneled their way behind the stone and some of the tile. The pool plaster had areas of severe wear and let's not leave out the deck! Several years ago the deck was wonderful and looked so good… but that was several years ago.
The Coping
When I started dreaming up the design for this pool, the most important item on our list was to have a pool with less stress. Having a pool is fun and looks really pretty but it is huge upkeep. We originally wanted "poured concrete" coping – talk about less maintenance!
This idea seemed like the way to go until the first contractor couldn't deliver it, communicate, or show up. My stress level was through the roof until Jared with Houston Pool Renovations showed up and pretty much made it all happen.
Since the idea of poured concrete coping was out, Jared suggested going with travertine for the coping since it plays well with the saltwater system.
Which means… no more fine sand in the pool! YAHOO!
The Tile
Taking out the tile opened up the opportunity to go with a slightly darker grout color and a larger tile. Tile has come along way since we picked ours out 12 years ago. With so many choices, we decided on a beautiful tile with a mix of turquoise and bright blue in a soft glossy finish. Choosing a larger tile helps eliminate some grout lines and the soft glossy finish aids in keeping the tile clean from the mold.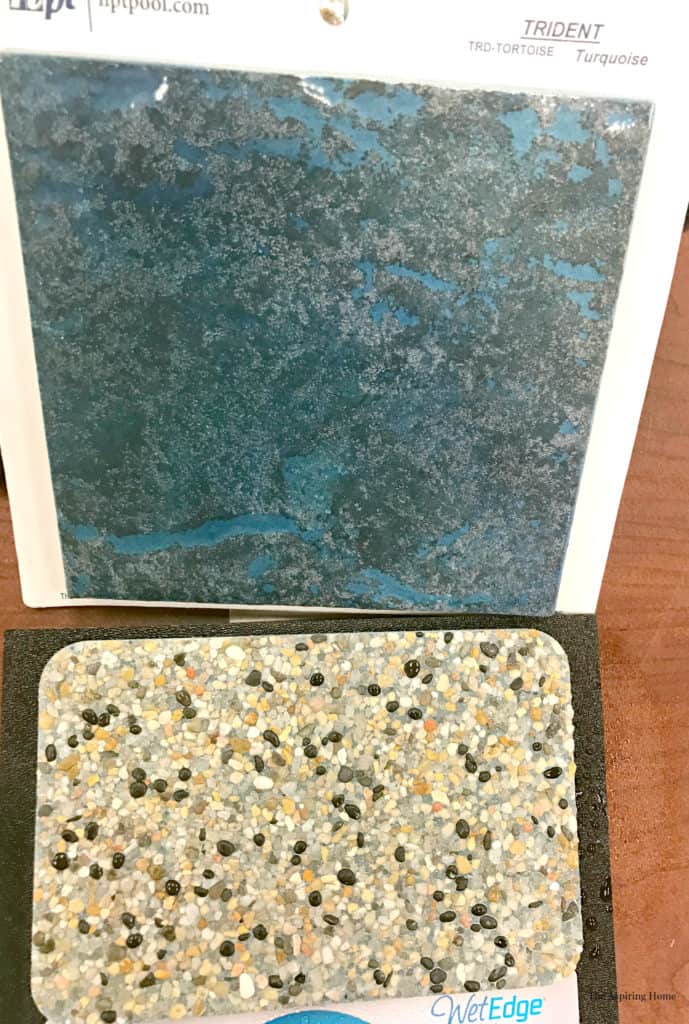 We have a smaller pool to fit our yard size and love the raised back area – using the new tile gives me more of a fountain feel when the little fishes begin to spit. 🙂
The Plaster
We were excited to learn about all the latest finishes (new to us, we have been out of the pool game for a little while) Houston Pool Renovations provides surfaces for every budget. We chose the middle of the road option and went with the Wet Edge Signature Matrix in Tahoe finish with extra abalone shell for a little extra sparkle.
I love the way the Tahoe finish reflects the turquoise and blue in the tile. The new finish is very comfy on the feet compared to the "chalky" feel of the original plaster. Wet Edge plaster products have a longer life compared to plain plaster. We should be good to go for at least 20 years and when you are trying to redesign or design a pool, longevity is key.
The Decorative
You can view our backyard almost immediately as you enter the front door. I wanted to do something different with the decorative features of the pool. The original design took advantage of our smaller pool by creating a step up the back wall so our pool would have da large fountain feel to it.
My design inspiration, believe it or not, came from a memorable trip up the coast (we were living in SOCAL at the time) to Hearst Castle. I fell in love with the pool! Yes, it is over the top but I have always been drawn to grandeur – I can't help it. Obviously I had no intention of recreating the pool but I did take a few elements as my inspiration.
You can find inspiration – anywhere!
One element was the statuary, the idea of finding seahorses or fish that I could turn into spitters was born. I hunted all over the internet for a good option, I felt a bit like Goldilocks… everything was too small or too big. I found "my just" right option at my local HomeGoods store after being completely frustrated by the online offerings.
It was all I could do not to make a happy scene, I did load the fish into my cart and took off for the register in record speed. I purchased my fish at a seriously reasonable price and tucked my little treasures safely into the back of my car. Satisfied with my victory, I returned to HomeGoods immediately to grab a few more super cute items for the project.
When I showed Jared my super awesome find… he didn't react with the "really, you want me to make that work?" He thought it was a great idea and ran with it. I love companies that can catch your vision, don't you?
The Decking
We have a huge area of decking tying the pool and patios together. When we first built the pool, to save money and adhere to the budget, we chose plain concrete. Later we tried acid staining the deck and it looked good for about a year and then the finish began peeling off. We left it in that condition until we had the money to do the next level up…Spray Deck. This product was great, cool underfoot and it looked nice. The years marched on and even with cleaning, the Spray Deck began to look dingy. When the product started to lift off, we decided it was time for a refresh.
Goodbye to the old and Hello to the new!
We went with a Limecoat deck in a large-scale travertine style. I chose a lighter finish for three reasons;
1. to compliment the outdoor kitchen area, 2. I had envisioned bold pops of color throughout the space and desired to keep the "floor" neutral and 3. If I ever change my mind in design or we sell the house, the space can adapt to other styles.
There is a level of artistry involved in this type of decking. A test board is created to give the homeowner a visual of what their idea will look like before the work begins. We were able to talk through the pattern and color scheme much more easily with the example in view.
Once the Limecoat product is applied, it is hand-cut into the pattern of choice. I love clean lines so a large-scale travertine pattern made me super happy. The product is allowed to cure overnight and the crew returns to hand apply the color and seal the entire deck. Once the sealer is dry – furnishings can be replaced.
Limecoat will last for years and will only need to be sealed every two years.
The Plantings
The last area we needed to address was the landscape or lack thereof, current plants and shrubs were hit hard by the freeze and to be honest, they were looking pretty pitiful anyway. I decided to take all the beige pots and immerse them in color, this provides more character to the entire space. After painting the pots I called a friend who is on more friendly terms with plants.
A few hours in the garden center yielded lovely hearty foliage that would turn the backyard into an oasis.
Around the pool gets full blazing sun so we chose plants that would handle the heat. To give a little tropical vibe we chose palms in large pots positioned in the areas that get morning sun and become quickly shaded by the house.
For whimsy, I found two gold flamingo planters and used a larger pot for them to call home. I chose hearty vinca in a bright pink shade to fill smaller pots that I tucked throughout the space to add gorgeous color.
Our pool renovating process went a whole lot smoother and happier than I had originally thought.
I encourage you if you live in the Greater Houston area to give my friends at Houston Pool Renovations a call, they will be able to give you a free honest estimate. Let them know that you read about them on The Aspiring Home!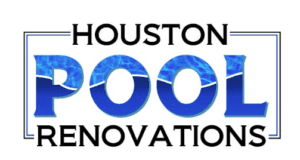 Jared 713-816-1544
www.houstonpoolrenovations.com
The Aspiring Home sometimes receives products or services to review. The Aspiring Home will not endorse any product or service that we do not believe in or haven't had first-hand knowledge of the product or service success. All opinions and thoughts are solely my own.
It's really nice to know that there is a company out there that really tries to make every aspect of owning a pool less stressful. They even sent out one of their experts to "baby" the pool with the right balance of chemicals and products.
I hope our experience will help you if or when you are faced with a pool renovation, we were pleased with the attention to detail, honest consistent communication, and friendly, hard-working, meticulous employees at Houston Pool Renovations.
Till Later friends!