12 Throw Blankets for Fall – Let's Get Cozy
Believe it or not, Fall is around the corner so let's get cozy with throw blankets for Fall! I have some great finds for you today.
Hey there friends! What's more "Fallish" outside of pumpkin everything than a good throw to wrap your self up in while sipping on hot chocolate? Check out my 12 throw blankets for Fall, they bring the comfy cozy factor we will be longing for!
Our weather right now doesn't encourage you to want to pull on your riding boots and grab your scarves BUT one can dream and prepare. These great neutral throw blankets will add the right amount of softness without compromising the opportunity to tuck in your favorite for Fall colors.
Speaking of fall colors, are you a traditional red, orange, brown or do you prefer the jewels tones or perhaps soft pastels? I have decorated with all the above BUT this year I am mixing it up a little bit. I'm going to try and keep my tradition of reusing most of what I have and purchasing the least possible but there are some items I'm eyeing. I guess we will all find out in the next few weeks when the fall tours start ramping up around here.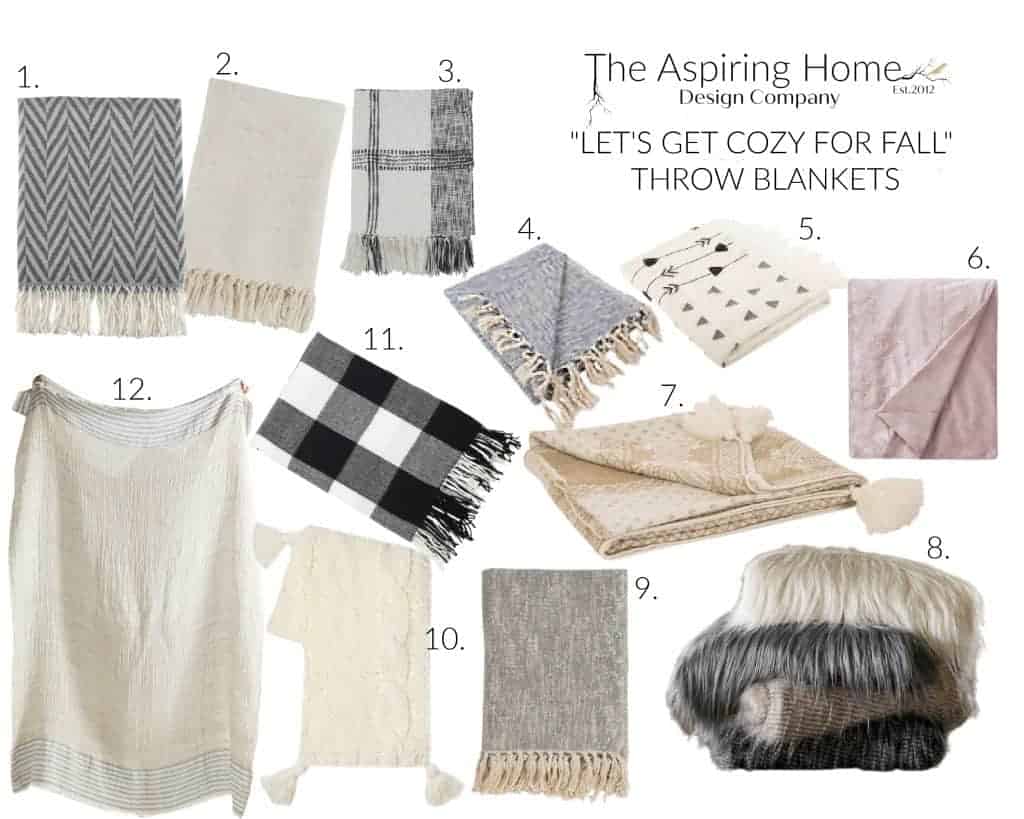 1.//2.//3.//4.//5.//6.//7.//8.//9.//10.//11.//12.
What do you think? Aren't they cozy? Especially numbers 8 and 10. Next up, I will be sharing some gorgeous baskets because hey, we need to have great storage for our lovely throw blankets, right?
Keep thinking cooler temp thoughts my friends, we will get there soon! In the meantime, enjoy perusing pretty things and thinking about how you will welcome the Fall season.
Oh! do you have the Like to know it app? If you do, come follow me and if you don't – you should download it. It's a fun shopping app.
*This post does contain affiliate links, which means that if you make a purchase – I will receive a very small commission at no cost to you. Affiliate links are the lifeblood of this blog and allow me to keep it running. I so appreciate your support.
Till Later Friends,