New Kitchen and Bath Trends For 2023
Time to talk about the new kitchen and bath trends for 2023 now that KBIS has come to a close. Get ready to confirm the obvious and see the innovative!
I am excited to be back from the K(itchen) B(ath) I(nternational) S(how). It was energizing to be among such innovations and so many people focused on the home. Las Vegas hosted not only KBIS but IBS, NAHB, Las Vegas Design Market, the International Surfaces event, and the National Hardware Show. It was bustling, folks!
I was able to make all but the Surfaces and the Hardware events but hope to make those next time. They dubbed this Design Construction Week. So, what did I learn during these events? Read on to find out!
Creating a "tailored to you" experience was the overall theme. From sanctuary bathrooms to gourmet kitchen offerings, the home has now become a true gathering destination for culinary adventures, peace, and tranquility. No longer waiting for the vacation to "get away" but living a life that is fully immersed on a daily basis.
Bathroom and Kitchen trends for 2023 that you can try now.
Elevated Bathrooms –
5-star luxurious bath options were abundant this year. Physical and mental wellness, sustainability, and convenience were top priorities. "Aging in place" was a consistent phrase used by many of the companies I spoke with. This movement is allowing us to stay and thrive in our homes for longer and it is giving the opportunity to live in multi-generational dwellings easier. Here are a few highlights – there are so so many but you and I both know that at a point, you will get tired of reading this. Haha!
High – End Technology could be found everywhere and in everything… including the toilet.
Sleek toilets that offered water-saving and hygienic capabilities, called bidet toilets, were on display. I was introduced to the plumber-owned company, Trone. Trone's price point was reasonable compared to other toilet manufacturers with bidet functions and they offered details on the basic models that other companies charged much more for. What details you might ask? How about one that automatically flushes and CLOSES the seat? or a toe touch sensor so you do not have to touch the toilet when nature calls.
Remember that phrase, "Aging in place"? Well, bidet toilets help keep hygienic standards high which leads to documented health benefits as we get older. Replacing your toilet with a bidet toilet will not only add to your quality of life but its an easily affordable upgrade to creating the bathroom of your dreams. My phone died so, I don't have any pictures from the show of Trone but click here to visit their website.
Serious steam showers with all the bells and whistles including light therapy and high-grade speaker systems to round out the daily bathing routine.
Installing something like this in your home will be a bit costly but if you live for your shower – you may want to consider investing.
On the practical side of showering, we have been moving toward zero-entry or curbless showers. The little step-up or over that keeps the water contained while you shower…gone. We are moving to easier walk-in access (aging in place opportunity) which means a slightly different way of draining.
Color is making a comeback in the bathroom in a big way –
It's not the "avocado green" or "harvest gold" of the 1970s but they are bold and completely happy shades. This picture kinda reminds me of the sweetheart candies that we used to receive at childhood Valentine's parties.
Gorgeous color can be had now to enhance the soft lines for free-standing tubs and going a bit further – check out this offering from Kohler…
Officially named the Stillness Tub, it lives up to the name. A slotted overflow allows for deep restful soaking. What a way to banish the cares and woes of the day. What did I find extraordinary about this tub in particular? It fills from the bottom up so that the water gently overflows to create an unmatched opportunity for blissful rejuvenation.
Beautiful finishes are gracing faucets and hardware. Champagne bronze is still super popular and matte black finish is continuing to compete strongly. One of the caveats for beautiful finishes is how to marry the variation of finish across different companies. For example, a gold finish on one faucet can be vastly different from the gold finish on hardware or perhaps a shower door handle and hinges.
Many supporting companies(such as hardware) have created finishes that beautifully match big-name plumbing fixtures.
Chef-style kitchens with a nod to rustic roots –
Innovations continue when it comes to the modern kitchen. Kitchens continue to hold their place as the heart of the home. Gatherings are now back and cooking together has never been more fun.
Induction Cooking
Induction cooking is building popularity. This method of cooking uses electromagnetic induction to directly heat pots and pans, as opposed to using a stovetop or other traditional heat source. In this method, an induction coil beneath the cookware generates an alternating magnetic field when connected to an electrical current.
Magnetic field causes the molecules in the cookware itself to vibrate, creating a resistance which in turn produces heat energy. Heat energy is transferred directly into the food being cooked in the pot or pan, meaning there's no need for preheating or running any additional heating elements.
Compared to traditional cooking methods such as gas or electric, induction cooking can be much quicker as it requires less time and energy to heat up and cool down.
Additionally, because only the cookware is heated during induction cooking, there's a less potential danger of burns due to exposed heating elements or open flames. This also helps reduce kitchen cleanup time since no food residues are left on burners or open flame sources.
Finally, induction cooking is more eco-friendly than traditional methods since it does not generate any greenhouse gases due to its lack of burning fuel for heat production. All of these benefits make induction cooking one of the best ways available today for quickly and safely preparing delicious meals with minimal effort.
A fun new product from the land down under –
Ok, this little item has to make its way into your kitchen! This handy dandy faucet can grace your kitchen sink or be a phenom all its own. What makes this faucet so special? Well, with a push of a button you can instantly have filtered boiling water, chilled water, or sparkling water!
Zip water is a company that began in Australia but has now made its way to the states. Not only are these faucets beautiful, they are smart too.
Outdoor Kitchens are becoming a staple in the home
Innovations in outdoor kitchens have revolutionized the way many people enjoy outdoor entertaining. The latest innovations create an outdoor kitchen that is sleek and stylish, with high-end appliances and modern design elements.
Outdoor kitchens can be customized to fit any budget and lifestyle, allowing homeowners to get creative with their entertaining space. From built-in grills to fire pits, refrigerators, and wine coolers, the possibilities for an amazing outdoor kitchen are endless.
High-end appliances bring a touch of luxury to the barbecue experience. Choose from grills with stainless steel exteriors, side burners for additional cooking options, and even smokers for slow-cooked delicacies. Pizzas can be cooked outdoors in wood-burning ovens, while the latest gas stoves provide an even heat distribution across griddles.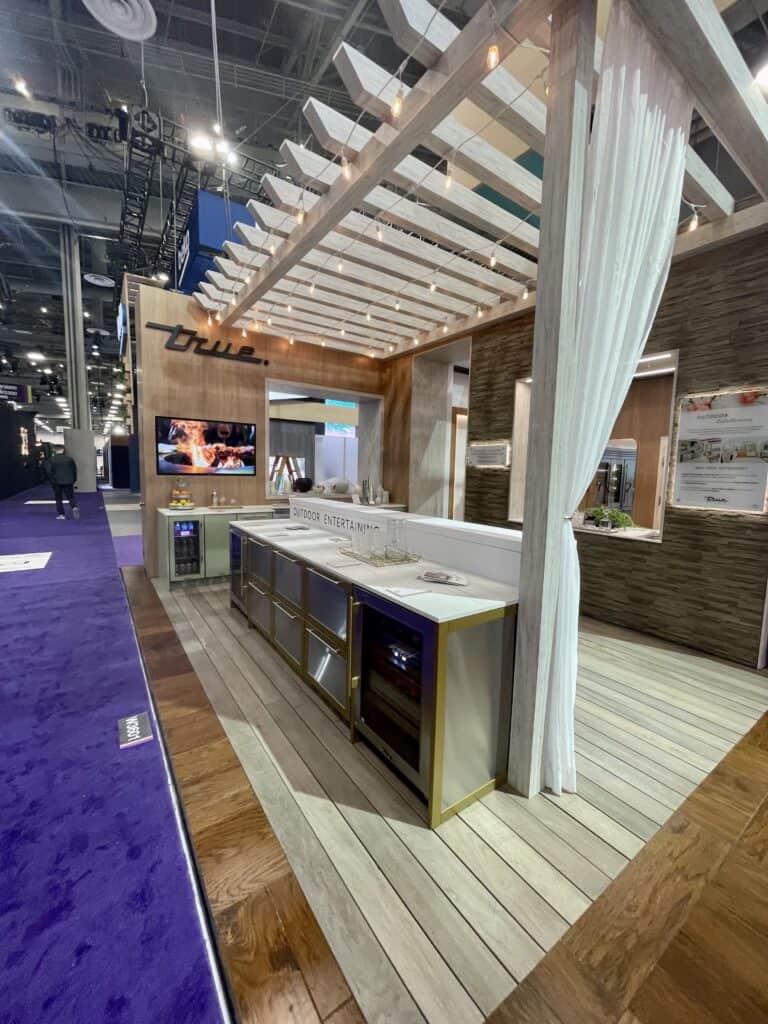 Appliances such as refrigerators and ice makers give quick access to cold drinks or store ingredients close at hand while cooking. Utilizing features like built-in storage drawers make it easy to keep utensils or ingredients organized during food preparation.
Creative lighting solutions help set the mood in an outdoor kitchen area. Under counter lights or hanging pendant lights illuminate work surfaces throughout nighttime gatherings while star gazing. And don't forget about warming features like fire pits which will add a cozy ambiance on chilly nights around the dinner table or bar area.
Fireplaces and firepits also add character to your outdoor living room by providing a place for family members and friends to congregate after dinner hours when darkness sets in.
Additionally, you could install a sink garbage disposal system so you don't have to deal with food waste piling up as you cook away during family gatherings.
Surfaces that are not only beautiful but work really hard –
Fabulous finishes could be found everywhere. Luxury vinyl flooring options are continuing to improve and MSI has raised the bar on waterproof hardwood flooring. Countertop offerings have become vast.
Large scale ceramic tiles that mimic marble not only look realistic but make for gorgeous bathroom and fireplace surrounds.
The possibilities are endless and booster creativity. Take a look at some of the breathtaking examples.
This year's show demonstrated that modern kitchens and bathrooms are all about enhancing the user experience.
The focus is on storage solutions, convenience features, and other practical elements that make life easier for homeowners. In addition, designers are utilizing smart technologies to create even more efficient designs. Smart appliances, such as refrigerators with cameras and ovens that can be preheated remotely, are changing the way people interact with their kitchens.
Meanwhile, in the bathroom space, there is an increased emphasis on functionality and luxury; from heated floors to spa-like showers and luxurious tubs, contemporary bathrooms are becoming havens of relaxation and wellness.
The introduction of bold colors, prints, textures and finishes helps add depth to these spaces while creating unique design statements. Overall, it is clear that innovative kitchen and bathroom trends have come a long way in recent years and will continue to shape future design trends for many years to come.
Until later, keep creating home my friends!