DIY Christmas Scroll Ornaments with DecoArt
Make these gorgeous DIY Christmas Scroll Ornaments this season. Super simple way to bring the focus back on why we celebrate this season.
Hello my friends! I am so glad you are here today. I am partnering with DecoArt paint for a beautiful project to enhance your tree. These DIY Christmas scroll ornaments have been an idea on my mind for a couple of years now and now feels like the perfect time to create them.
I don't know about you but our year has been quite a roller coaster ride, you know the coaster – the one that is ridiculously tall that it seems to touch the clouds and shakes as the cars run through the loops. The one that you stare at in disbelief, "You got to be kidding, I'm riding that?" you think to yourself as you get on board. Yes, yes you are. At some point in the ride terror turns to the bravery and you decide to just go with it and find the joy in the hills and valleys.
I won't bore you with details because we probably could sit over a pot of coffee and share for hours. You on your roller coaster of life and me on mine. Through it all, I am learning and reestablishing what is truly important in life. Hence, these Christmas scroll ornaments. This year I want our last family Christmas in this home to be precious and on focus.
Oh, did I tell you we are moving?
Part of my coaster ride. I will share the story in-depth one of these days with you, it's definitely a "feed the soul kind" of story.
I love being a part of the 12 Days of Holiday Ideas blog hop with some of the most creative bloggers out there. Today is day 7 and you will find all sorts of inspiration as you scroll down. Let me introduce you to our hostesses for this wonderful annual event!
Welcome to the 5th annual 12 Days of Holiday Ideas event, hosted by Shirley of Intelligent Domestications and Erlene of My Pinterventures Between Nov. 11th and December 6th there will be hundreds of new ideas shared by over 55 Co-host bloggers!
Go here to see our kick-off collection of Holiday ideas as well as all of this year's talented participating DIY and Foodie Blogs. Download this year's November and December calendars with all of the topics and dates so you can make plans to watch for ideas!
We are hosting a BIG GIVEAWAY from our Sponsors this year! Be sure to scroll all the way down for more information and to enter to win!
I wanted a way to dress my tree with scripture but didn't want to spend a lot of money and I am really keeping the decor to a minimum since we will be on the market. If you decide to make these for yourself – I will include the pdf of the scriptures I used to make creation a little easier. Make sure you read through the entire post – because I will add it to the end.
DIY Christmas Scroll Ornaments
Supplies:
Wooden dowels .375in x 12 in (you will be cutting these is half)
Dowel caps 3/8in hole 1-inch diameter
Mini tassels (I chose gold)
Narrow ribbon 1/2 wide
DecoArt acrylic paint – your favorite colors
Cardstock (to print the scriptures)
Hot glue gun
Hot glue
Paper cutter or scissors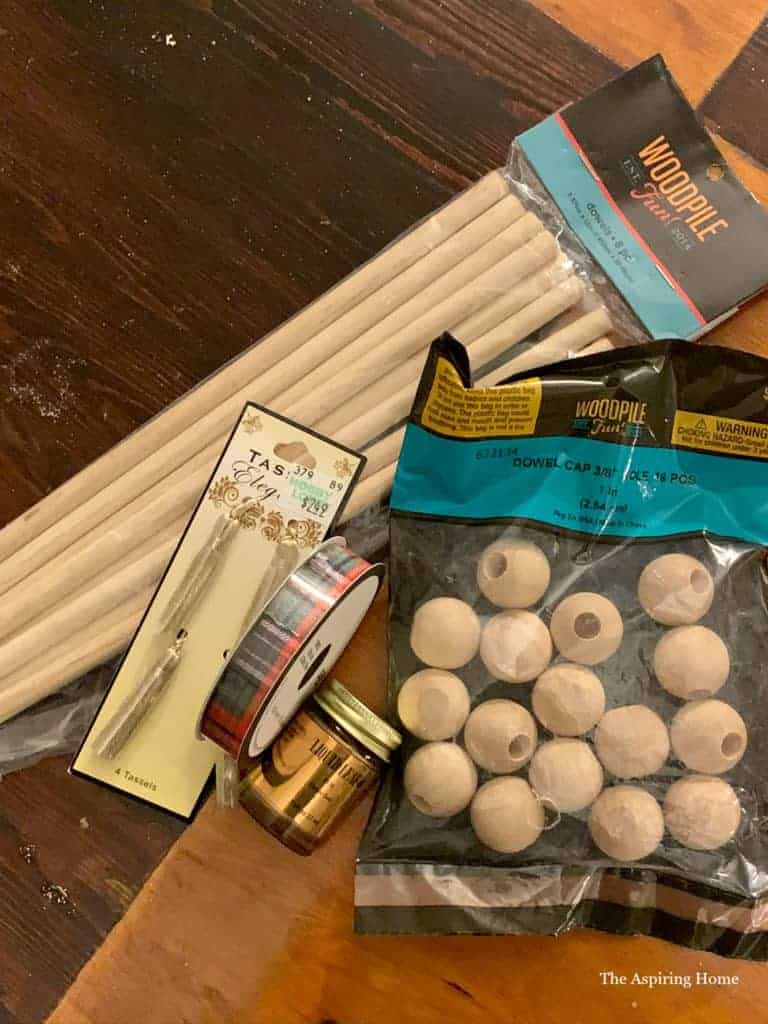 Step 1- Print
Print the scriptures on cardstock. I centered the scripture on the cardstock page then I cut it with a paper cutter to a 4-inch width. Using the entire length of the 81/2 x 11 sheet of paper so I would have plenty of space to roll the dowl onto the paper. I will explain more later. Click HERE if you would like to use my document.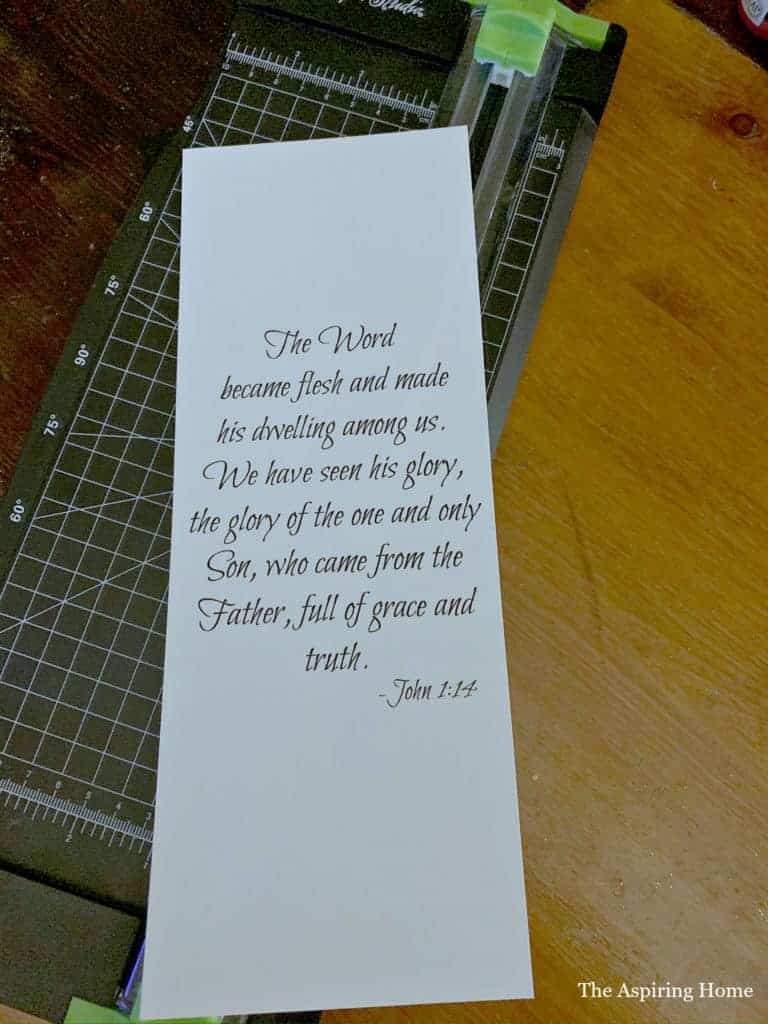 Step 2 – Cut the Dowels, paint and hot glue
Cut the dowels in half using a saw and miter box or a chop saw. Paint the dowel in your favorite DecoArt color. Hot glue the top end of the cardstock onto the dowel. Run another bead of hot glue and roll the paper again forward. Repeat for bottom except- roll the paper backward.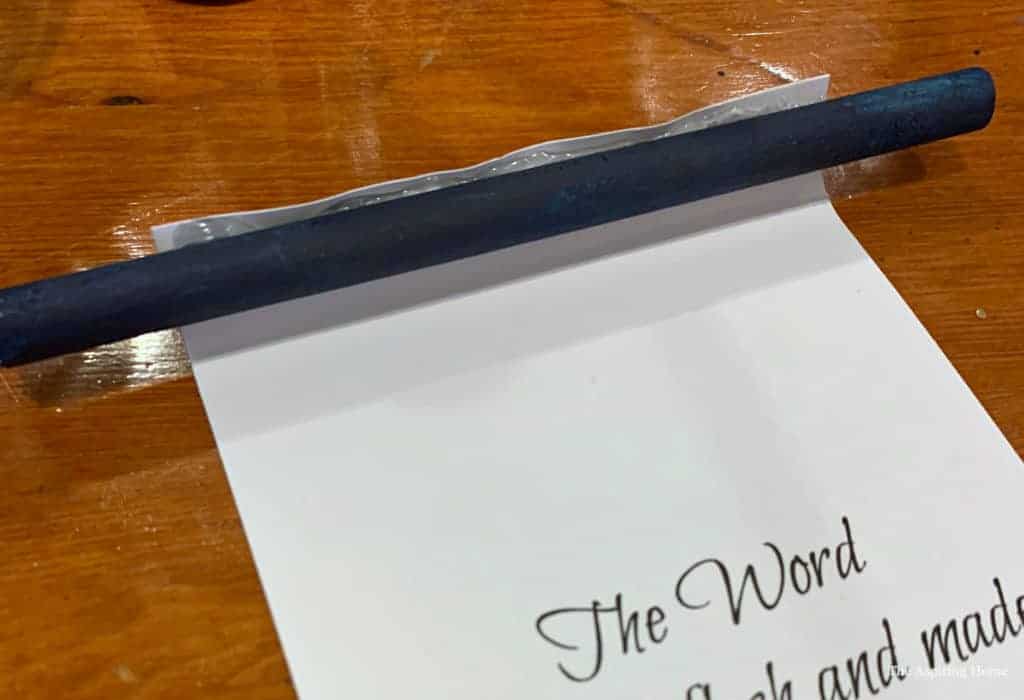 Step 3 – Cut Ribbon, add dowel caps
We will use the ribbon as a hanger. Using your hot glue gun, dab a little glue on each end of your top dowel. Attach your ribbon to the top dowel ends. Slide the little tassel on each end of the top dowel.
Drop a little glue in the dowel cap hole and attach it to the end of the dowel (top and bottom dowel).
Step 4 – Add a little greenery
This step is totally optional but you can add a little bit of greenery to the top or bottom of your Christmas scroll ornament.
How sweet is this? I am really looking forward to hanging these on my tree. Christmas begins in the heart and I think these will help remind us of that.
Ready for more inspiring DIY ornament ideas? Well just click away! Don't forget to enter the fantastic giveaway!!
You are invited to the Inlinkz link party!
---
MEET OUR SPONSORS who have generously donated fabulous prizes for the Big Christmas Giveaway!
DecoArt winner will receive a prize package valued at $100!
Dixie Crystals/Imperial Sugar winner will receive a Keurig Coffee Maker valued at $100!
Oriental Trading winner will receive an OrientalTrading.com gift card valued at $200!
Cabot Cheese winner will receive a gift basket of Cabot products valued at $75!
Burlap Fabric winner will receive a prize pack of products valued at $50!
It's Home To You winner will receive one wooden Santa sign valued at $65
Giveaway begins Nov. 8, 2019, and ends Dec. 6, 2019. Winners will be notified by December 13, 2019. Sponsors will ship each prize to the winner. There will be a total of six winners, one for each prize. Drawing is by random selection using the Rafflecopter widget.
Must be 18 to win. Open to U.S. residents only. Terms & Conditions
Till Later my friends,