From Ho Hum to Gorgeous! Modern Masters Piano Makeover
Paint can be a powerful ally when trying to force a beloved piece into a new design scheme. Modern Masters line of paint made it very easy for me to breathe new life into my sweet vintage piano. Check out how a few steps yielded this Modern Masters Piano Makeover!
Growing up – I loved watching old Hollywood movies, from the clever scripts to the glamorous set designs. I swooned when the actress would make her grand entrance into a well-lit room in a beautiful gown and glide over to an impeccably dressed gentleman who,of course, would be wooing the lovely lady with his piano skills. Then a full orchestra from out of nowhere would begin playing and the couple would jump up from the piano and begin to dance. I am telling you, those movies made a great impact on my dreams. I still get giddy when my favorite (I have hundreds, ha!) movie comes on TCM.
Time marches on and the idea of having a piano in my home stayed with me. One morning I read about a piano sale and felt the need to go and take a "look-see". The hubby had just gotten our tax return back and said if I could find a piano for that exact amount… go for it. So, armed with $795.00 and a good friend who is a gifted pianist, I set forth to find my piano.
Well, as you can guess, finding a piano for $795 was not easy. Just as we were about to give up, I noticed a little unassuming jewel back in the corner of the room. My friend grabbed a bench from another piano (the little piano didn't come with a bench) and began to play.
The sound that came out of that little piano was absolutely beautiful. So much so, people gathered around. Once my friend finished playing, I asked the lady in charge how much did the little piano cost? She looked at me and said, "This little piano isn't much of a piano, it has seen a lot of play time. Do you see the top? It's damaged from irresponsible people." I said, "I love the way this one sounds and I think she is lovely- how much would you take for her?" The lady looked at me and said "$795 tax and delivery included and I will throw in a bench – it won't be the same color of wood but you will have a bench." "SOLD, I said".
Flash forward 10 years and the little 1920's piano made its way to Texas. I faux painted the bench to match the worn finish on the piano. I had big hopes that one day I could refinish the piano and breathe new life into it. Well my hopes have finally been realized and I have Modern Masters Paints to thank for that.
My poor little ho-hum piano went from being overlooked to show stopper. Gone is the mildewed water ring. Gone is the faded finish!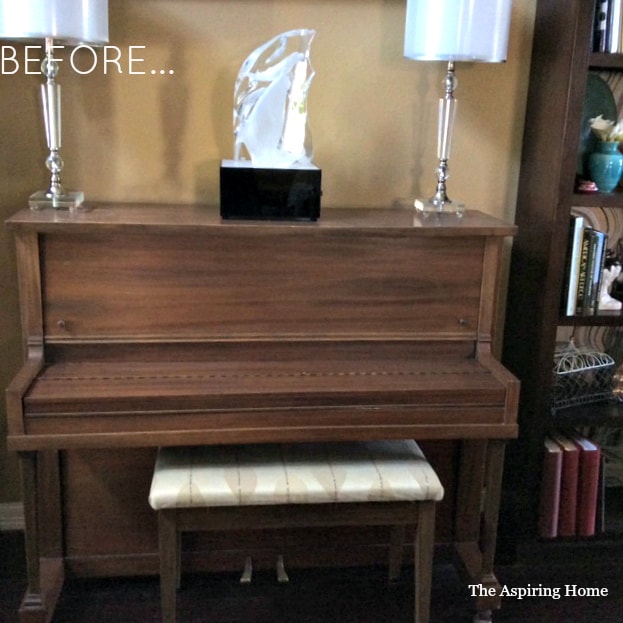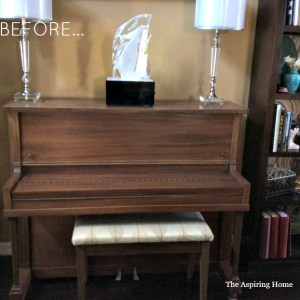 HELLO Gorgeous!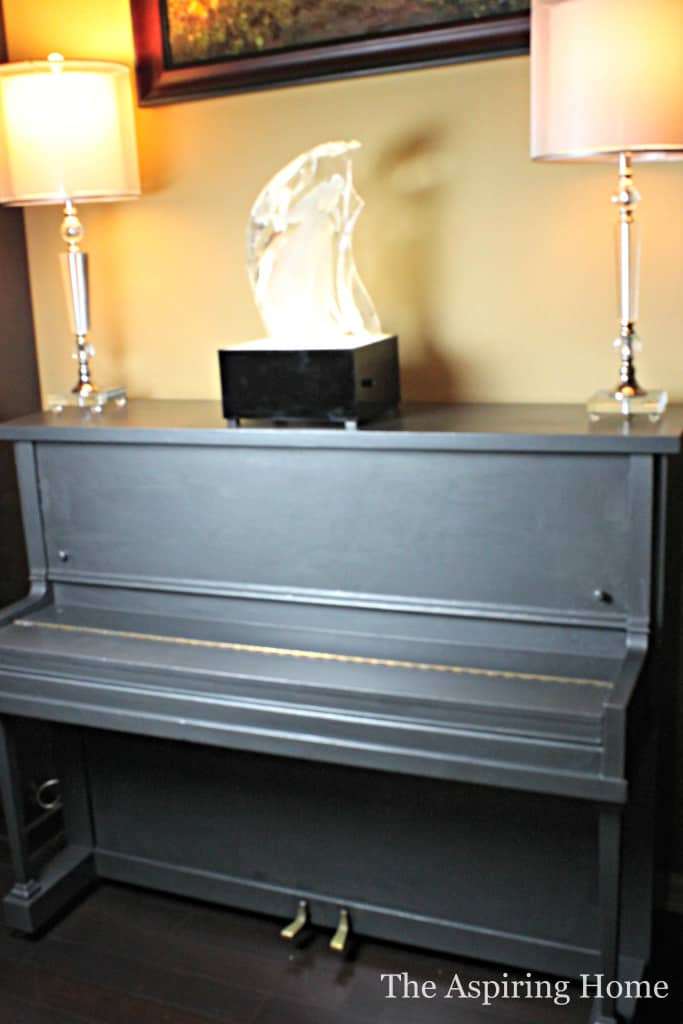 I am in love with the Modern Masters product line. The color choices are phenomenal. For my 1920's doll, I chose to go with Steel Gray. I was going for sultry Jazz singer over Vegas show girl vibe. The process was simple and the results are amazing.
Here are the step by steps:
I used a stripper solution to take off what was left of the old stain and varnish.
Then I used a 400 grit sandpaper to get a smooth finish. Notice the awful water stain? Even with the stripper and sanding… still there. It made the decision to paint even easier.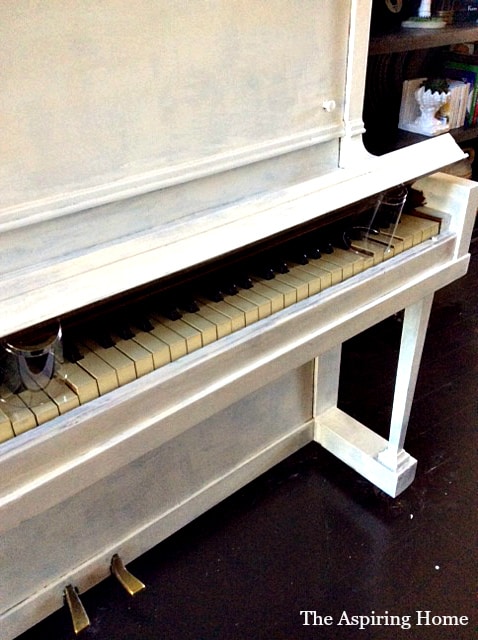 Time to prime! This is a VERY important step. I did two coats of primer and sanded in between dried coats.
I chose a Behr paint color called "Broadway" as my base coat. I also lightly sanded in between these coats as well. I was really pushing for a smooth finish. *Please use a drop cloth when painting. I didn't because these floors will be replaced due to water damage. I also used painter's tape to protect the brass hinge and foot pedals.
And… I GOT IT!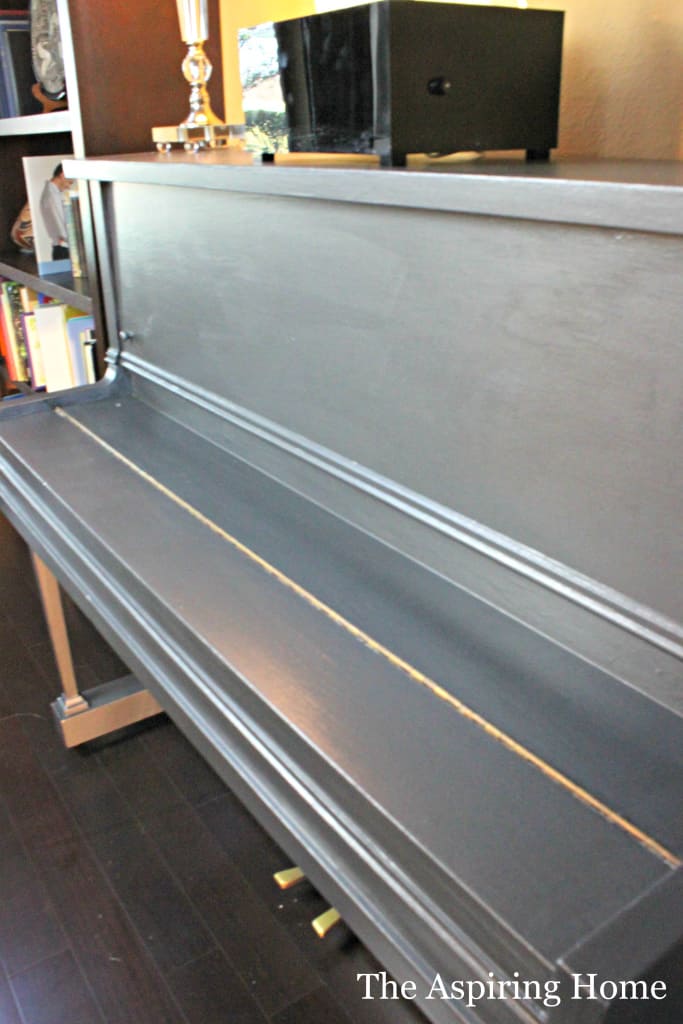 I gave the ol' girl three coats of the steel-gray semi opaque metallic finish. Seriously – how fabulous is this color?!?
Last step – the sealer
A couple of coats of Modern Masters Sealer and she is ready for her debut!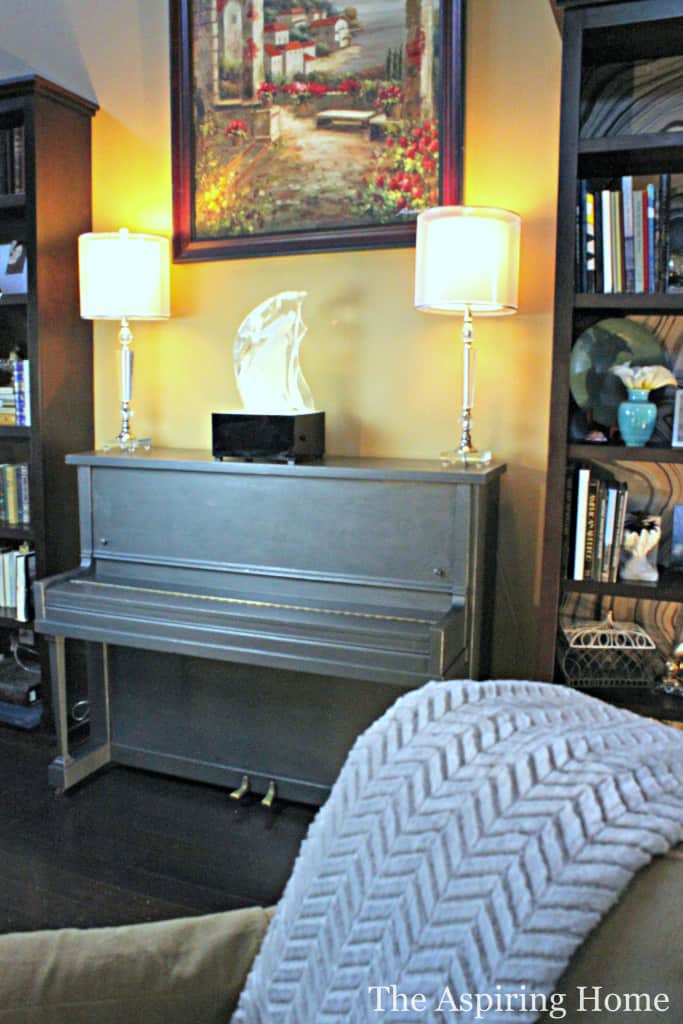 I am so happy with the results! Imagine her when the room is complete….I just might have to dress in a ball gown. 😉
Till Later,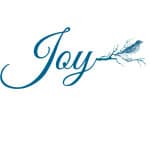 To find your local Modern Masters retailer, you can use their Retail Locator or their Online Shop.
Modern Masters sponsored this post through the use of their fabulous product. The opinions,thoughts and labor are all my own.