DIY Ceiling Medallion Tiles Tutorial
I want to share with you how to make the DIY ceiling medallion tiles from our Pantry makeover One Room Challenge! Super easy and fun project.
Today's project is a fun one. I wanted something different for the pantry ceiling, it had to be affordable, and I was desperate to create some character in the room. This DIY Ceiling medallion tiles tutorial was the perfect answer.
I know, I know – the pantry needs character? Yep! It sure does!
Let's get started!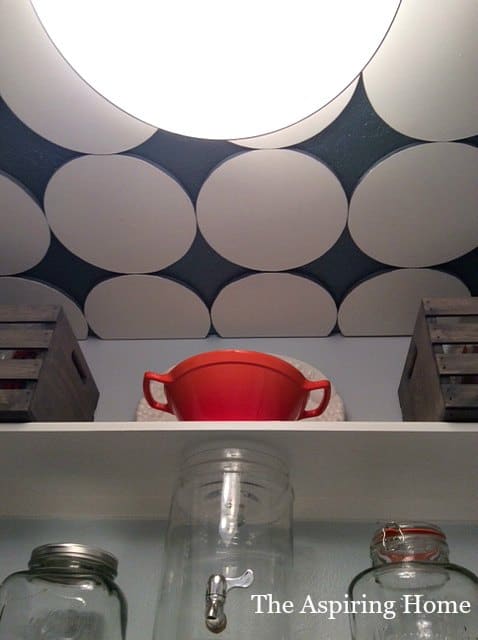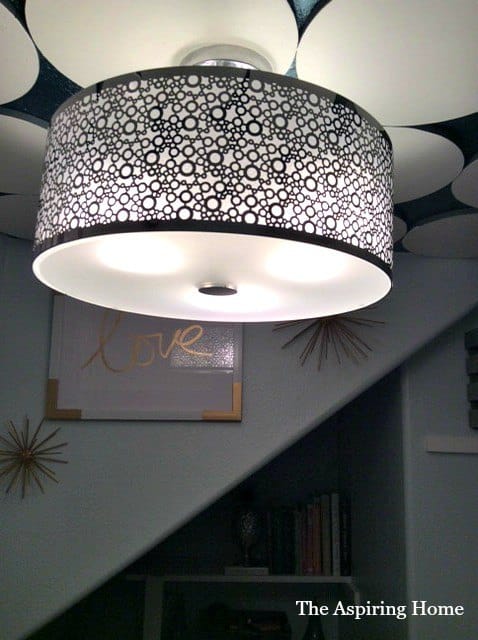 Supplies:
MDF board – we needed one sheet but it will depend on how big your circles are and how big your room is.
Paint – we chose two colors. Trim color for the flat surface and a dark grey for the edges
Small artist paintbrush (if you are painting edges a different color
Small Foam roller and tray
Sawhorses
Dremel Trio
Trio circle cutter/Edge Guide
Drill
Tape measure
Liquid nails
Brad nailer
Fine grade sandpaper
Spackle
You can find all the materials at your local hardware store.
Step 1-
Once you decide what size circle to go with. Note, the engineer hubby's way of approaching this (he used a PowerPoint slide):
Step 2 –
Next, set up your sawhorses and layout the MDF sheet. Measure in from the edge enough to be able to swing the edge guide around to make a complete round circle. I know that sounds funny but if you don't test the area first- you may in up with a lopsided circle…. don't ask me how I know this… I just know.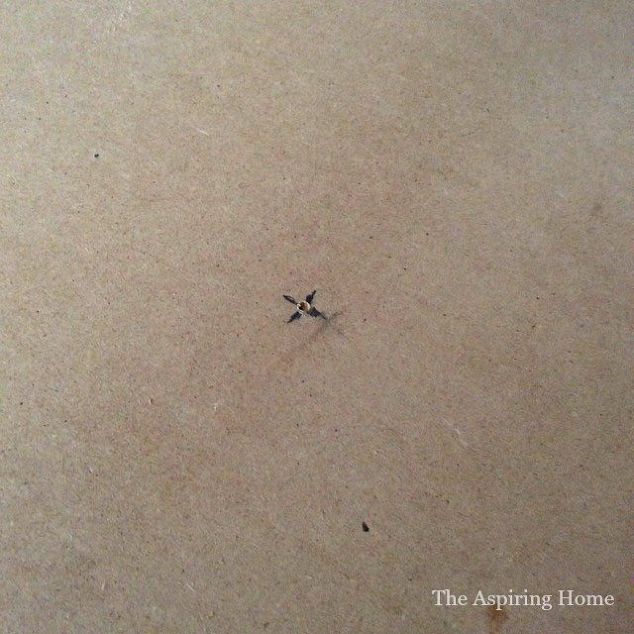 Step 3 –
Measure the center of your circle. For this example, we marked the 6-inch spot (12-inch circle).
Tip: Verify that you have enough room to create a perfectly round circle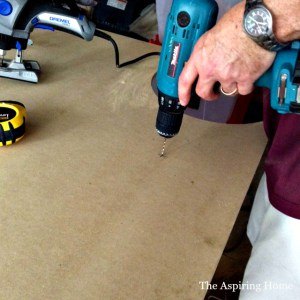 Drill a small hole- careful not to go completely through. This will give a little "grip" while you guide the circle cutter.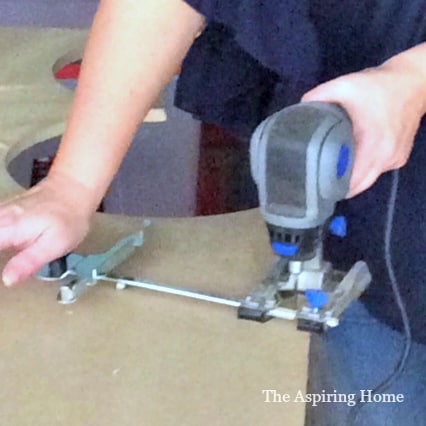 Cut your circle. Take your time and let the guide do the work.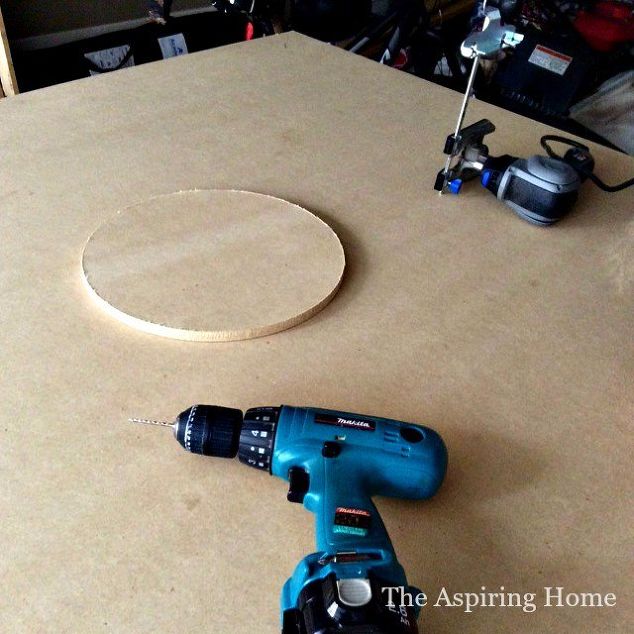 Step 4 –
Lightly sand the edges.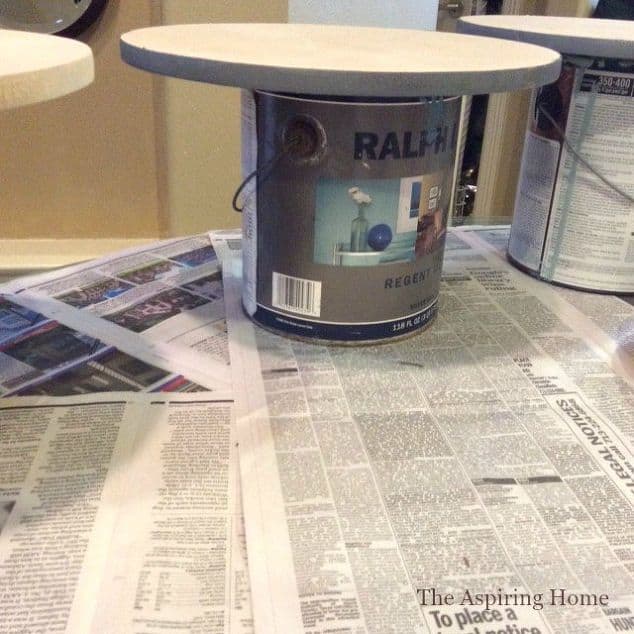 Optional: For the pantry ceiling, I chose to paint the edges in a dark grey.
Step 5 –
Paint! Use the small foam roller for quick work.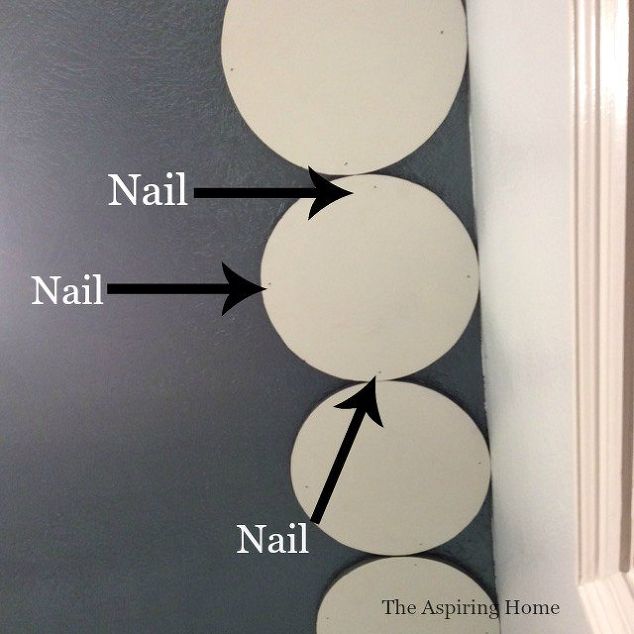 Step 6 –
Apply liquid nails. Using a brad nailer to secure.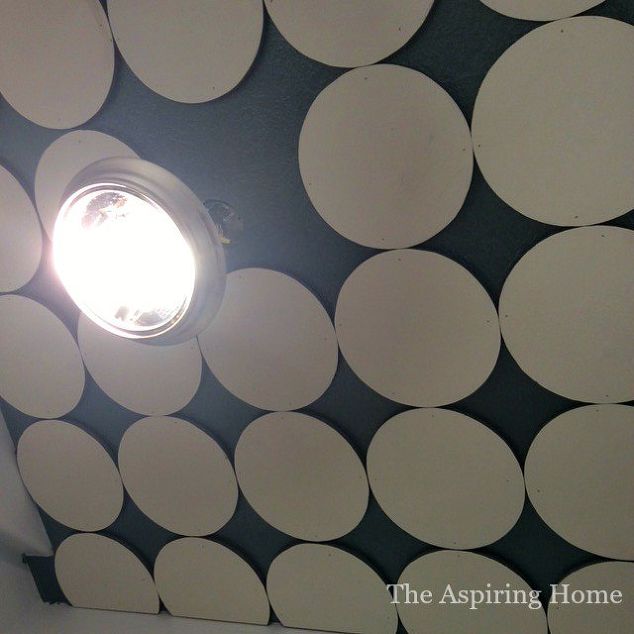 For the last circle. Use a piece of poster board to create a template. The posterboard temple will aid in figuring out where to cut the hole for the light fixture.
** Note**
The pantry turned out to not be perfectly 55. So, in a less noticeable area – add "flattened" circles to finish out. You can see in the picture above where we did this.
Spackle nail marks and touches up paint. That's it, friends, this project can be done in a weekend. The results are so fun and unexpected.
We were able to make 25 (12inch) circles from one sheet of MDF. We used leftover paint from previous projects – it uses so little. Let me know if you try this project! I would love to see your ceiling or wall… Wait. A. Minute. OOOH A wall treatment would be awesome!
'Til Later,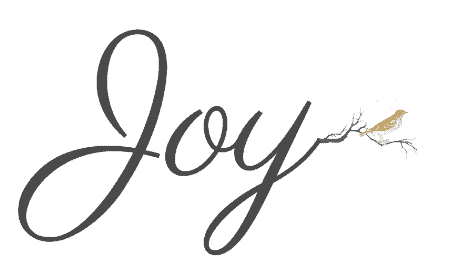 SaveSave
SaveSave
SaveSave
SaveSave
SaveSave