12 Days of Christmas Blog Hop! Day 2- DIY Gift Ideas – Ultimate Home Spa Basket
Day 2 is here! Nothing says LOVE like DIY gifts. The time, the thought, the effort means everything! Recreate this ultimate home Spa Basket easily and make the loved ones in your life super happy!
We seem to live busier and busier lives. No one means to, it just happens. I know I have been personally going a 100 miles an hour in every direction and long for a day spent at the spa. That idea is just a dream, I mean, price alone for such a day! YIKES! Like most things in life- there is always a way if there is a will. Here is my DIY take on a spa day, perfect for gift giving to your fellow worn out momma or friend. Create this ultimate home spa basket this weekend!
After you have made your beautiful basket, check out all the other wonderful DIY gifts for everyone on your list!
It's our Second Day of the Fourth Annual 12 Days of Christmas Series!
We have teamed up with 50 plus bloggers to bring you a oodles of DIY Ideas and Recipes to make your holiday season merrier. There are 12 different posts in the series and we have spread them out over a four week period with three posts per week. Now is the time to subscribe!
GO HERE for the complete list of Dates and Topics plus a collection of most popular holiday ideas including ornaments, games, recipes and more from all 50 plus talented bloggers!
It's Day 2 and we are sharing DIY Gift Ideas!


First, let's talk about glowing skin
Jasmine Salt Scrub
Supplies:
12 drops jasmine essential drops
8 drops lemongrass essential oil
12 drops cedar essential oil
16 drops rosemary essential oil
1/4 glycerin
1 cup Epson salts
1 cup fine sea salt
Directions:
In a bowl, combine the salts and the glycerin. Once well blended, stir in the essential oils.
Let stand for 15 minutes.
Transfer the salts to a prepared container and seal tightly.
If stored in a sealed container the scrub will stay fresh for a year.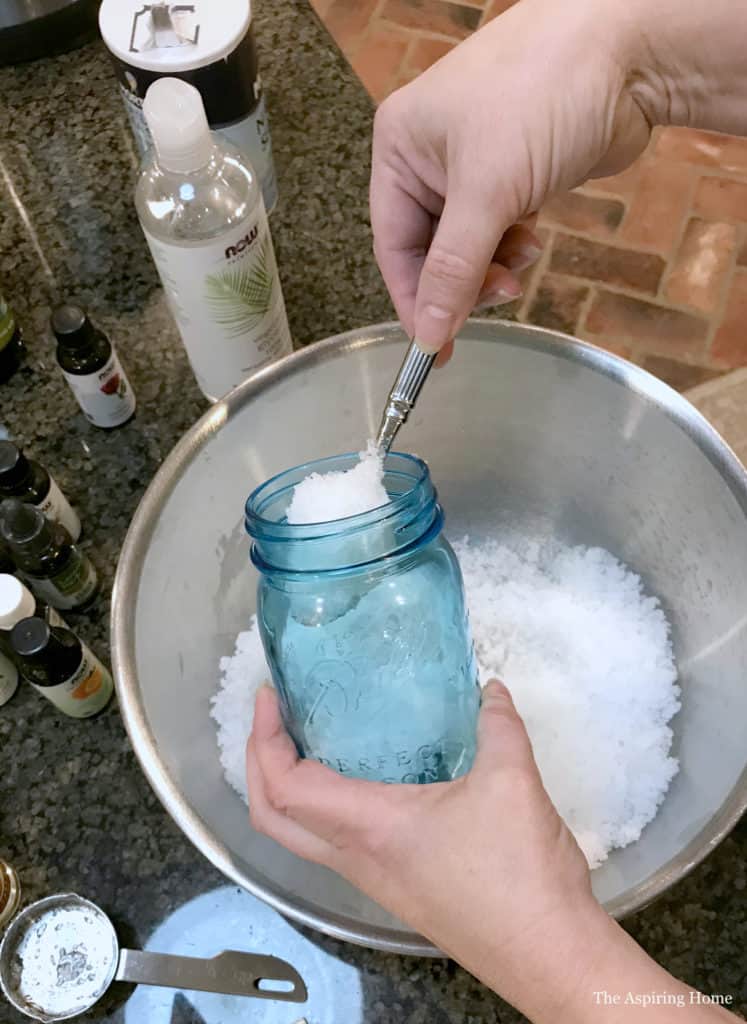 Now, let's make something for a long hot soak!
Relaxing Bath Oil
Supplies:
Add 10 drops lavender essential oil
10 drops lemongrass essential oil
8 drops of cypress essential oil
10 drops chamomile essential oil
1 cup sweet almond oil
1/2 cup glycerin
Directions:
In a bowl, combine all the ingredients and blend well.
Transfer the oil to a prepared container and seal tightly. Will last for 6 months if placed in a refrigerator.
Finally, create a sweet surprise!
Sweet Orange Facial Cleanser
Supplies:
1/4 cup extra-virgin olive oil
1/2 teaspoon vitamin E
3 Tablespoons grated beeswax
1/4 cup rose water
24 drops sweet orange essential oil
Directions:
Use a double boiler over low heat to melt beeswax into the olive oil, blend well.
While stirring continuously, drizzle in rose water, then remove from heat.
Continue to stir as the mixture cools.
Once it is thick and creamy, stir in Vitamin E and the sweet essential oil.
When the mixture has cooled to room temp, transfer it to a prepared container and seal tightly. Store in a cool, dark place.
The cleanser will keep for up to 3 months.
Tuck all your beautiful handmade luxuries in a pretty basket with a few extra goodies like a loofah, eye mask, and a candle for pure relaxation. Add a lovely bow and you will be someone's hero – I guarantee it with this ultimate home spa basket!
Scroll down for many more DIY Gift Ideas!
---
Till Later friends!