Simple Home Cleaning Solutions
Simple home cleaning solutions seem to good to be true but honestly – these ideas are pure magic!
Our family is really looking forward to a 4th of July staycation. To make it more fun- I am spending a couple (maybe the week, ack!) days home cleaning the house. I want to feel like I can truly enjoy family and friends while celebrating Independence day and remembering all who fought and struggled so that we may live free.
As I was on my cleaning kick …. I ran out of  (cue music)…windex. Gasp! How every will I clean these windows without heading out to the store? Hmm, only one answer will do! I will make it myself!
Do you remember the old Rice Krispy Cereal treat commercials where the mom worked so very hard to make a yummy dessert for her adoring family? How she would burst out of the kitchen with a plate of gooey goodness – hair a mess, flour covering her face… yet we all know that behind the closed door she was basking in the downtime made available due to the utlra easy recipe.  Well now apply that to making window cleaner.
This recipe comes to you from Joy the Farm Girl over at joyelick.com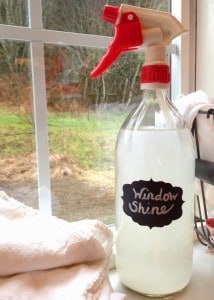 How awesome is this recipe?!? I was skeptical about the cornstarch but she was right!
Before I get back to cleaning my windows I wanted to also introduce you to a fantastic sight – Cleanmama.net. Everything you need to know about cleaning organically can be found at clean mama. Becky is my hero when it comes to making my house sparkle and shine. I have to admit that I have not been carrying out the advice she gives but I am back on the wagon!  Go peruse her sight- you will be glad you did!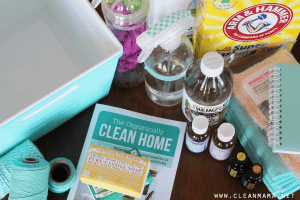 Do you have any helpful cleaning tips? Please share! Would love to know your secrets to a shiny home.
Till Later,