Formal Living Room Makeover
Home maintenance gone rogue is always a nightmare. Creating something positive can be difficult without sheer determination. We decided to rethink the norm a little bit and come up with a formal living room makeover that jived with our personality.
Happy Day to YOU!
Back around Thanksgiving time, I shared with you a common household issue…. the dreaded leaky pipe.  If you have ever had such a problem, you feel my pain.  Timing IS NEVER RIGHT and I was content with the way things were. Any who, can't change what happened so I am embracing what could be.
The leak warped my wood floors and since we have an open concept house… you guessed it, new flooring everywhere.  Since we have an open floor plan and we have all our common areas painted the same shade… you guessed it, new paint. I am getting flashbacks of reading the book "If You Give a Mouse a Cookie"…
I love the soothing trend of a gray palette and it works well with my forever love, Art Deco.  We are going from  Sherwin Williams "Camelback" to Benjamin Moore's "Revere Pewter" throughout the house and highlighting rooms with deeper grays.
I am going to step away from my serious dark wood floors and will mix it up a bit with a grayish brown. We are even looking at ceramic faux wood as an option.
Our formal living room is a quiet space smack dab in the middle of our house. I know the trend is to move away from formal spaces but I LOVE that room. This space is dedicated to music,books, gentle conversation, and rest. Does that happen? Not often but I like to pretend. 🙂
At this moment, I am revamping our sweet early 1930's piano. This little piano has such a special story and deserves a glamorous makeover. Thanks to Modern Masters paint- she is going to be gorgeous, dahlings. I will reveal her splendor on Thursday – so be on the look out!
I am working on the overall design and here is what I have come up with thus far….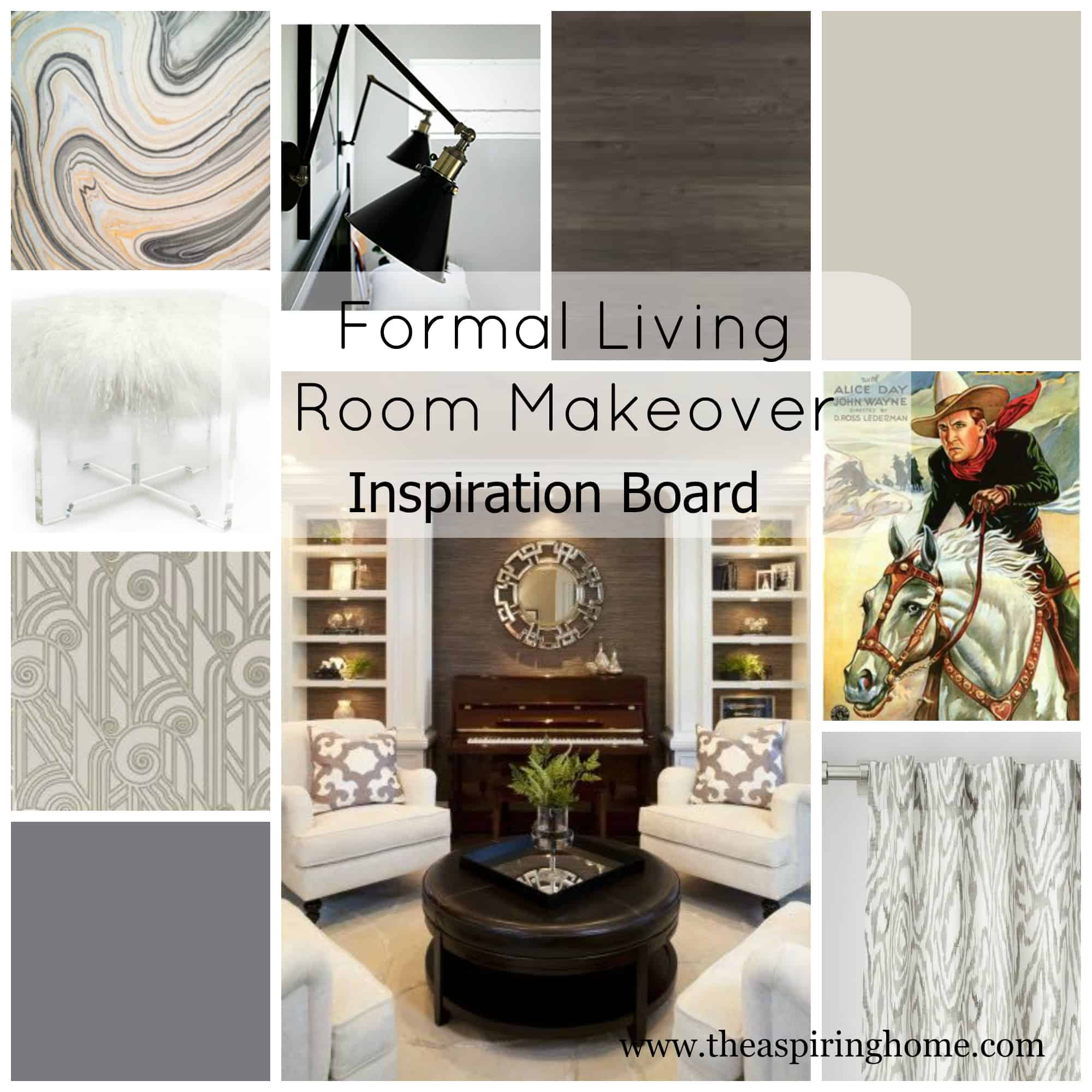 Going from left to right-
Marble paper to back bookshelves
Swing arm lamps to highlight bookshelves
Grayish brown flooring
Wall paint – Benjamin Moore's "Revere Pewter"
Sheep's wool bench (and perhaps a little acrylic thrown in for good measure)
Inspirational layout (found on Houzz.com)
Vintage reproduction art work (I will be modifying the colors)
Art Deco inspired wallpaper
Faux bois curtains from West Elm
Accent color, Benjamin Moore's "Tempest"
I am hoping to stick close to the scheme. Fingers crossed! Oh who am I kidding…
Till Later,